See what I'm reading this summer.
Last week was the start of the YA Buccaneers Summer Reading Challenge, a three-month challenge with book prompts, check-ins, and prizes. Feel free to join in!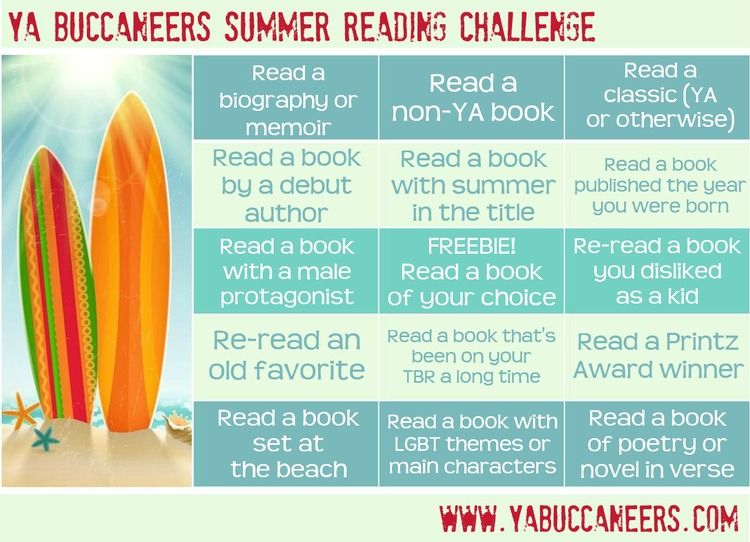 Here's a look at my progress so far:
Read a biography or memoir
Read a non-YA book Pending: THE PLOT WHISPERER by Martha Alderson
Read a classic (YA or otherwise)
Read a book by a debut author
Read a book with Summer in the title
Read a book published the year you were born
Read a book with a male protagonist Pending: LEVEN THUMPS AND THE GATEWAY TO FOO by Obert Skye
Read a book of your choice
Re-read a book you disliked as a kid
Re-read an old favorite
Read a Printz Award winner
Read a book set at the beach
Read a book with LGBT themes or main characters
Read a book of poetry or novel in verse 015. Read a book that's been on your TBR a long time The Underland Chronicles series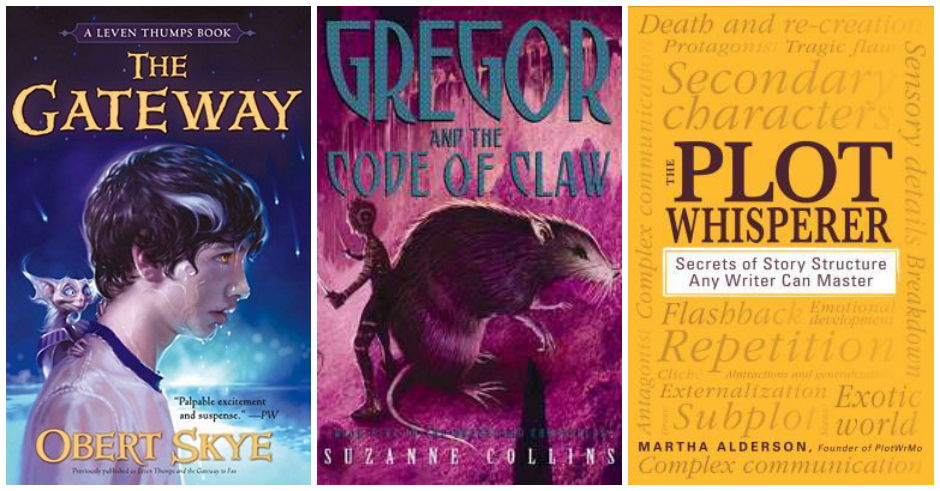 I loved the Underland Chronicles. Without wasting any words, Suzanne Collins does a fantastic job of creating a vivid world with complex, fascinating characters. I gushed about these books here and here, so go there for more of my thoughts. I would highly recommend these, and I think young readers would love them. They are easy to read, but they are dark - there is death and violence - so be sure your reader can handle that sort of story.
I'm still plugging along with THE PLOT WHISPERER book. Nothing new to say about this one, but you can read my initial thoughts here.
This week I started LEVEN THUMPS AND THE GATEWAY TO FOO by Obert Skye. The writing is beautiful, very lyrical and rich. So far, the story is fun … and the adventure is just beginning.
I absolutely loved the start of the book, so I thought I'd share the first paragraph:
It was at least forty degrees above warm. The day felt like a windowless kitchen where the oven had been left on high for an entire afternoon. Heat beat down from above and sizzled up from the dirt as the earth let off some much-needed steam. The sky had decided it had had enough, thank you, and had vacated the scene, leaving the air empty except for heat. No matter how wide a person opened his mouth that afternoon or how deep a breath was taken, there just wasn't enough oxygen in the air to breathe. The few remaining plants in people's gardens didn't droop, they passed out. And the flags that only days before had hung majestically on top of local flagpoles no longer looked majestic, they looked like multi-colored pieces of cloth that had climbed up and tragically hung themselves.
When people suggest that only children should read children's books, I think about books like LEVEN THUMPS AND THE GATEWAY TO FOO. The writing is beautiful. Truly fantastic. Beyond being a good story, simply reading the perfectly-crafted lines of this book brings me so much joy and feeds my well of inspiration.
If I stuck to books 'appropriate for my age' (whatever that means), I would be missing out on books that have inspired me, moved me, entertained me, or simply touched me in some way.
And that is a sad, sad thought.
Whether it's a picture book, middle-grade, young adult, non-fiction, romance, fantasy - I think that if it's a good book that speaks to you, then you should read it. (End rant.) ;)
P.S. I'm over on the YA Buccaneers blog today sharing a peek into my workspace. Share your own pic on Twitter for giveaway entries!
---