A simple, healthy breakfast recipe.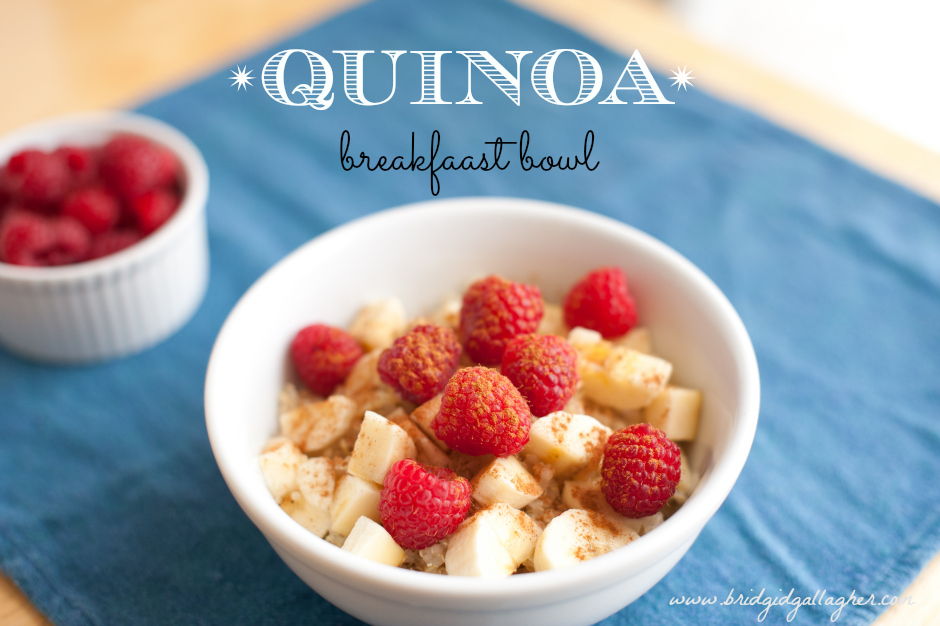 Since I first mentioned having warm quinoa for breakfast, a few people have asked me for a recipe. It's so simple to make that I honestly didn't think about sharing it on my blog … but then last week there were these beautiful raspberries on sale ($1.50 per container!) that were just begging to be photographed. :)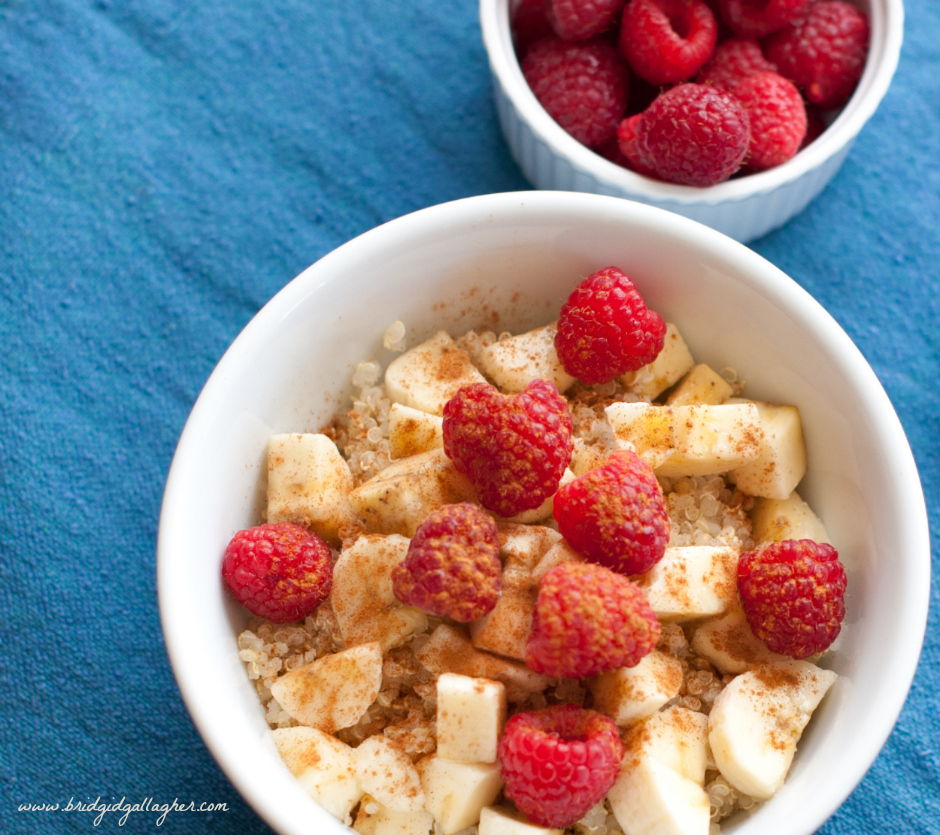 So I took about a million photos of my breakfast the other day, with the rationalization that I'd use it as an opportunity to share a healthy, filling, easy-to-make breakfast recipe with you.
Quinoa is my favorite
First, you need to know that quinoa (I say KEEN-WAH) is awesome. It's your friend. Especially if you're vegan or have gluten sensitivities. Quinoa is a complete protein (it has the nine essential amino acids our bodies don't produce on their own), and it's actually a seed, not a grain, so it's free of gluten. Yaaay!
Added bonus? Per cup, quinoa has 8 grams of protein and is rich with vitamins and minerals (iron, manganese, magnesium, and phosphorous - to name a few).
The flavor isn't amazing on it's own, which is why I like to top my breakfast quinoa with chopped apple, raisins and cinnamon, or (as pictured) chopped bananas, berries and cinnamon. Pour some almond milk on top, and you have a tasty breakfast that will keep you full and energized for hours.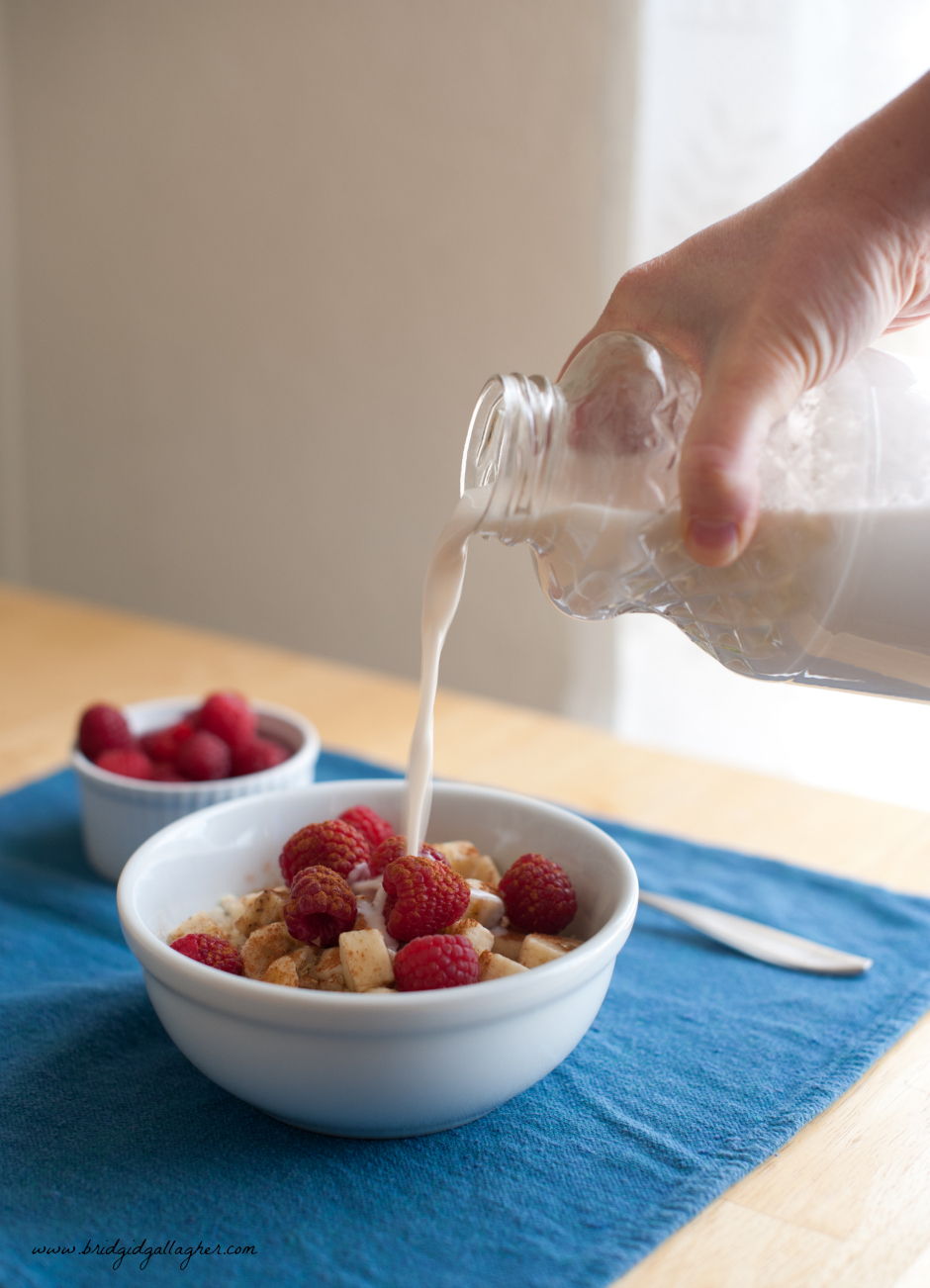 If you like it sweeter, add a little stevia or drizzle some raw honey on top. You'll love it.
Ingredients
1/2 cup prepared quinoa
1 chopped banana
1/4 cup fresh raspberries (blueberries, blackberries - also delicious!)
cinnamon, to taste
Directions
To prepare the quinoa: place 1 cup of (rinsed) quinoa and 2 cups of water in a small pot. Bring to a boil. Simmer 20 minutes or until water is absorbed. Fluff quinoa, then you're ready to go. Makes about 2 cups.
Scoop prepared quinoa into bowl. Add fruit and cinnamon. Top with almond milk. Enjoy!
Easy, right? You can also add a little sweetener (raw stevia, maple syrup, raw honey) if you like it sweeter.
Do you have a favorite breakfast recipe? I'd love to hear about it. I'm always looking for new ways to start my day.
P.S. Have you entered my New Year's Giveaway yet? There's still time to enter … Learn more here! P.P.S. In honor of Rachel Searles' book release, we're doing lots of celebrating on YA Buccaneers. How are we celebrating? We're giving away copies of her book all month! Visit the blog to learn more!
---