Welcome to this month's State of the Blog, where I share my goals for this blog, what I'm doing to reach them, and what's working (or not working).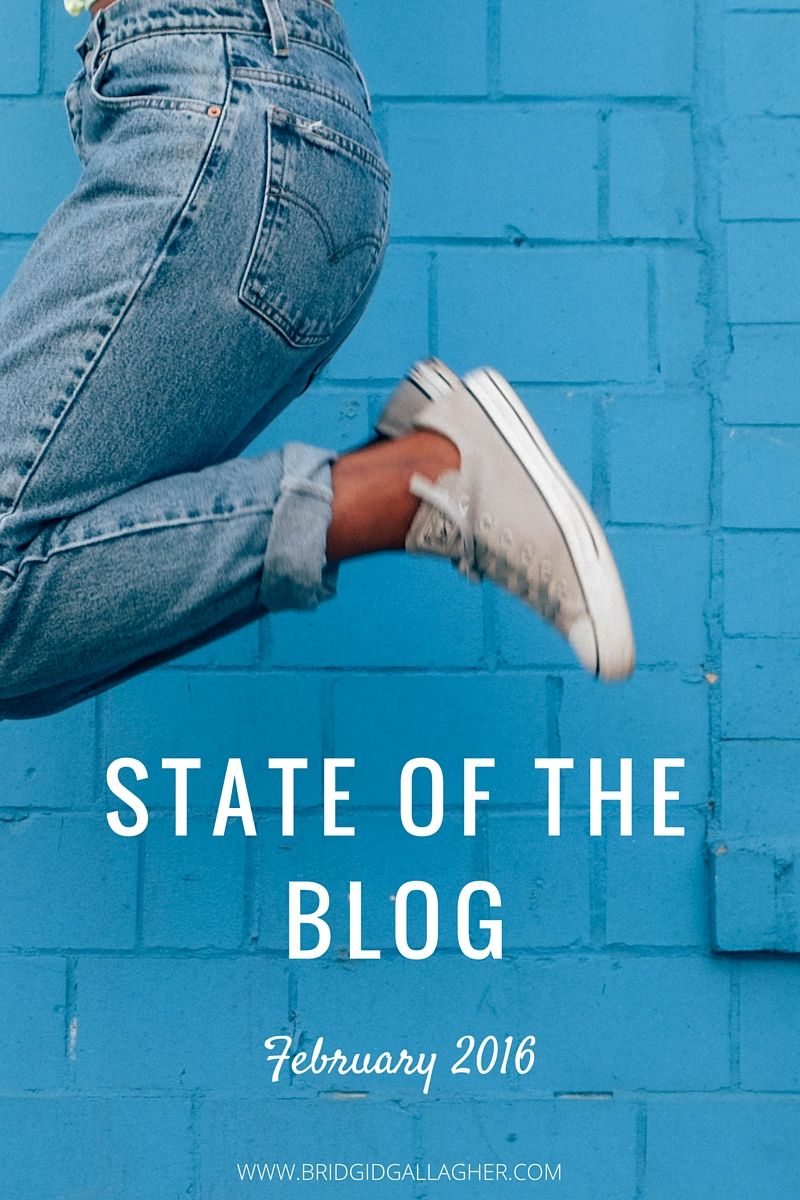 This post includes affiliate links (marked with an asterisk). When you use the link to make a purchase, I make a small commission at no extra cost to you. I will only share affiliate links if I have used and recommend the product or service. If you have any questions, please contact me. Thanks for your support!
New to my blog? Start with my State of the Blog for January 2016
January 2016 Numbers
Keep in mind that traffic and social media numbers aren't everything — I'd rather ten writer friends over 1,000 stop-an-go site visitors, wouldn't you? — but numbers can help you get big picture insights and help you make changes.
Site Traffic and Top Content
Here's a comparison of my site traffic January 1st through 31st, 2016 (top) and December 1st through 31st, 2015 (bottom).
Site Traffic Comparison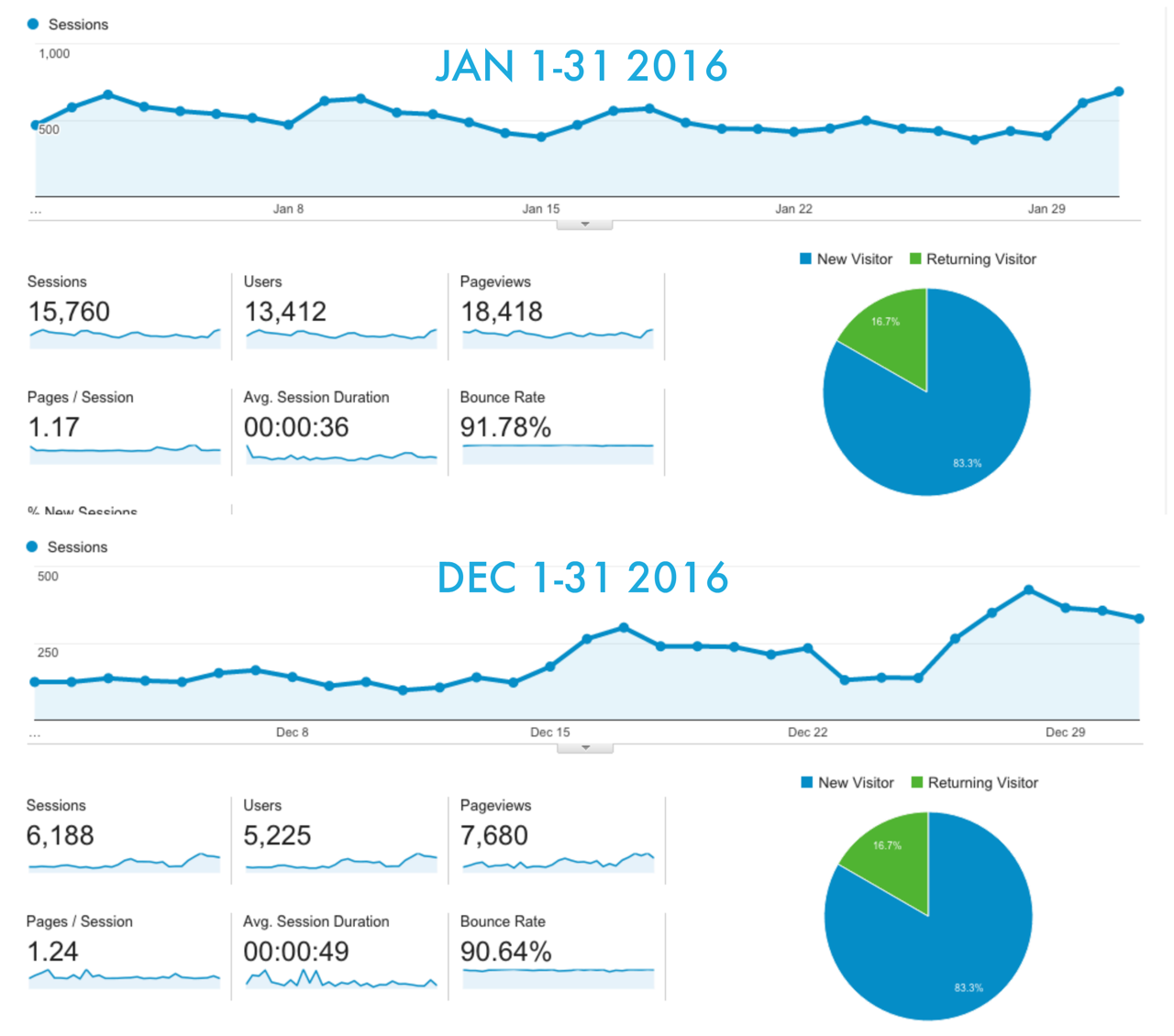 What's important:
I went from 7k page views to 18k, which might sound great, but a good half of the traffic went to one of my recipes. People LOVE my Ginger-Orange Green Smoothie Recipe, and I've noticed it gets a spike in traffic every January. Hurrah for New Year's Resolutions? ;)
My bounce rate went up (one of my goals is to get people to stick around longer), but again - I blame that on the green smoothie recipe. People who visit my site for writing-related posts stay longer than those visiting for my recipes.
I've included another interesting graph, comparing my traffic in January (top) and December (bottom). Even though my numbers were much higher in January, the percent of New and Returning visitors was the same.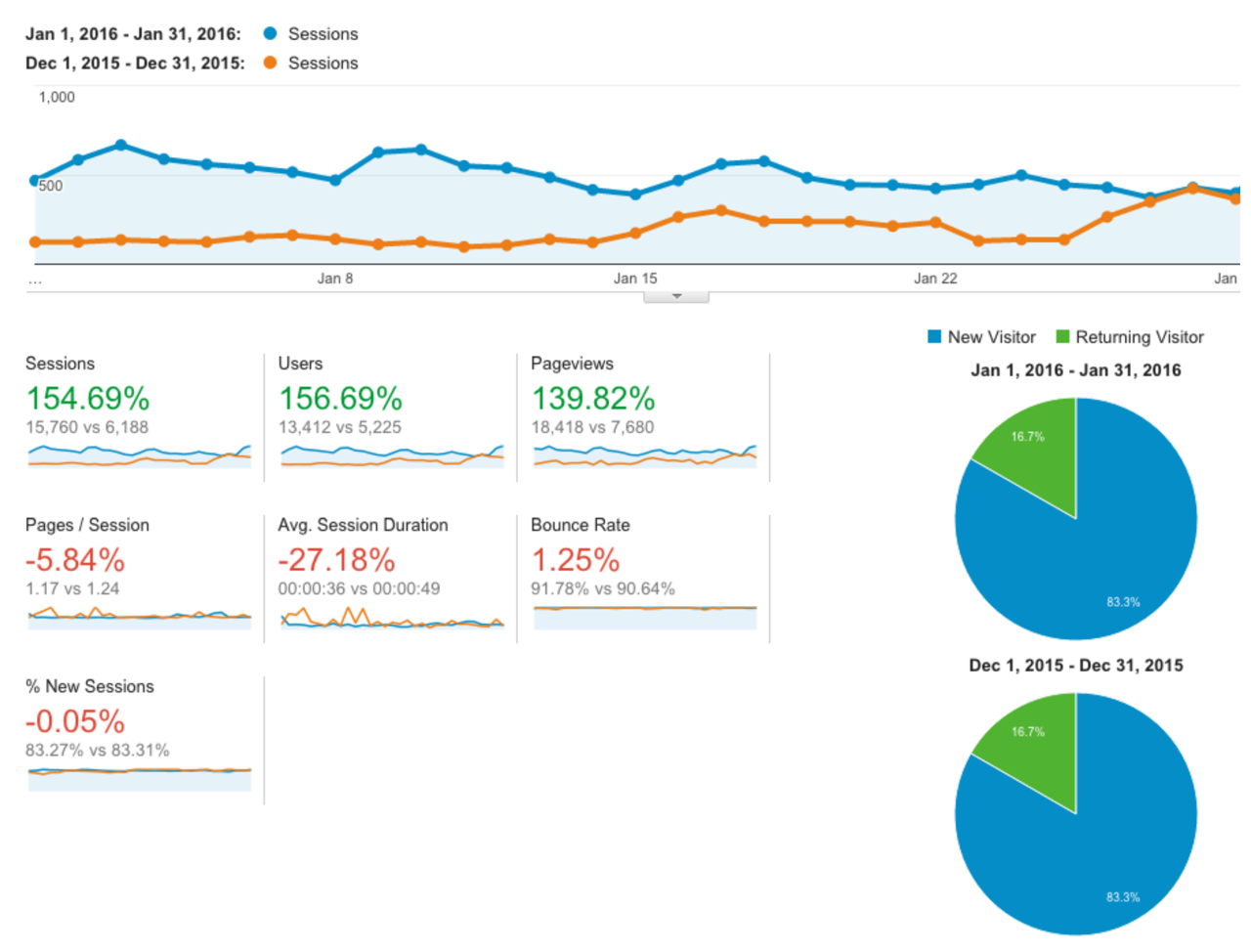 Social Media Referrals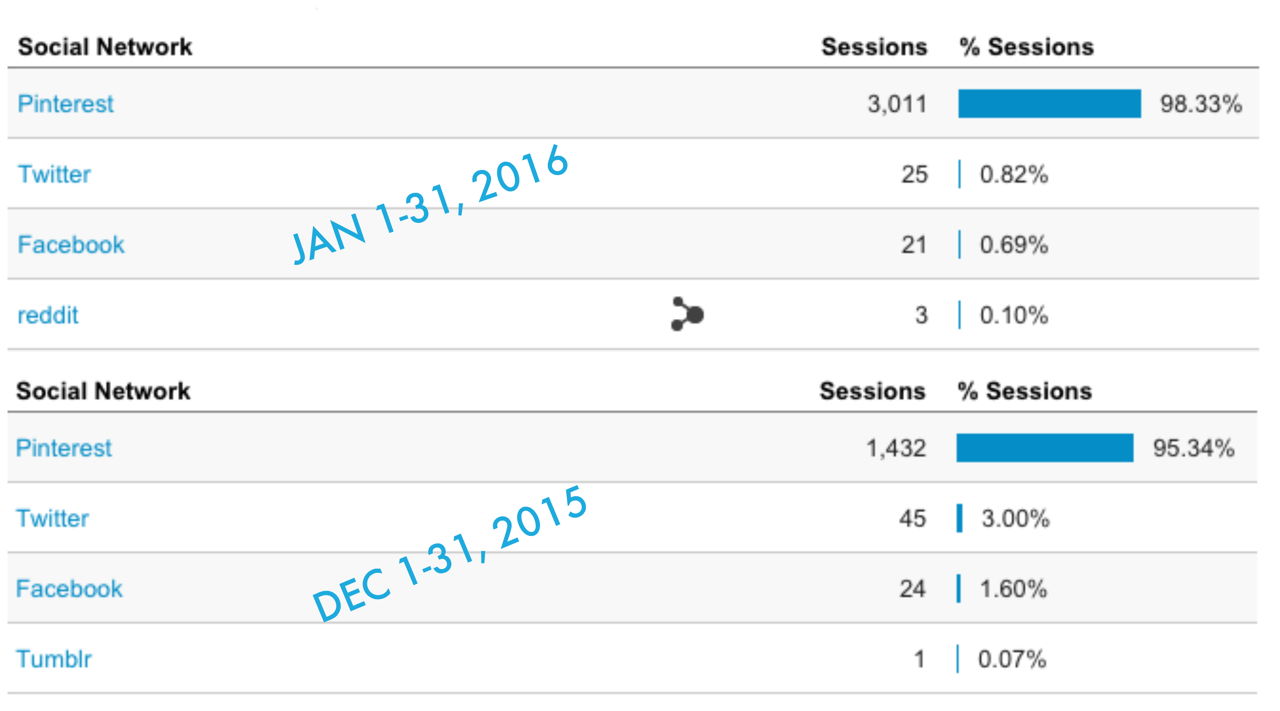 Pinterest is a huge traffic driver for my site (and I talk more about how to use it strategically to drive traffic in my free Build a Better Blog Challenge), and in January my referrals from Pinterest doubled. I'll talk more about that in a second.
First, I want to point out that my traffic from other social media referrals is pretty low, but it didn't change that much - even though I took a break from social media during January. I think I could be using Twitter far more consistently and strategically, and I'll be working on that in February.
I also created a Reddit account near the end of January and will be experimenting with using it to help people find my content (when relevant). In next month's State of the Blog, I'll share what I learn.
Pinterest
As I mentioned above, my traffic from Pinterest doubled in January. The jump is in part thanks to my Ginger-Orange Green Smoothie Recipe, but there was also a marked increase in Pinterest traffic to my writing-related posts.
I attribute this to two things:
I increased my activity on group Pinterest boards.
I started using BoardBooster*, a pin scheduling tool with a number of features that have helped increase my traffic from Pinterest.
Next month I'll talk about how to use Pinterest group boards strategically and I'll also share my review of BoardBooster*, but if you want to try it out yourself you can use my referral link to get your first 100 pins free*.
From the breakdown charts below (Jan: left, Dec: right), you can see my Ginger-Orange Green Smoothie Recipe at the top of both months, but the rest of the content people are finding through Pinterest are mostly writing-related posts.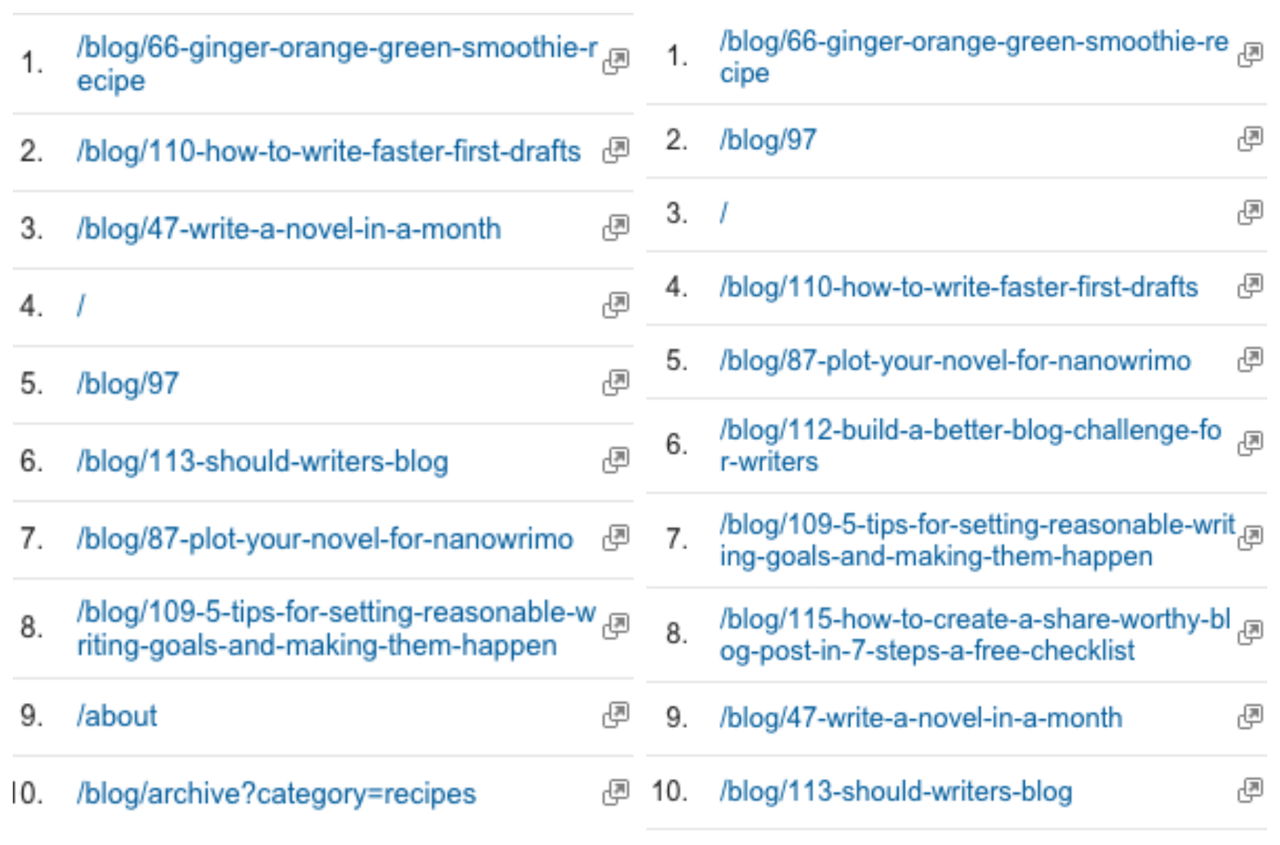 Social Media Growth
Last month I took a social media hiatus to focus on my revisions. It was a great choice in terms of helping me reach my writing goals, but I wondered if my numbers might drop.
My numbers didn't drop, and all grew - Pinterest most of all because I started scheduling pins in advance using BoardBooster* (I will be sharing my review soon).
Twitter: 969 (+4)
Pinterest: 607 (+225)
Instagram: 209 (+5)
Mailing List Growth
My mailing list grew quite a bit last month. I added sign ups (with content upgrades) to some of my most popular posts, plus a number of other small changes to approach my mailing list more strategically.
How I did on my January goals
1. Blog once a week.
Excellent
I shared a new blog post every week: January 2016 State of the Blog, How to Make a Blog Post Image Template with Canva, How to Revise Your Novel, Website Basics for Writers and Authors, and 10 Weaknesses to Look for When Revising Your Manuscript.
What made a HUGE difference this month was that I worked in batches. I wrote 2-3 posts at a time and scheduled them in advance. Scheduling in advance meant I didn't need to worry about writing new posts every week, and it helped me focus on my revisions.
2. Get the super exciting secret series started.
Good
I made progress on getting this ready for you; I'll be sharing more about it soon.
3. Clean up design.
Okay
I didn't get as much done as I had hoped - so much of my time went into my revisions last month, which I don't regret, but it did mean less time for working on my design. Tasks:
Update the color palette (in progress)
Change heading styles (done)
Add post previews to my index (in progress)
I also updated my about page and have added SumoMe tools to my site (sharing, list builder, highlight to tweet). Once I have more data from SumoMe, I'll share my review.
Goals for February 2016
1. Experiment with Twitter
This month I'll be experimenting with scheduling tweets in advance, and being more consistent on Twitter.
2. Work on new email course for writers and authors
I've been dropping hints about my next blog project - a free course for writers and authors who want to start or grow their email lists. Last month I started outlining the course, and this month I'd like to begin work on the content.
3. Finish design tasks
Most notably:
Finish updating the color palette
Add post previews to my index
---
Thank you so much for reading, friend. If there's anything I mentioned that you would like to learn about, please jump in the comments to let me know.
Now I would love to hear from you:
Do you have plans for your blog this month? Tell me about it in the comments, and be sure to link to your blog so I can take a look! :)
Photo credit: Death to Stock
---