Templates are a great way to help you save time and create consistent images, and you don't need Photoshop - or a graphic designer - to create them. I put together a quick tutorial to show you how to create and use a blog post image template with Canva, a free photo editing and image creation tool.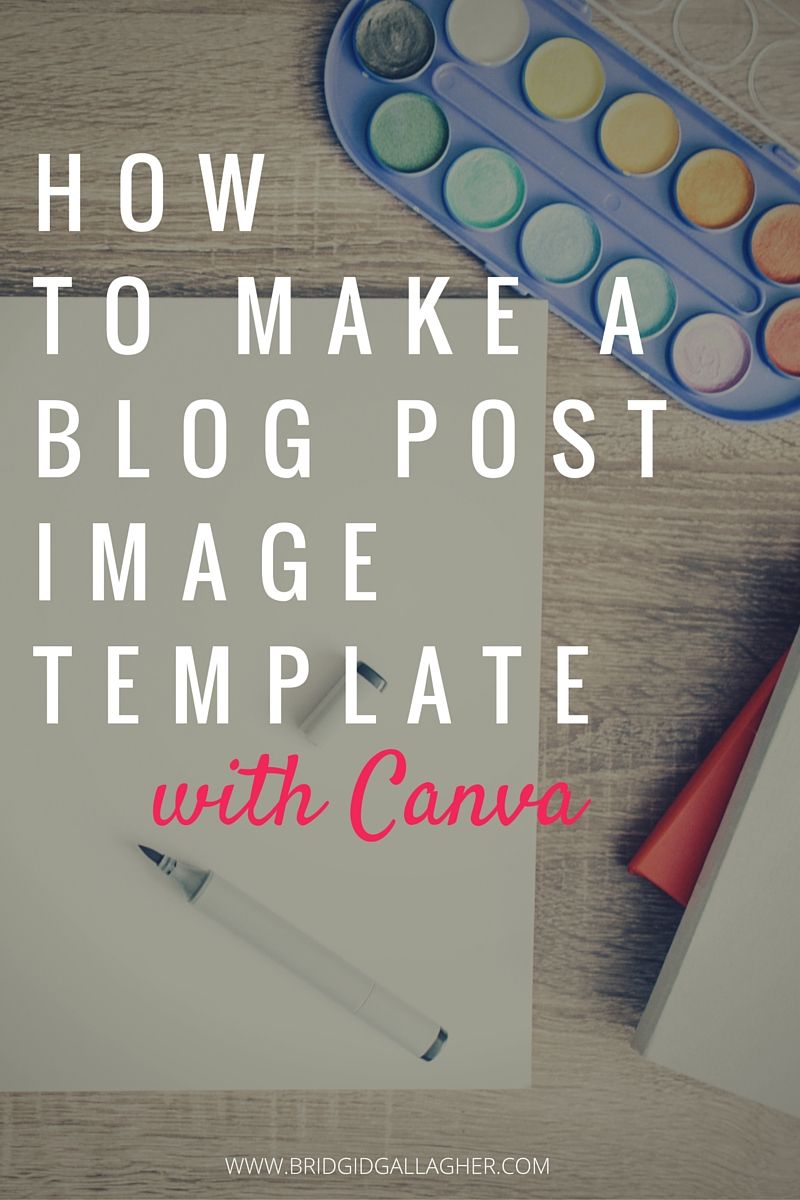 Friends, you know I love Canva. Remember when I made a tutorial to show you how to make a cover for your NaNoWriMo novel? Today we're going to use Canva to make beautiful blog post image templates so you can create one blog post image then simply copy and edit every time you need a new image for a new blog post. (Did I mention that Canva is free? Seriously. It's your new best friend.)
Before we get started, you might be thinking: um, why do I need an image for my blog posts? I'm a writer, not a photographer. Sheesh.
I get it. Your words are the real gems in your blog posts, but images can be powerful, too. We talk about this in detail in the Build a Better Blog Challenge, but here's one REALLY powerful reason: images do better on Pinterest, and Pinterest has HUGE potential as a traffic source for your blog.
Images do better on Pinterest, and Pinterest has HUGE potential as a traffic source for your blog.
Remember my State of the Blog post? Pinterest is my number one social referral, in part because I started adding pin-worthy images to my blog posts (learn more about creating share-worthy blog posts).
With a template you make one amazing share-worthy blog post image, then copy that image and edit it when you need a new one. In addition to saving you time, having a template will help you keep your fonts and colors consistent (the web designer in me is doing a happy dance). Sounds pretty great, right?
So let's make that template!
How to Make a Blog Post Image Template with Canva
1. Sign in to Canva or create your free account.
Go to Canva.com to sign in or create your account.
2. Under Create a Design, choose the Blog Graphic template.
Another reason to love Canva: they've created a blog graphic template for us! Vertical images do better on Pinterest (get more clicks and repins), and Canva's Blog Graphic template dimensions are perfect for blog posts. You can also create a design with custom dimensions if you would prefer something different.

3. Either choose an existing template to edit, or upload a photo to start your custom template.
A number of Canva's templates are free, look for the "Free" label in the bottom right hand of the template. If you choose to upload a photo, please make sure you either own or have permission to use it.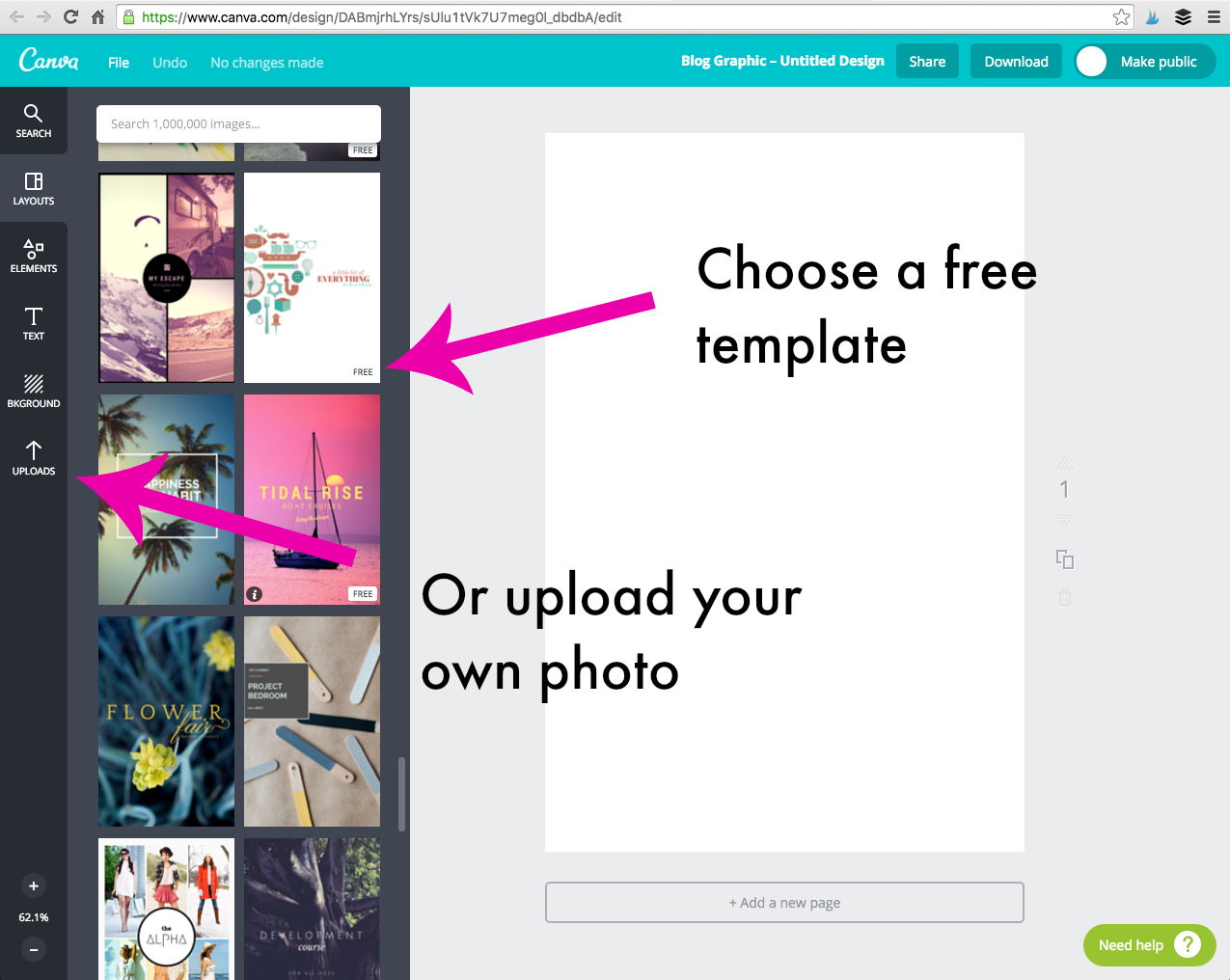 4. Add your blog post title (optional) and your website.
You don't have to add your blog post title, but I have found that images with my blog post title get more repins on Pinterest. It's good practice to include your website on images, to help make sure people who see (and like) your image can find you.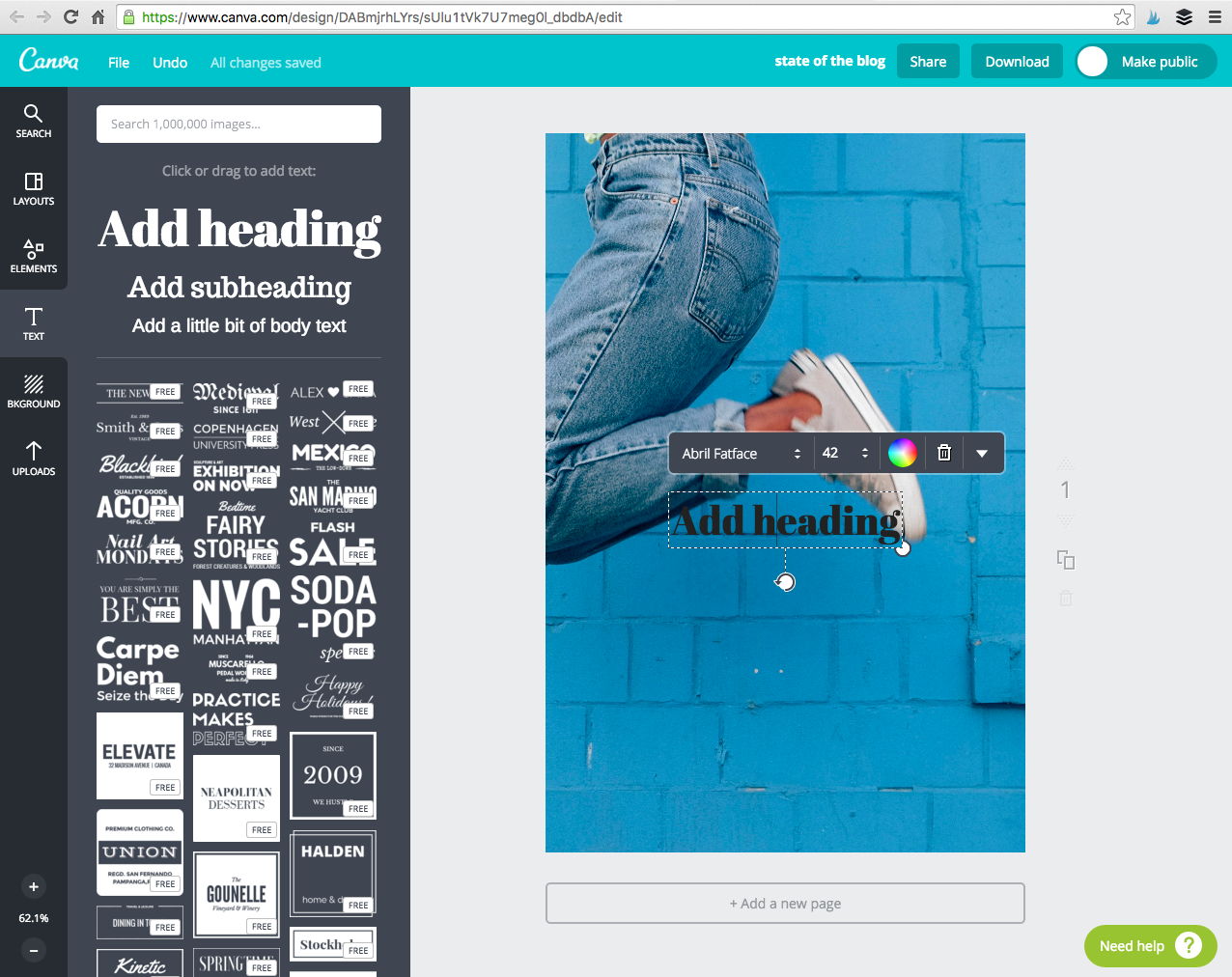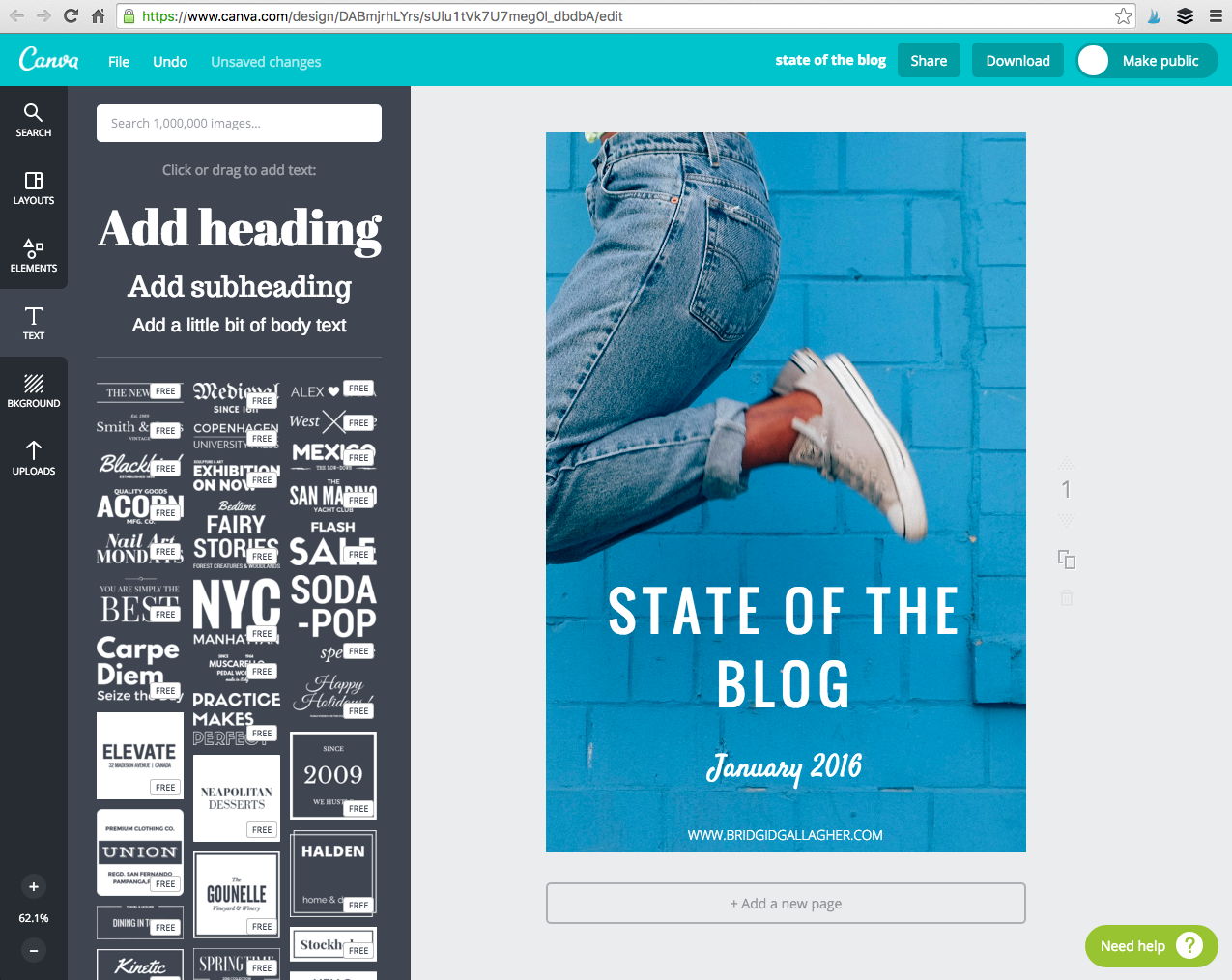 5. Duplicate the image and edit to create a new blog post image.
You've created your blog post image template! Now you can make a duplicate of the image and edit it for new blog posts.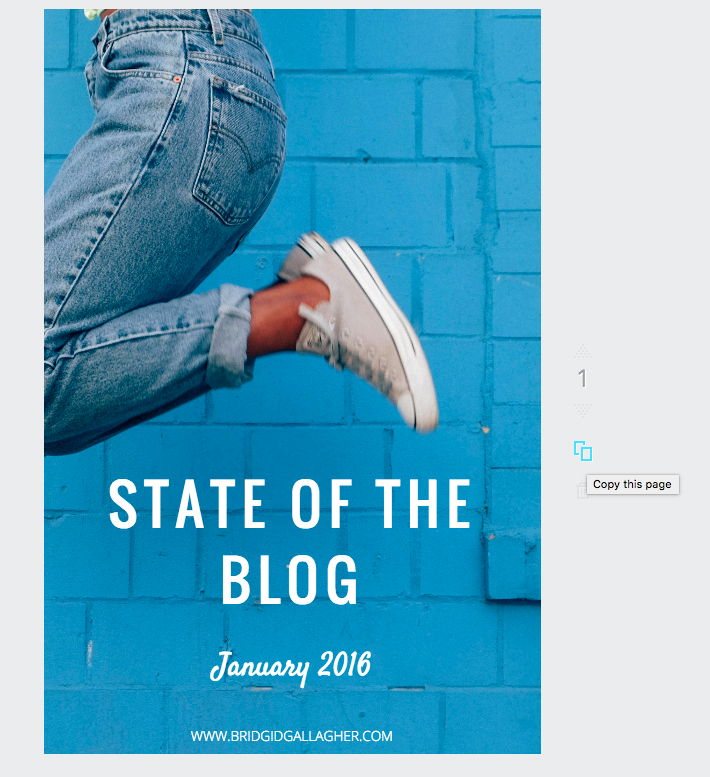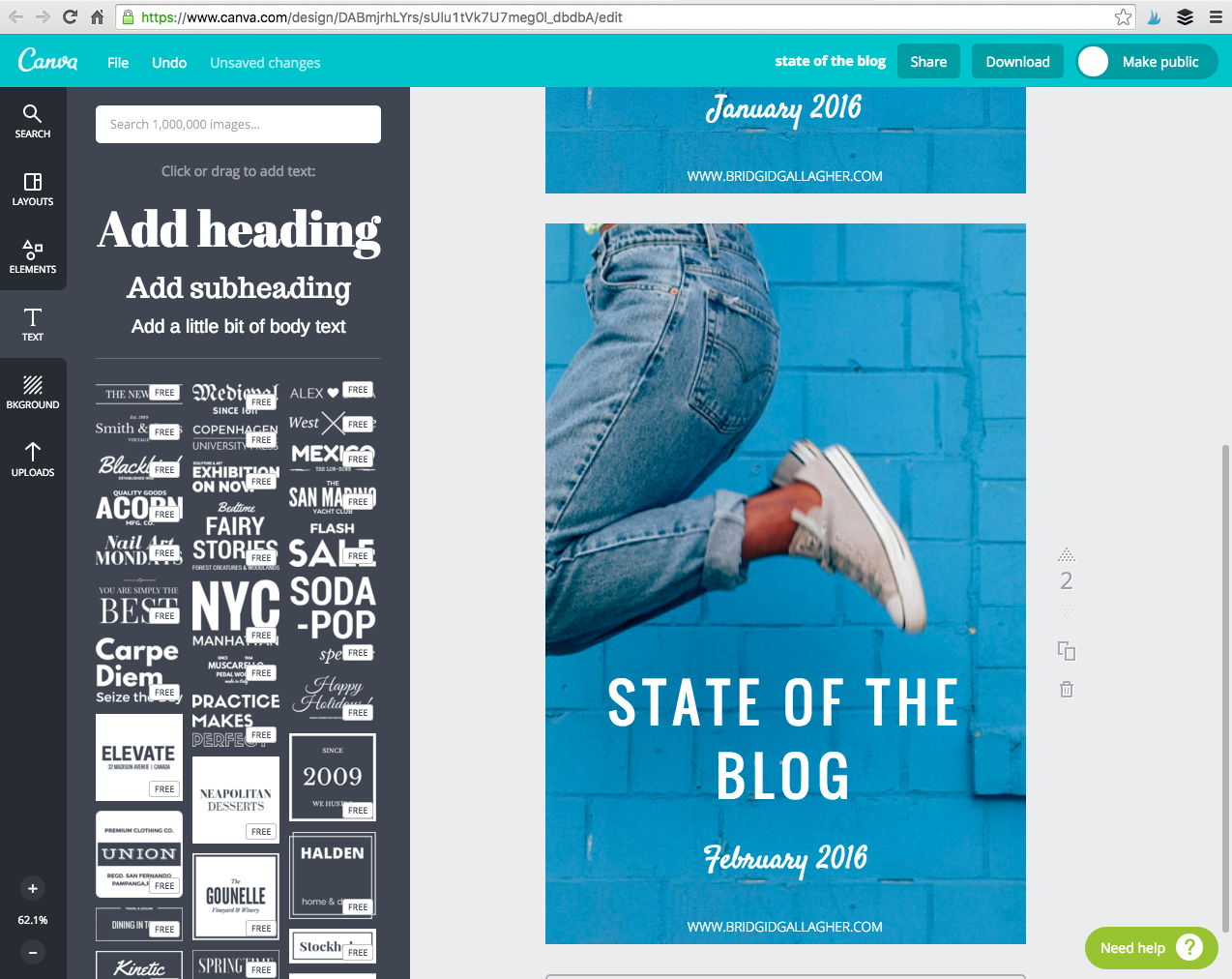 6. Name your template.
Click on the name of your template to change it. Use a name you'll remember.
7. Save a copy.
Click "Download" to save a copy of your template. If you'd like to download the newest blog post image only, under "Download" click "Options" and specify the page number.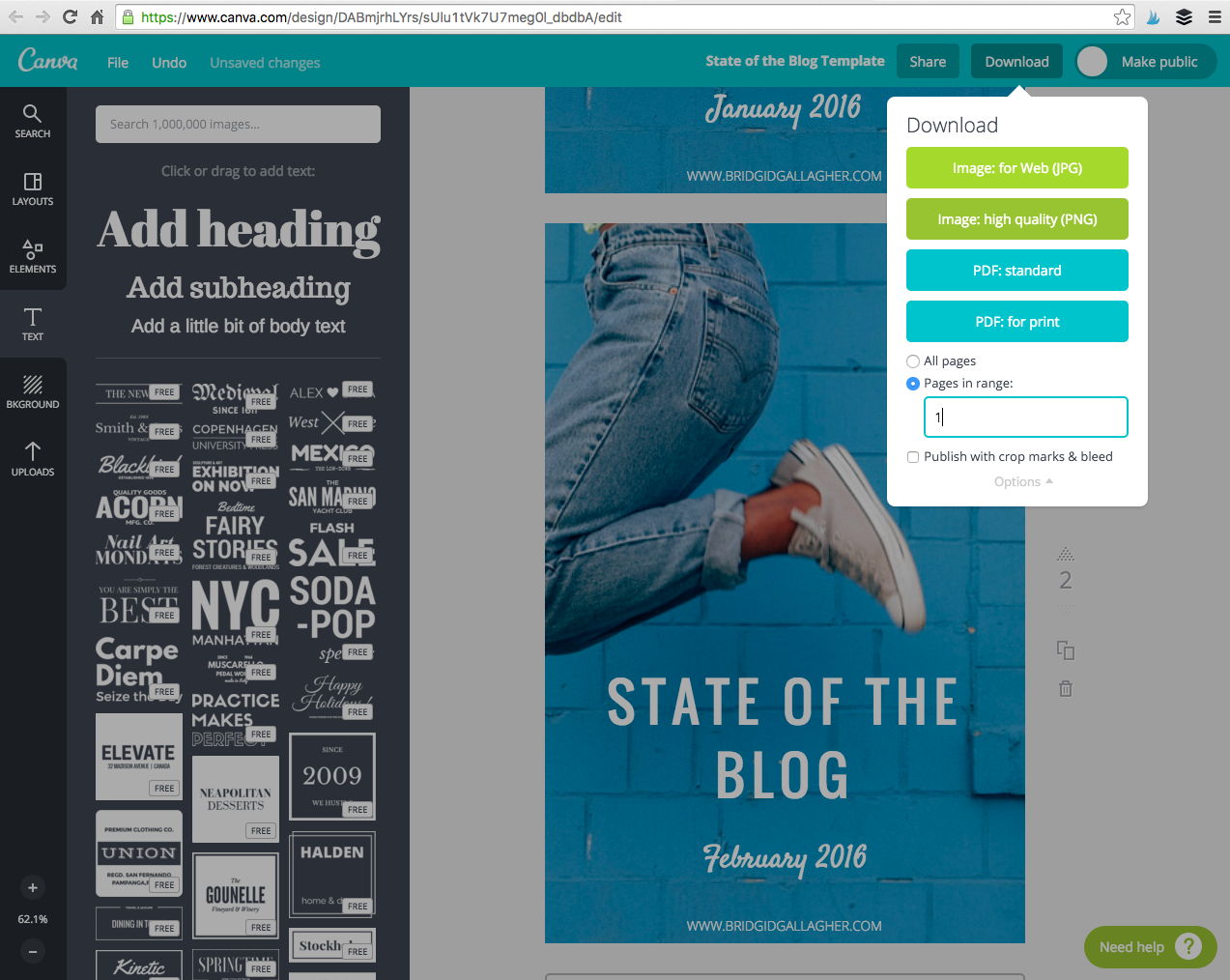 That's it! Easy, right?
If you liked this tutorial I would be so grateful if you shared it!
Here's a quick & easy way to create blog post image templates with @Canva
---
Do you already add images to your blog posts? Is there something you'd like to learn about, or anything you find challenging/frustrating? Jump in the comments - I'd love to hear from you!
P.S. If you use this tutorial, let me know what you think! I would love it if you linked to your blog post with the images you create. :)
Credit for both photos: Death to Stock
---