In the Build a Better Blog Challenge, we talk about how to add value to blog posts and engage readers. A big piece of the puzzle is making sure people see your blog posts. It's important that you share your posts on social media, but you also want to craft your post in a way that 1) makes people want to share it, 2) makes it easy for them to do so. Today we're going to walk through seven simple steps you can take to make each of your blog posts share-worthy. Be sure to snag your downloadable post check list - the link is at the bottom of the post.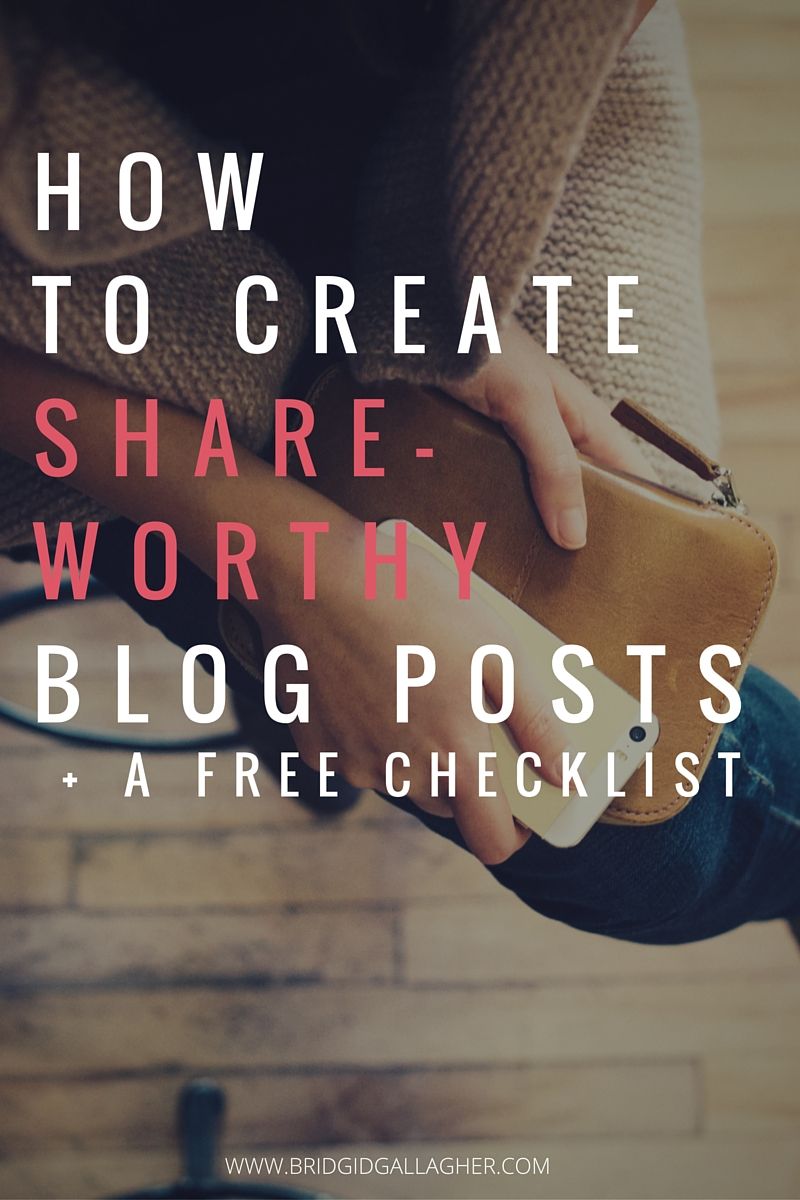 Update September, 2017: The Build a Better Blog Challenge no longer available. Join my mailing list to hear about future courses & challenges.
SEO
Before we dive into the steps, let's talk about SEO, Search Engine Optimization.
Basically, SEO is a fancy way of saying you want to make it easier (optimizing) for search engines (Google, Pinterest) to find your URL (website/blog post). We want to help people find our posts, which means we need to be aware of some basic SEO techniques. (Hint: I'm going to share a few in this post.) I talk about using keywords quite a bit. If you're unfamiliar with the term, keywords refer to the words or phrases people enter into search engines when seeking information.
For example, from Google Analytics, I can tell that people found my posts on plotting for NaNoWriMo and creating a cover for your NaNoWriMo project by searching for the terms, "plotting your nanowrimo" and "nanowrimo."
There are far more things to learn about SEO, but for today's purposes, this should get you started.
7 Ways to Craft More Share-Worthy Blog Posts
1. Craft a high-quality post, one your target audience will want to share.
Can't read the whole list? Do this.
At the very least, you want to create and share amazing content. You want to wow your readers with your insight, sense of humor, skill with a camera - whatever it is you're sharing in your blog posts, share it well. Put time into making valuable content for your readers; it's the best way to encourage them to share your posts.
Think about how you can best help, serve, or entertain your audience. Look at blog posts by other bloggers you have recently shared. What about them encouraged you to take action? Also think about posts you've commented on in the past. What enticed you to leave a comment?
Put time into making valuable content for your readers; it's the best way to encourage them to share your posts.
All the traffic in the world won't help you grow a share-happy audience of readers if you're not 1) writing with your target readers in mind, and 2) writing really great posts.
So, when you're trying to come up with ideas for posts, or when you're writing your post, think about how best you can help your audience. What can you offer them that they would LOVE to read?
2. Use blog post titles with relevant keywords and make them enticing
Next up in importance are your blog post title and the URL for your post.
You want your blog post title to be relevant to your post, consistent with your target audience, and enticing. Make your readers want to take action, and highlight the extra-awesome value in your post. When possible, include keywords and keyword phrases relevant to your audience.
Make your readers want to take action, and highlight the extra-awesome value in your post.
Although your blog post title should be keyword-rich, it's most important for your blog post URL to include keywords. I mention this because with some blogging platforms you can create a URL that's different from your blog post title.
Since this is so important, let's do an example.
Say you write a post about writing query letters. You want to call it Writing the Thing Writers Hate to Write. Which is cute and funny, but if a writer searches for "writing query letters," they are a LOT less likely to find your post.
So instead, you give it a keyword-rich, relevant title, and include a ​​hint at the awesomenss in the post.
I ​could ​write something simple like, How to Write a Query Letter — and that would be great. But how many times have you seen that blog post title? Can you take it up a notch, and help your post stand out in a search?
Perhaps something like:
Everything You Need to Know About Querying Agents
The Ultimate Guide to Writing Query Letters
Read the Query Letter that Landed My Agent
10 Writers Share Successful Query Letters
The Key to Writing a Successful Query Letter
Notice I included things I think writers might search for:
"write a query letter"
"how to write a query letter"
"successful query letter"
"query letters"
"querying agents"
The next time you click through a tweet to read a blog post, or click to read a post from your feed reader - take a moment to reflect on the title of the post. Why did you click? What made this post stand out?
Want to see some keyword-rich blog post titles? Read 50 Blog Post Ideas for Writers.
3. Include at least one image
Images in blog posts help break up content, but they also show up when you share them on Twitter, Facebook, and Pinterest, which can entice people to click the link.
Choose at least one high-resolution image. Make sure it is relevant to your post content. Optional: You can edit your image with a simple image editor like PicMonkey to add your post title to the image. Also, check that the image reflects your brand or style—so it fits with the rest of your blog instead of sticking out like a sore thumb.
Edit your image's "alt text." In the alt text, include your blog post title, a brief description of your post, and end by encouraging the reader to take action. This will improve your image's SEO and also will show when people pin your image to Pinterest.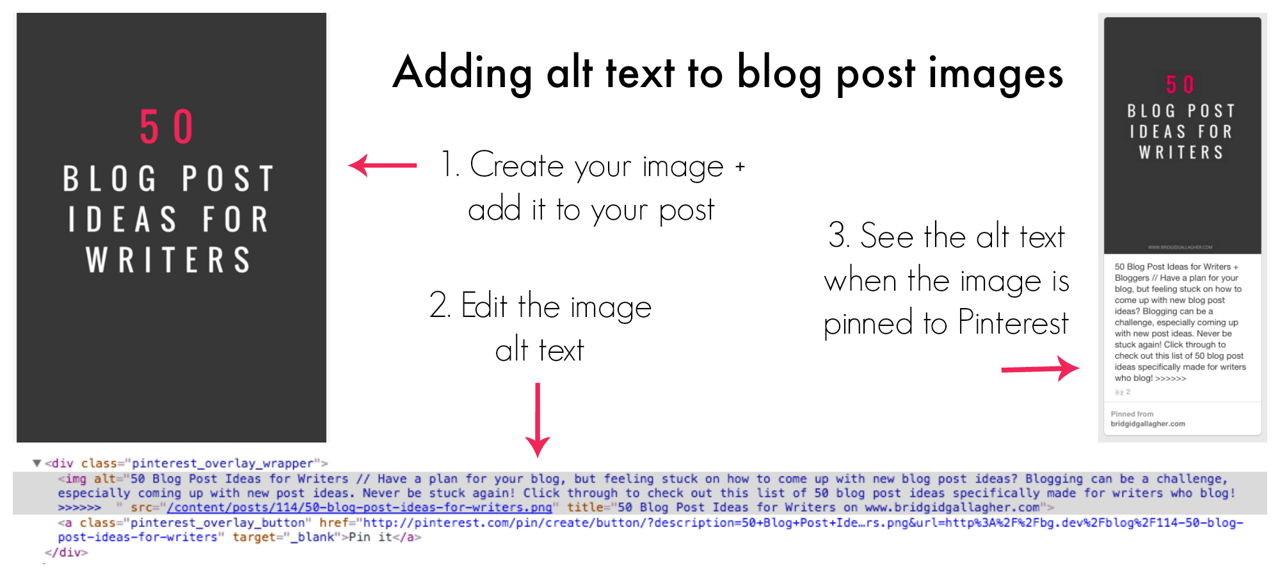 4. Use visual design to make your posts more readable
The visual design of your content will help make your posts easier to read. Using whitespace, headings, and images can help make your posts more attractive to readers, and also help them digest the information in your post.
I like this example from Mark Boulton in A List Apart.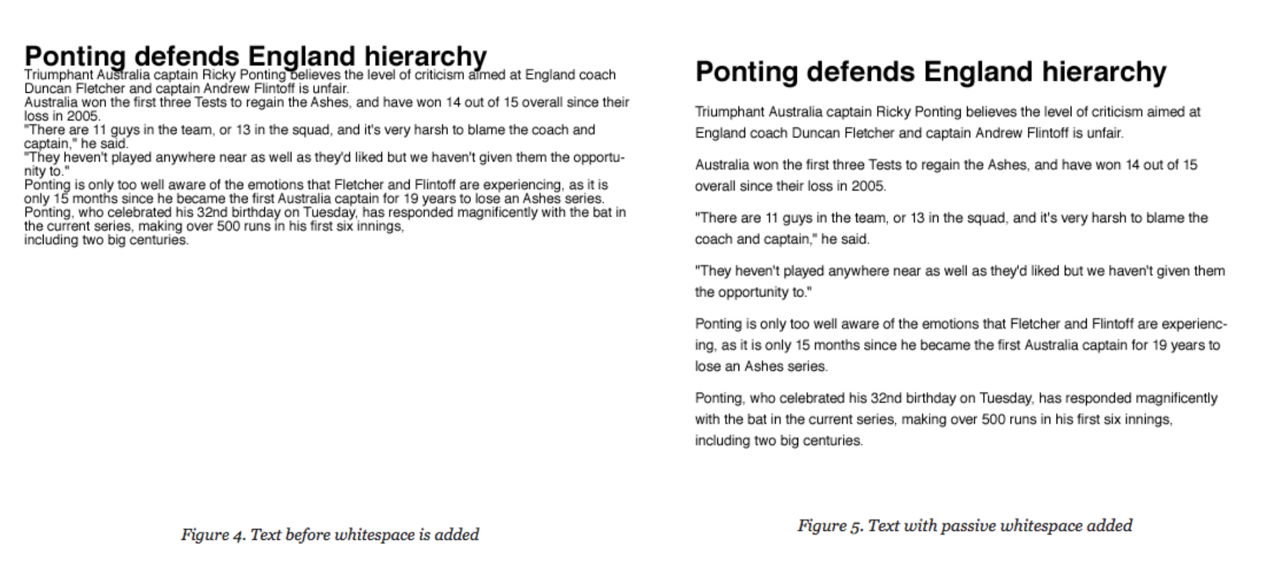 Here are some ways to improve the visual design of your posts:
Make sure your font size is large enough and avoid using colors that make it more difficult to read. Test this by asking friends about the readability of your posts.
Break up long paragraphs into shorter paragraphs.
Use headings and sub-headings within your post. Not only will they help keep your reader's attention, but they also might help you organize your post. ;)
Add images to help break up content and create visual interest.
5. Link to past posts ("deep linking")
When you're writing a new post, see if there are useful, relevant ways you can link to old posts. Help your readers discover old content, and it will give that content a longer life. When you create a link to your old posts (or any link), use keywords versus linking random text.
Here's an example (the suggested links are italics): Not good ———> I talked about writing stuff last week, and now I'm going to delve into a new topic. Much better ———> You've already written a rough draft of your novel, so now you should read this post about revising.
6. Use keywords or phrases within your posts
When there are keywords and phrases within your posts—even if they aren't links—it can improve your ranking in search engines.
Whaaaat?
It's true!
Here's a way to make this easy: before you start writing your post, jot down all the keywords and phrases relevant to your topic. Write your post, then when you're editing it, check to make sure you've included some of those keywords and phrases. Add them if necessary.
Sidenote: If you use WordPress, there is a free plugin called Yoast that can help you do this.
7. Link externally to your post
Your search engine ranking will improve if you have external sites linking to your URL. Which means it's a very good thing when people find your site through links from other websites, Twitter, Facebook, and Pinterest.
But how do you make that happen?
First, it's important to share your blog post when you first post it. This sounds basic, but how many times have you written a new blog post and then done … nothing? You didn't share it on Twitter, didn't talk about it on Facebook, just posted and ran away. (Confession: I've totally done this.)
Here's the thing. No one will find your post if you don't share it. And people want to hear from you. If I'm following you on social media, then you can bet I want to hear about a new blog post from you!
When your blog post goes live, share it on your favorite social media sites. Then set a reminder for yourself to share it again. Seek to find an interval that feels natural and non-pushy.You don't want to tweet about the same post ten times in one day (um, please don't do that), but how about once when you post it, then again in a month?
Also make it easy for other people to share your post. Add share buttons. Ask your readers to tweet it or pin an image if they found it useful or valuable. I use Click to Tweet to make it easy for people to share excerpts from my posts on Twitter. Another option is SumoMe, which makes it simple to add share buttons to specific content on your site.
Although you can't make people share your posts, following the above will a) make them want to share, and b) make it easy for them to share it.
---
That. Is. The. List.
You made it, friend! High fives. You're well on your way to making amazing, share-worthy blog posts.
Your Turn!
Do you have tips for creating better blog posts? Jump in the comments - I'd love to hear from you.
Also, if you create a blog post and use these steps, I would absolutely love to see it! Be sure to share it with me in the comments below. :)
P.S. You might also like 50 Blog Post Ideas for Writers and Should Writers Blog?
---