Want to blog more, but feeling stuck? You are in luck, my friend. I've put together 50 blog post ideas just for you! You can take your pick, or use these as a starting point for creating your own blog post ideas.
Now let's talk about blog post ideas!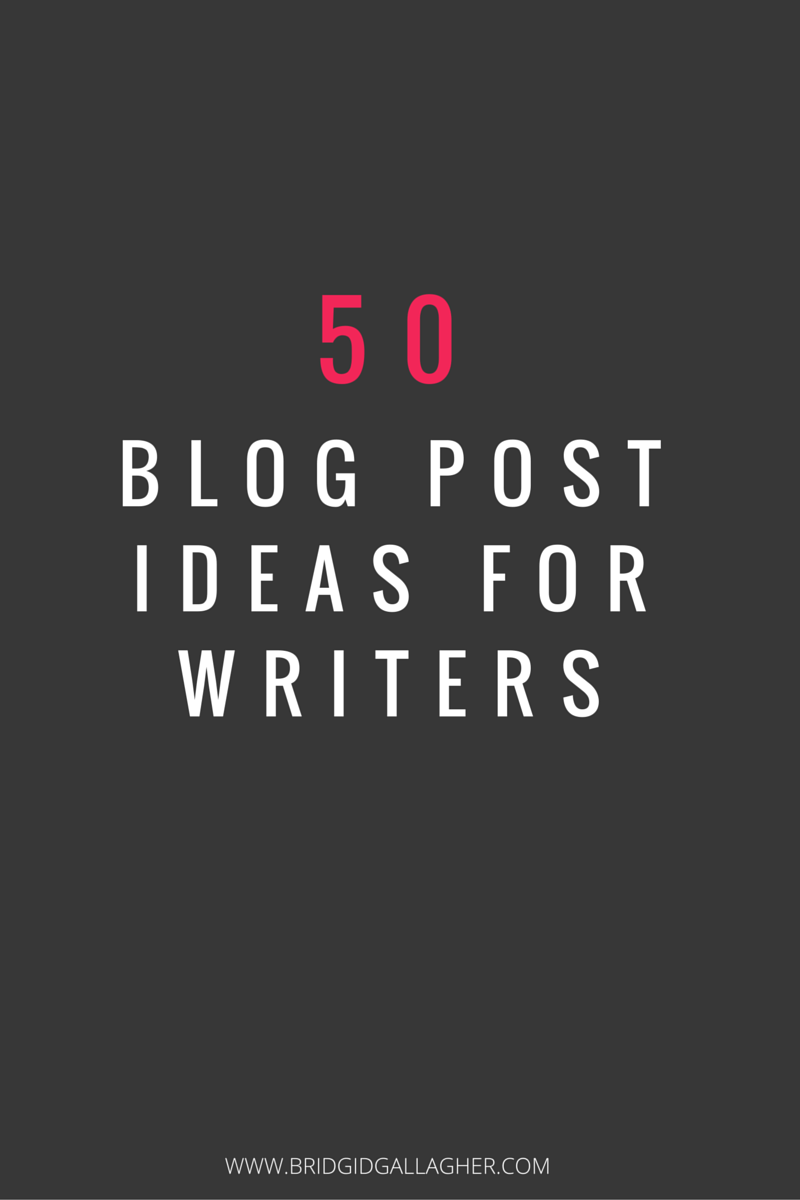 Update September, 2017: I created this list to go along with my 7-lesson Build a Better Blog Challenge. The challenge is no longer available, but I encourage you to join my mailing list to hear about future courses & challenges.
These aren't just any blog post ideas. I've come up with blog post titles that are Search Engine Optimized (SEO) for writers. If you're unfamiliar with creating SEO-friendly posts and post titles, in this situation that simply means they include keywords and phrases that other writers (or those interested in writing) might enter into search engines. By using SEO-friendly titles you can help people find your posts. (Psst: That's what we want!)
How to use this list
Pick out titles that stand out to you as topics you would love to write about on your blog. Jot them down, or bookmark this list so you can return to it when you're stuck.
Let's go!
---
50 Blog Post Ideas for Writers
Your writing process
How I [Process Step] My Novels, Examples: How I Revise My Novels, How I Draft My Novels
What I Wish I Knew About Revising (or Editing, Drafting, etc.)
How I Survived NaNoWriMo (or Why I don't participate in NaNoWriMo)
How I Come Up with New Story Ideas
Where I Write - My Favorite Spots to Get in the Writing Zone
[Number] Things I've Learned About Writing
My Favorite Authors, and How They've Inspired Me to Write
From Beginning to End, How I Write a Novel
Music (or Musicians) that Inspires Me to Write
What I Do When I Get Writer's Block
Book recommendations
The [Number] Best Books for [Genre] Writers
[Number] Books to Read Before Starting Your Novel
My Favorite Childhood Classics
[Number] Books to Get You Ready for [Season], Examples: the holidays, summer, fall, spring, etc.
My Picks for [Location] Reads, Examples: beach, vacation/destination
[Number] Recent Favorite [Genre] Reads
The Best Books for Creatives
[Number] Books on Plotting (or Revising, Editing, Drafting, etc.)
Reasons All Writers Should Read [Book]
[Number] Books I Read When I Want to Get Inspired to Write
Tools you use
How I Use [Tool] to Come Up with Story Ideas, Example: How I Use Pinterest to Come Up with Story Ideas
[Number] Apps Writers Should be Using
My [Number] Favorite [Device] Apps for Writing, Editing, and Revising, Example: My 5 Favorite iPad Apps for Revising Novels
[Number] Writers Can Use Pinterest
How to Use [Tool] for World Building
[Number] Ways to Use [Tool] for [Result], Example: 10 Ways to Use Scrivener to Streamline Your Drafting Process
How I Use [Tool] to Collaborate with Other Writers
[Tool] Basics for Writers, Example: Twitter Basics for Writers, Goodreads Basics for Writers
Ways I Use [Tool] to Beat Writer's Block
Reasons to Use [Tool] to [Result], Example: Reasons to Use Goodreads to Organize Your Reading List
Getting social
This Week's Best Tweets for Writers (or blog posts)
[Number] Ways to Use Twitter to Connect with Other Writers
How to Survive Your First Writer's Conference
Social Media for Introverted Writers
[Number] Ways I Connect with the Online Writing Community
How to Make the Most of Online Writing Groups
Reasons to Use [App] to Connect with Other Writers
[Number] Writers I Follow on [App]
Tips for Making the Most of Your Time on [App]
[Number] Ways to Rock [Online Event], Example: 5 Ways to Rock #PitMad
Share resources
My Favorite Writing Websites
The Best Music to Write To
[Number] Best Email Lists for Writers
[Number] Literary Agents I Follow on Twitter
[Number] Songs to Get You in The Writing Mood (or to Inspire You To Write [Genre])
Getting personal
How [Hobby] Helps Me Improve as a Writer
What I Do When I'm Not Writing
Where I Go to Get Inspired to Write
How My [Person or Relationship] Helps Me Write Better Books
[Number] Offline Things Writers Can Do for Inspiration
---
If you use one of these titles, I would love to see it! Share the link in the comments below and I'll take a look.
Now it's your turn! What would you add to this list?
---