Want to get your blog ready for 2016? Read on to learn more about the Build a Better Blog Challenge. In seven lessons, we'll work through my free Blog Content Workbook for Writers and help you create a strategy for better blogging this year.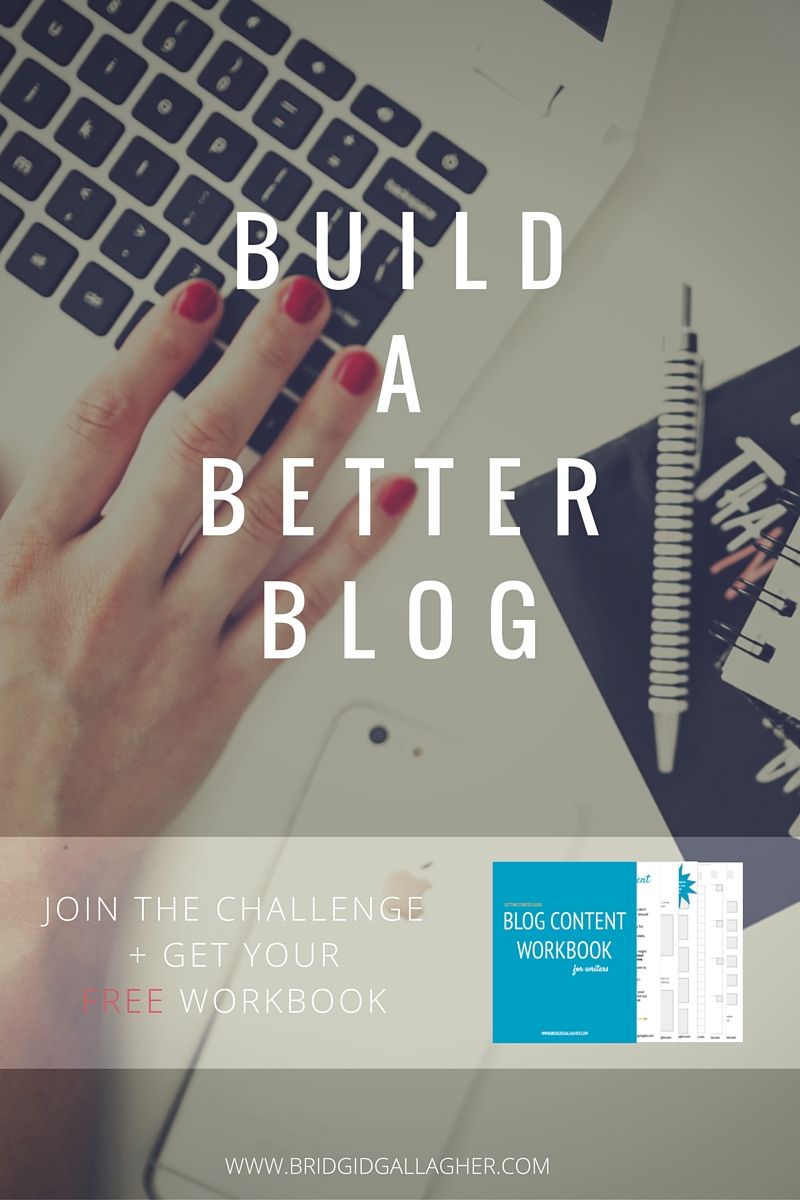 Update September, 2017: The Build a Better Blog Challenge no longer available. Join my mailing list to hear about future courses & challenges.
Tell me if this sounds like you:
"I want to blog more, but I'm not sure what to blog about." "I have a blog, but I'm not sure what to do with it." "I'm just getting started with blogging … help!"
If you're thinking: YES! That's me! Then you are in luck, my friend.
I created a content planning workbook to help me reach my own blogging goals in 2016, and now I'm sharing it with you. (Are you excited? I'm excited!)
The workbook includes ten pages of activities and covers goal setting, deciding on your target audience, generating post ideas and categories, scheduling your month of blog posts, and setting traffic and engagement goals. I made this workbook to help me reach my own goals, and you can use it to reach your goals too. For free!
So. You can take the workbook and use it on your own to reach your blogging goals. Definitely. It would be a great start, but it would be even better paired with helpful instruction and a healthy dose of accountability. (How often have you downloaded a "plan," then let it gather dust? I know I'm guilty of this!)
I have another option for you.
Build a Better Blog Challenge
Next week, I'm going to help you create a plan for your blog. I ask for one week. One week to help you understand the logic behind the workbook, then put it into action. And I have goodies to help make it more fun!
What's better than a workbook?
Knowledge bombs
To make the most of the workbook, it's important to understand the why and how behind each of the activities. We'll walk through each page of the workbook, both here on my blog and in a free, online workshop.
Community
Personally, I find it far easier to reach my goals when I have a community to help hold me accountable. Which is why I created a private online community for you! You can share your progress, ask questions, and join discussions. (It's not a Facebook group. Promise!) By joining you'll connect with other writers who have the exact same blogging goals as you. Awesome, right?
This challenge is for you if:
You have a blog, but you want to blog more.
You want to join a community of bloggers (and give back to that community).
You don't mind putting in the work required to prepare for an amazing, focused year of blogging.
After one week, you'll walk away with at least one month's worth of blog post ideas—ideas that align with your blogging goals—AND a community of other bloggers to help hold you accountable.
I hope you'll join me for this challenge. Click the button below if you're ready to get started!
Now it's your turn! I would love to hear from you in the comments. What are you doing to get your blog ready for 2016?
P.S. Check out my recent posts on writing: How to Write Faster First Drafts, 5 Tips for Setting Reasonable Writing Goals - and Making them Happen, and 5 tricks for getting into the writing zone.
---