It's simple to make pumpkin purée...Or is it? In the past, I went with canned pumpkin because it sounded hard, or maybe like too much work, or perhaps like it would take too long. But this year I couldn't pass up the little orange cuties at my local food co-op and it turns out that it's super easy to roast pumpkins and make pumpkin purée. And I'm here to tell you about it!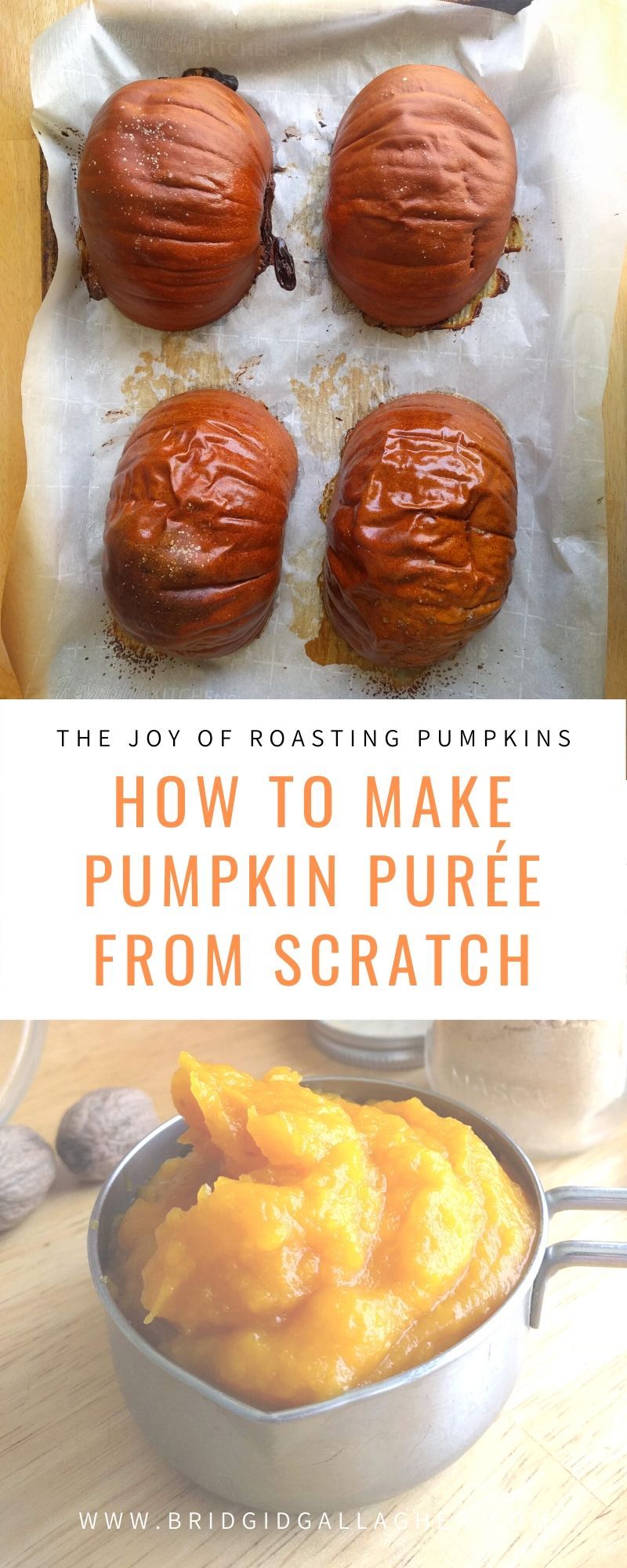 Please note: This post includes affiliate links. If you use a link to make a purchase I will earn a small commission at no extra cost to you. Thank you so much for helping support my work!
It's FALL. Leaves have fallen, the harvest has come in, and I've been sick with a cold because changing temperatures and school starting and LIFE. That's me in a nutshell. Now let's talk about pie.
I mean, pumpkins.
I mean, making pumpkin purée from scratch and thus earning kitchen goddess/god/non-gender specific awesomeness status.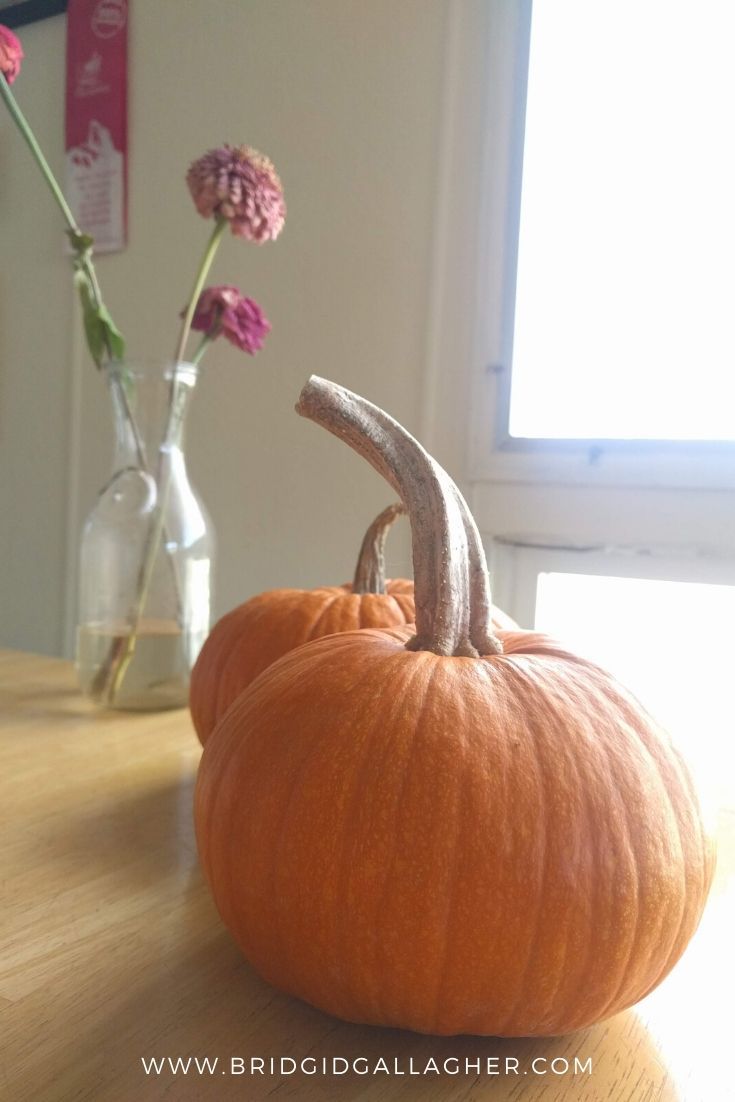 But really, it comes back to making pie and I'll be sharing my favorite pumpkin pie filling recipe soon (hint: made in a blender, suuuuuuper easy, and lick-you-fingers-while-you're-making-it good).
Choosing Your Pumpkin
First, you want to choose the best pumpkin for making tasty pumpkin treats. The larger pumpkins we use for carving and teeny tiny ones you see for decorating - those aren't what you what. Look for small pumpkins labeled "pie pumpkin" or "sweet pumpkin." Those are what you want!
And if you're at all confused or uncertain, ask your friendly produce person. At my local food co-op, they are wonderful about answering all of my (weird, bizarre, awkward) produce questions. They also labeled the pie pumpkins so people like me can't make the mistake of grabbing the wrong gourd (I feel like there's a pun possibility in there somewhere…).
Roasting Pumpkins
To make your purée you first need to roast your pumpkins. It is very simple. Just rinse your pumpkins to remove dirt and debris (since pumpkins are grown on the ground there is often a bit of mud/dirt on them - no biggie!). Then carefully slice the pumpkins in half and remove the stem and scoop out the seeds. You can save the seeds to make roasted pumpkin seeds (yum!) or compost them. Or give them to your chickens who consider pumpkin seeds THE BEST THING EVERRR!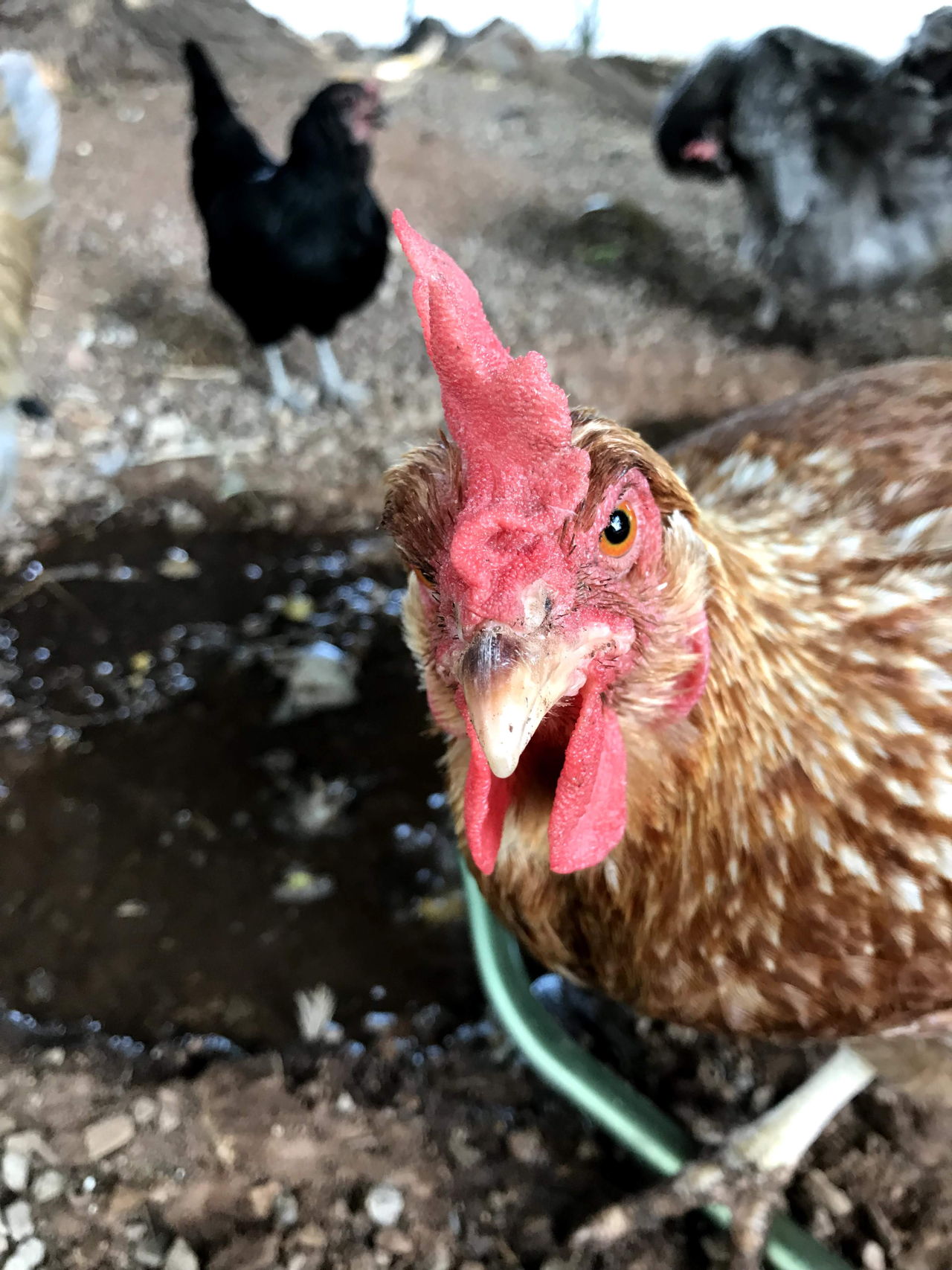 Houdini says: Can I eat that?
Roasting pumpkins
This is the easy part! Simply lay your pumpkins face down on a lined or greased baking sheet. Rub the outside of the pumpkin with a little coconut or olive oil (I prefer coconut). You can also rub the inside of the pumpkin with a little oil and sprinkle with salt, but I usually skip this.
Bake at 400° F for 45-50 minutes or until soft; use a fork to poke it, if it slides through cleanly then you're done! Remove from the oven and allow to cool.
And just to warn you: your house will smell WONDERFUL while these are roasting. Even without spices and sweetening, roasting pumpkin smells like fall and coziness and will make you want to curl up in a blanket with a good book. (See what I did there?) ;)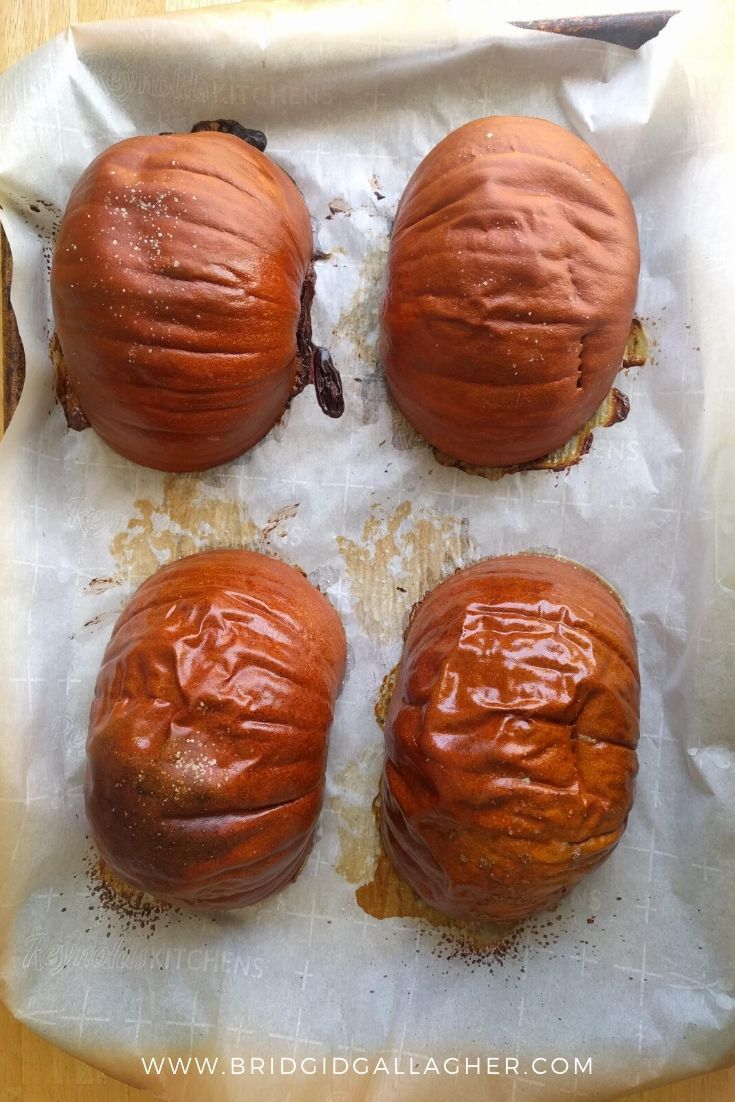 Once they are cool to the touch (usually after about an hour), scoop out the pumpkin leaving the skin (compost it!). Put it in your food processor or blender and blend until smooth. And that's it! You've made pumpkin purée!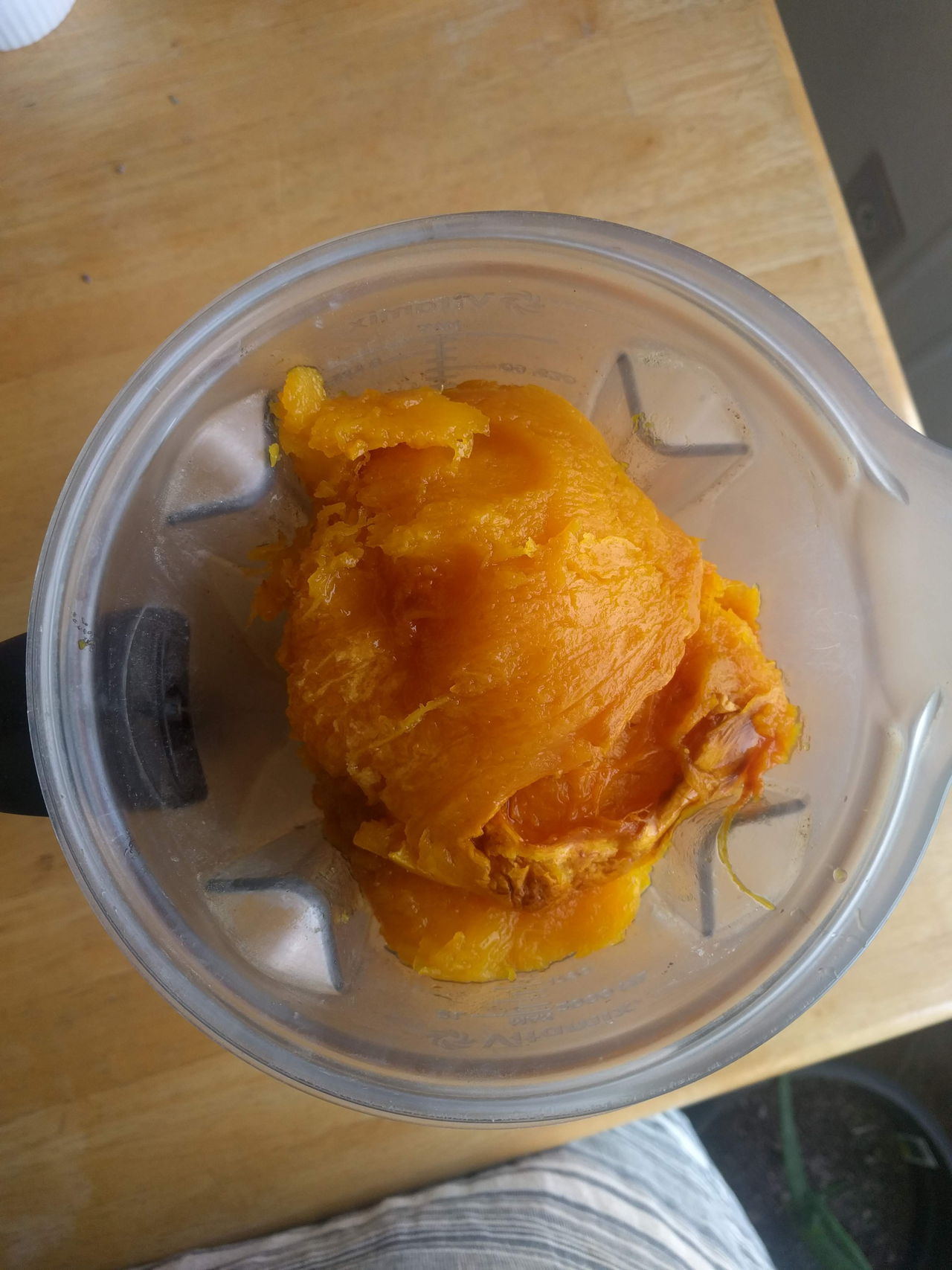 How to Use Homemade Pumpkin Purée
Pumpkin purée is best known for making scrumptious pumpkin pie filling (recipe coming soon), but you can also add pumpkin purée to cookies (I've got you - check back…), make pumpkin smoothies (coming soon!), and soups!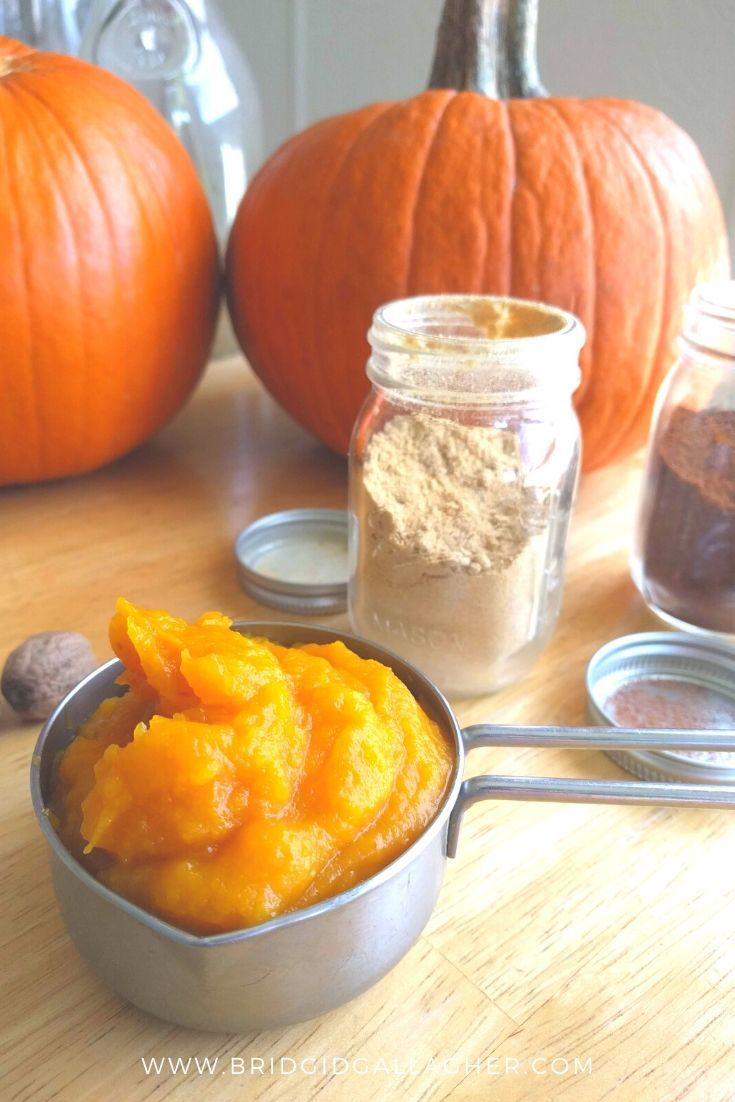 Storing Homemade Pumpkin Purée
To store, simply scoop your pumpkin purée, place it in a freezer-safe container, and freeze or refrigerate OR (my favorite) measure your preferred amount of purée - the amount for your favorite pumpkin-riffic recipe, for example - and put it in a freezer-safe zip-top baggie, then squeeze out all the air, flatten, and move to your freezer. Pull it out and thaw to use in your favorite recipes!
Tools for making this recipe
Now let's make some purée!
Pumpkin Pie Purée
Yield: About 4 cups of purée, depending on the size of your pumpkins
Ingredients
2 pie pumpkins
coconut oil (or olive oil)
sea salt (optional)
Directions
Preheat oven to 400°F. Grease a baking sheet or line with parchment (or a silicone baking mat). Set aside.
Rinse pumpkins to remove dirt and debris. Slice in half. Remove stem. Scoop out seeds and stringy bits. (Save your seeds for roasting!)
Optional: Rub interior of pumpkin with a small amount of olive or coconut oil and sprinkle with sea salt. (I usually skip this.) Place facedown on your baking sheet. Rub with a small amount of coconut oil. Place in preheated oven.
Place pumpkin halves facedown on your baking sheet. Rub with a small amount of coconut oil. Place in preheated oven.
Roast for 45-50 minutes or until the skin is very soft. When pierced with a fork, the fork will slide in easily. Remove from oven and allow to cool.
Scoop out pumpkin flesh, discard skin, and place the pumpkin in a high-powered blender or food processor. Blend or process until smooth.
Move pumpkin purée to storage containers and freeze or refrigerate. Thaw before using.
Well, that's it! Simple, right? And trust me - sooooo worth it!
Now I would love to hear from you:
What's your FAVORITE way to have pumpkin? Pumpkin pie? Latté? Cookies? Soup? Let me know in the comments!
Please share!
If you loved this post, please consider sharing it - use the handy buttons below to share on Pinterest or Facebook. Thank you!
---