Raise your hand if you like candles. Everyone? Good! Today I wanted to share with you a tutorial to show you just how easy to make your own beautiful, clean-burning soy wax candles at home.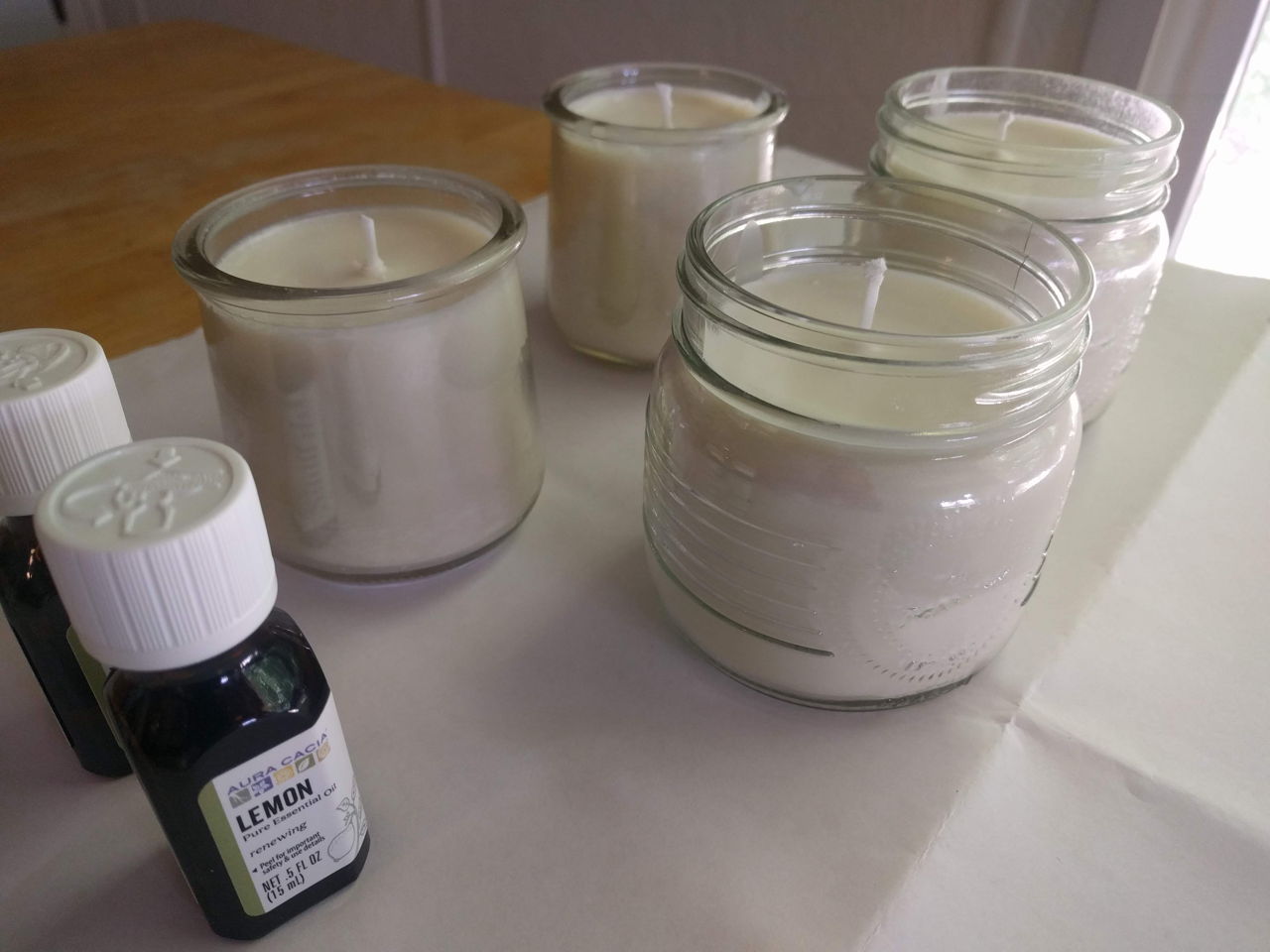 Please note: This post includes affiliate links. If you use a link to make a purchase I will earn a small commission at no extra cost to you. Thank you so much for helping support my work!
Last year I started to get into burning candles in the evening or early mornings before the sun came up. It's a great way to help my brain settle down at night; instead of turning on a million lamps (or using my phone/devices), I light some candles. The glow of candlelight is so comforting and cozy. Perfect for this time of year!
I decided to start making candles for several reasons. First, because it sounded fun; I like making things by hand and thought it would be enjoyable to learn how to make candles (and it was!). I also quickly realized it would be far cheaper to make them (versus buying them) and as an added side benefit, I could use ingredients I liked.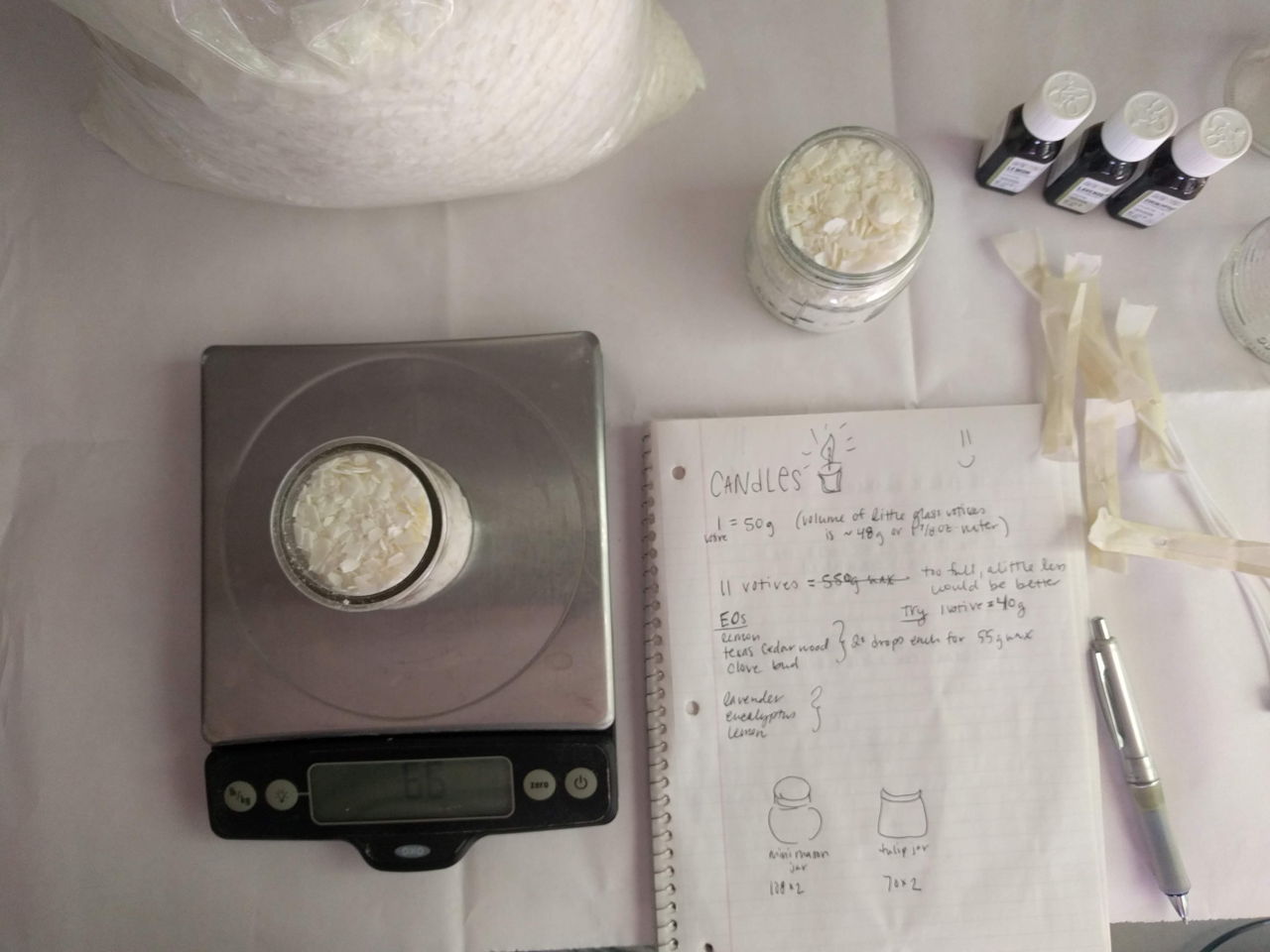 Many of the candles I have bought in the past used synthetic fragrances or non-clean burning waxes like paraffin. It's a personal choice, but I'd like to avoid those. I have tried making beeswax candles, which are great, but found that I preferred working with soy wax. (I save my beeswax for making salves and other body care items!)
What follows is my simple approach to making beautiful, naturally scented candles at home.
Step One: Gather your supplies.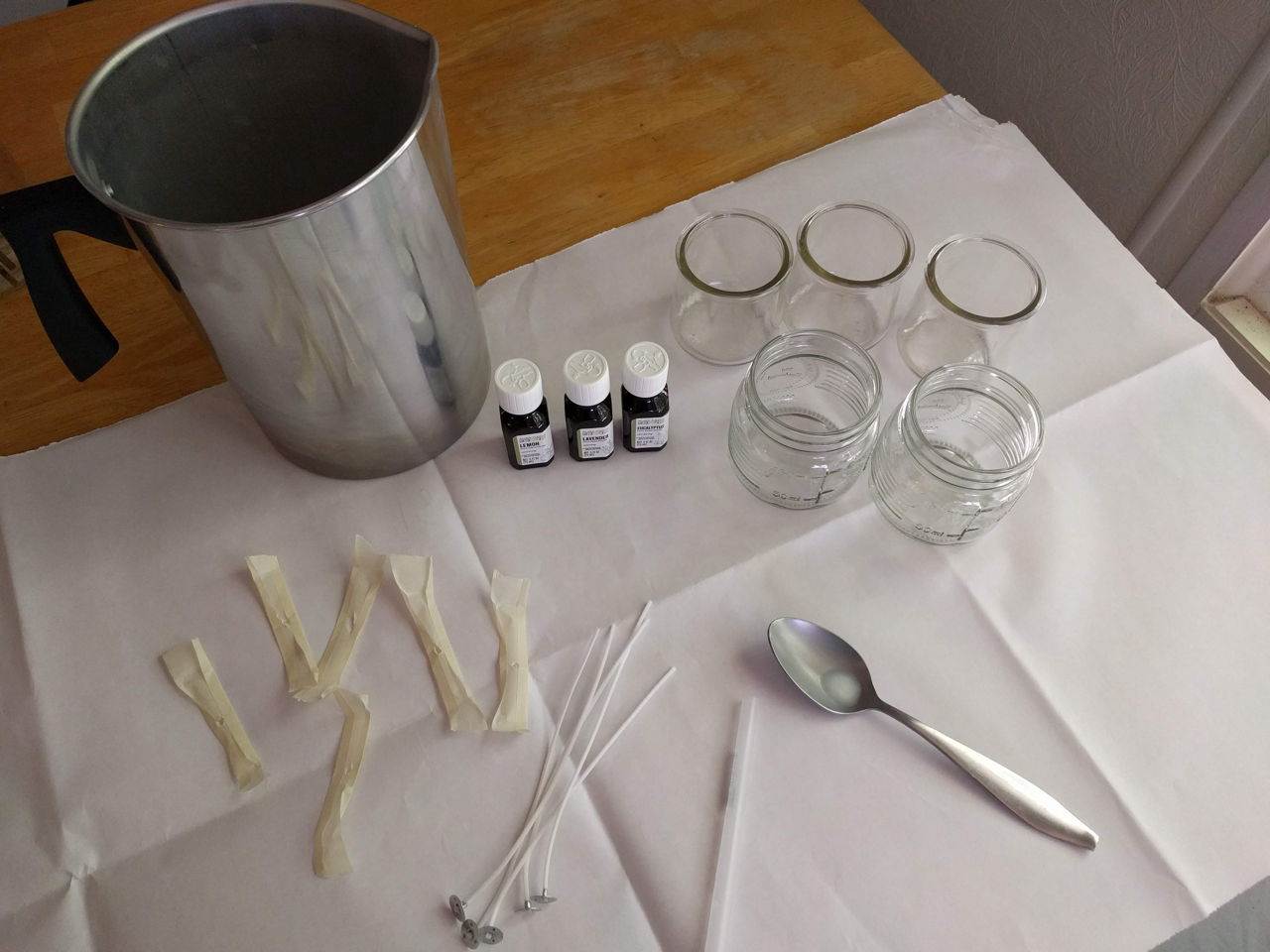 Here are the tools I use to make soy wax candles (click for links to products):
Glass jars (I tend to find them at the thrift store but you could also purchase something online. Examples: glass jars, tins, decorative tins.
OPTIONAL Glue dots (I skip these and will show you what I do instead.)
If you're not using glue dots, you'll want an empty pen body (see photo above for an example)
Scale (I like using a digital kitchen scale)
A spoon you don't mind reserving for candle making
Newspaper or similar to lay over your workspace
Essential oils (I used lemon, Texas cedarwood, and clove bud for this batch)
Plastic gloves (optional)
After you've gathered your supplies, you'll also want to clear away distractions. The wax will be very hot once melted, so perhaps warn kids/spouses/roommates, tuck away pets (if you can?) and avoid making candles when little people are running about. Gloves are nice because you can take them on and off and avoid getting wax or oil on yourself/your phone/everything.
Step Two: Measure your wax.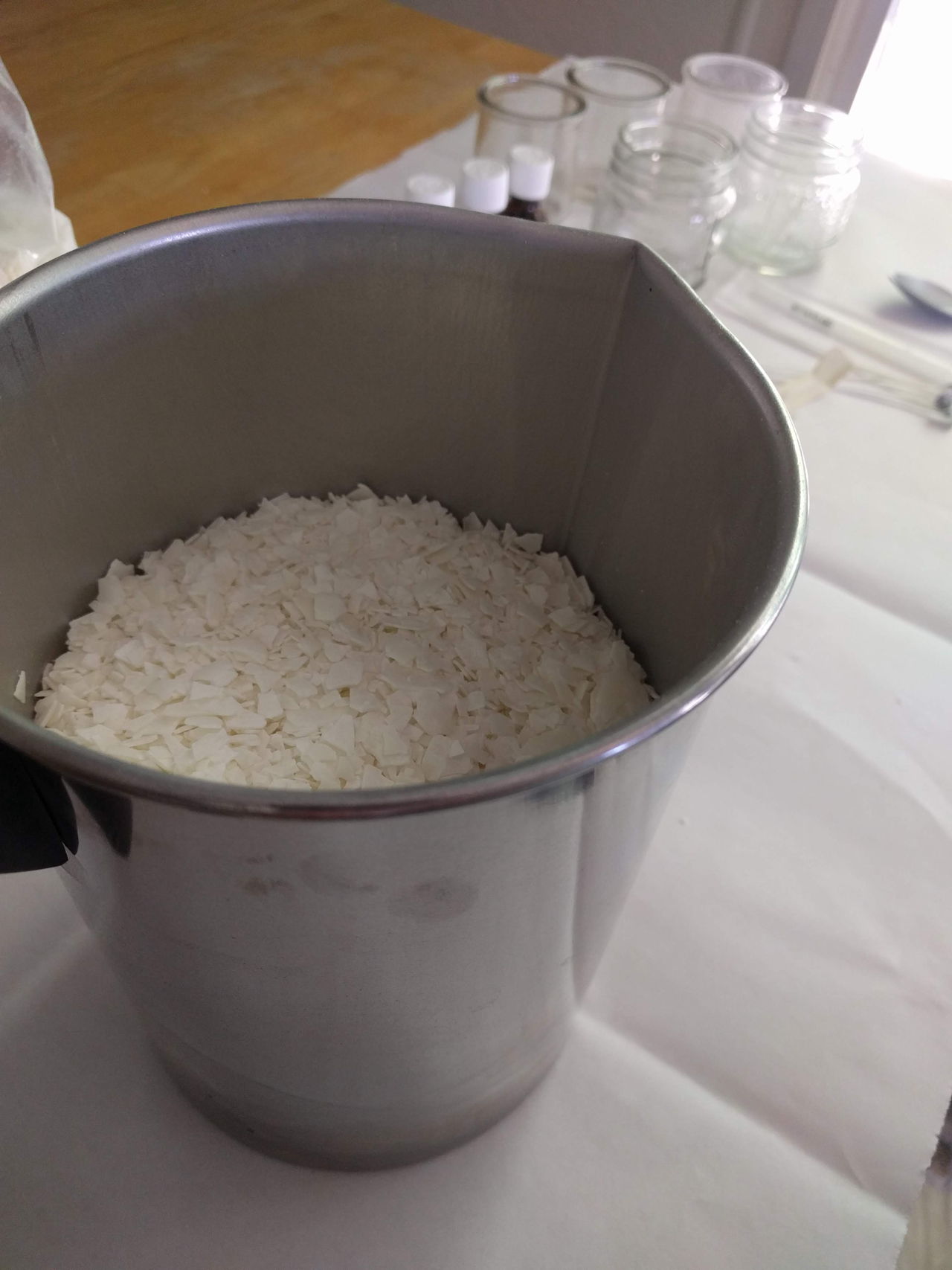 To measure your wax, aim for roughly two times the volume of your container. Take one jar (or tin, etc), scoop up enough of the dry wax flakes to fill the container to your desired candle volume, and put that amount into your pouring pot. Then do it again. That's enough wax to make one candle.
Alternatively, you can weigh the amount of wax you need to make one candle (twice the volume one container will hold) and multiply that by the number of containers you have in that size. For example, if your glass jar holds 20 grams of dry wax flakes, you'll want to melt 40 grams of dry wax flakes for one candle.
Step Three: Melt your wax.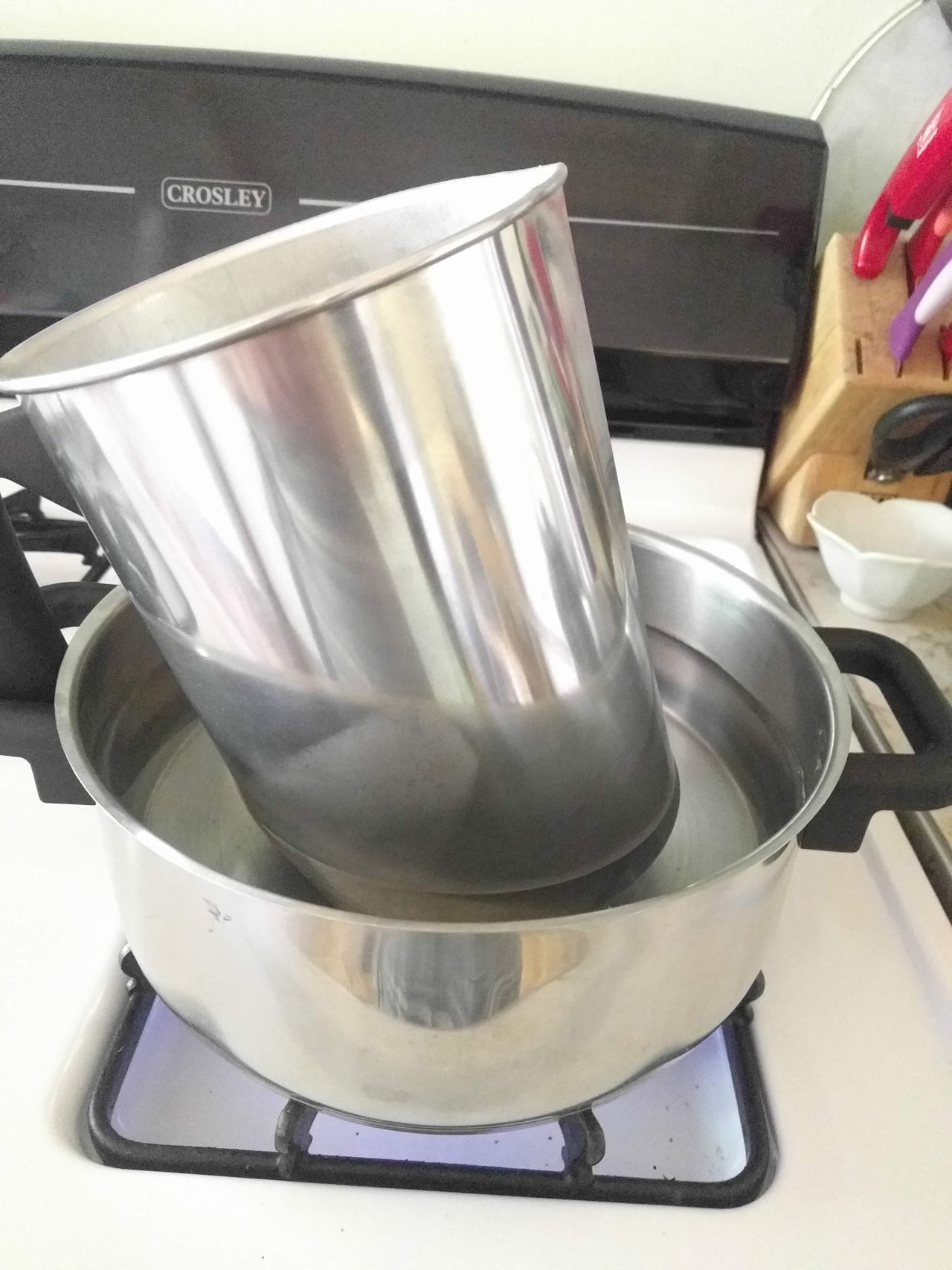 I use the double-boiler method to melt the wax. To do so, set a pot of water on the stovetop and bring it to a boil. Place your pouring pot in the water. Note: You may need to hold it in place to keep it from tipping over. Spilled wax can make a mess! (Although spilled beeswax is much harder to clean up than spilled soy wax. #learnedthehardway)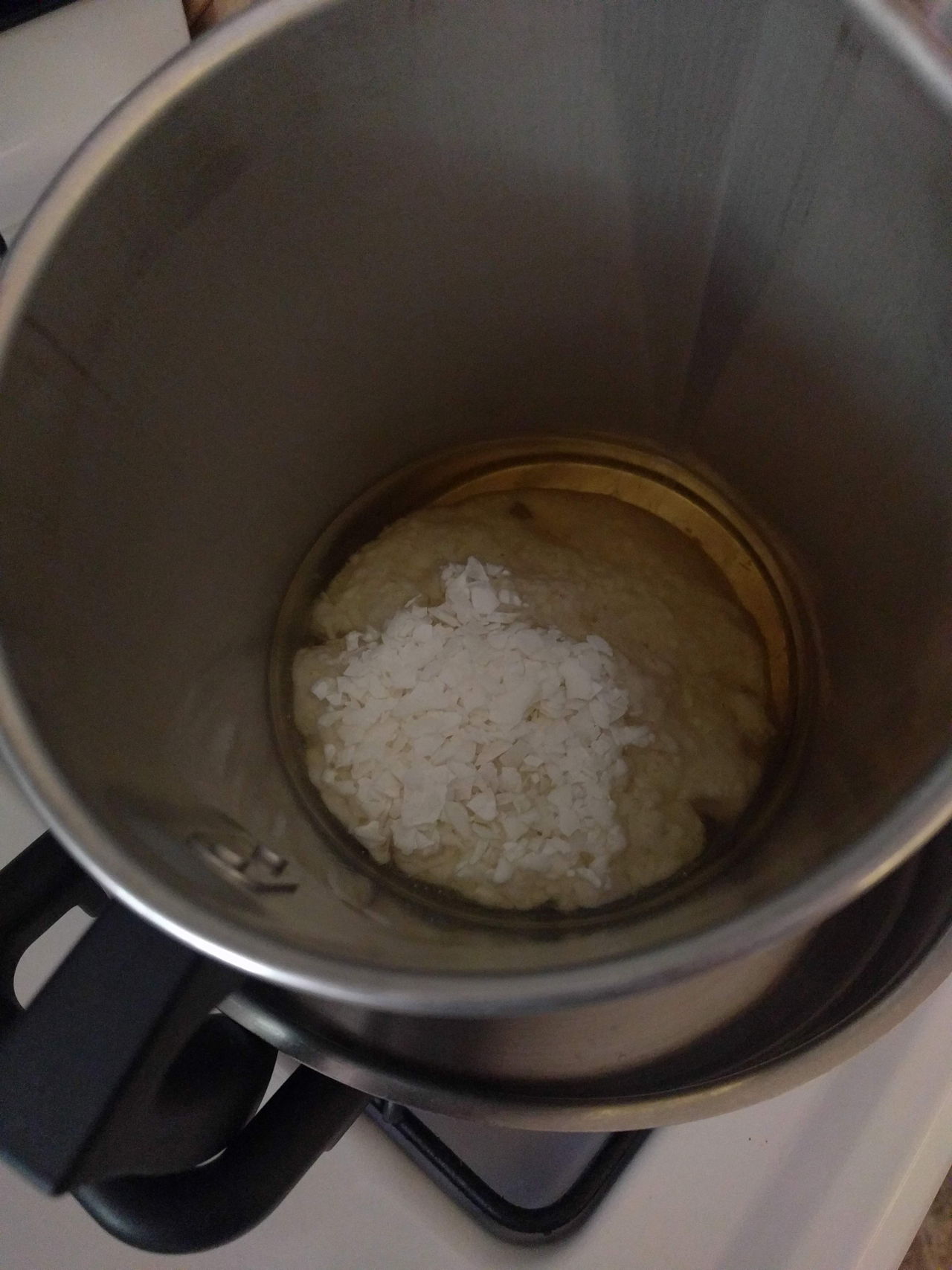 Give it a stir with your dedicated candle wax spoon. The wax will turn cloudy at first, then will begin to clear. You're aiming for about 200°F. When it looks clear, you can remove the pouring pot from the stove.
Set it on a trivet near your jars and allow to cool a little bit (you don't want the wax to be too hot before adding essential oils). Another side benefit of allowing your wax to cool a little before pouring is that you'll be less likely to have dips and craters on the surface of your candle.
Step Four: Prepare jars.
There are two ways to affix the wicks to your jars. You can use glue dots or you can use wax. I tend to use wax, but it can be tricky if the bottom of your jar is not flat.
To use the wax: spoon a small amount of your newly-melted wax into the bottom of your jar or tin. Thread a wick through an empty pen body (see photo below). Use this to press the base of the wick into the wax. It will act like an adhesive.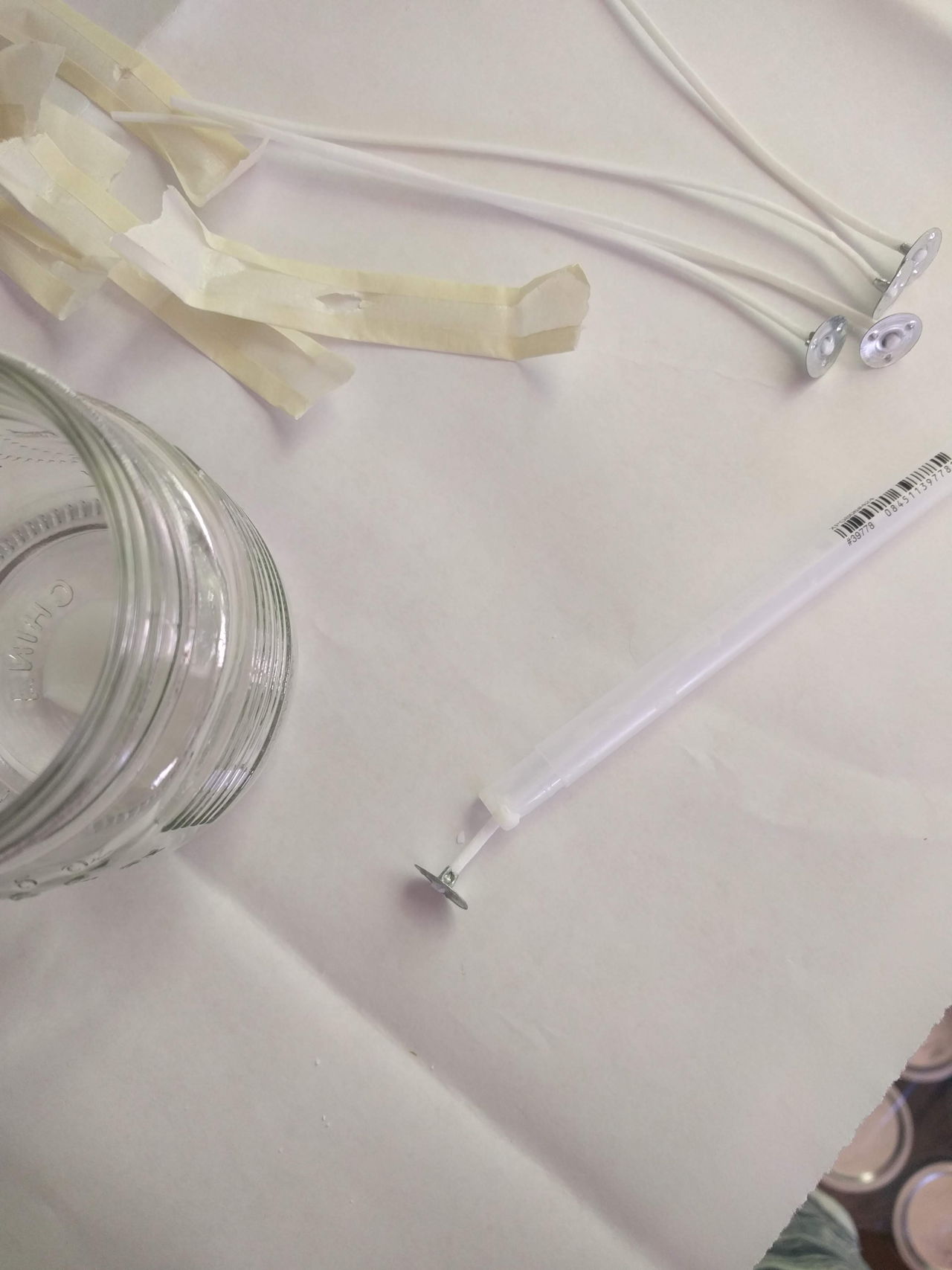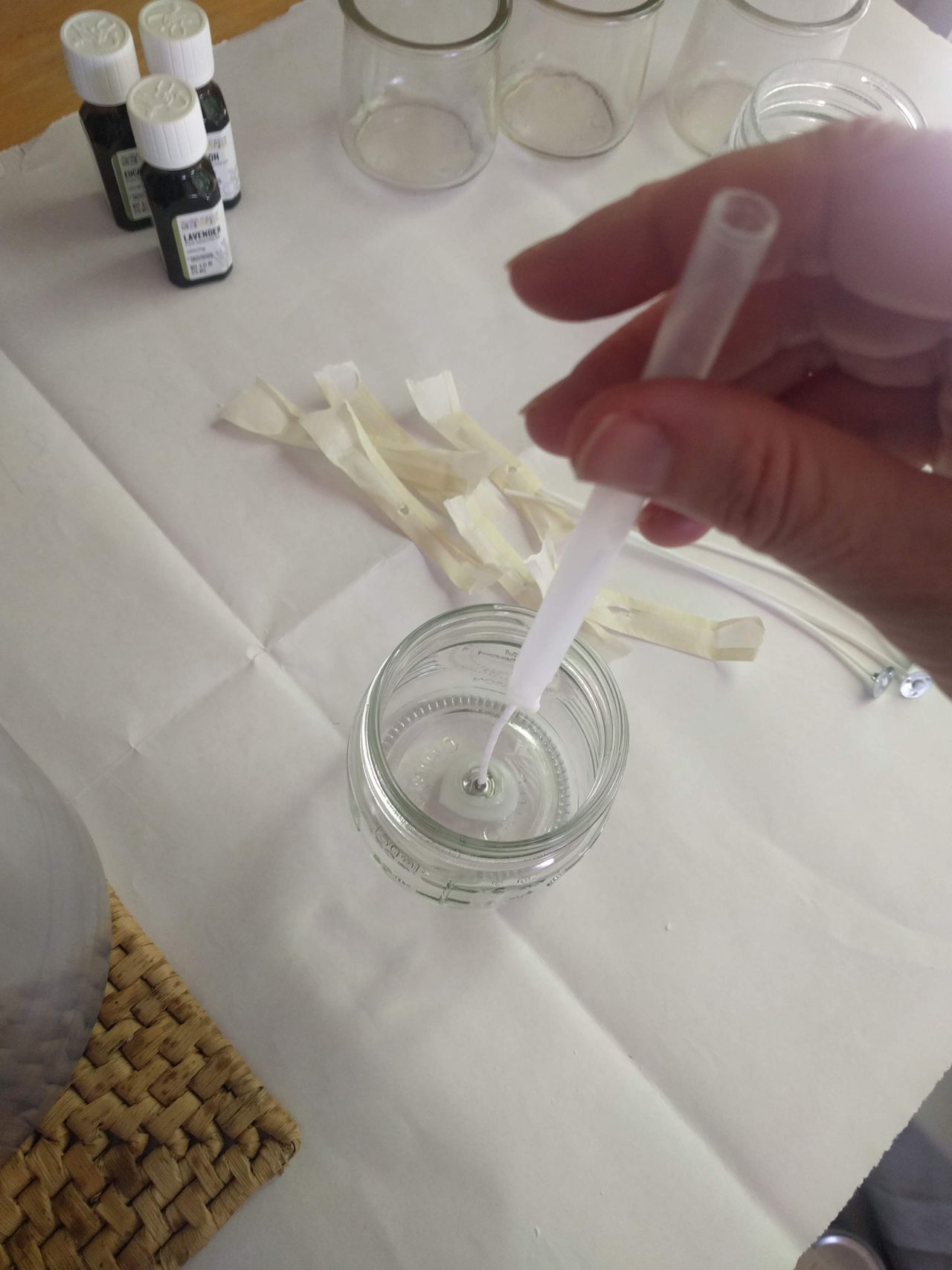 Once your wick is in place, use a piece of masking tape to hold it upright. (You can also use wick centering devices.) Simply rip off a piece of tape that's wide enough to span your jar or tin, poke a hole in the middle, then thread the wick through the hole and press the tape onto the sides of the jar or tin. See the photo below if you're like whaaaaat.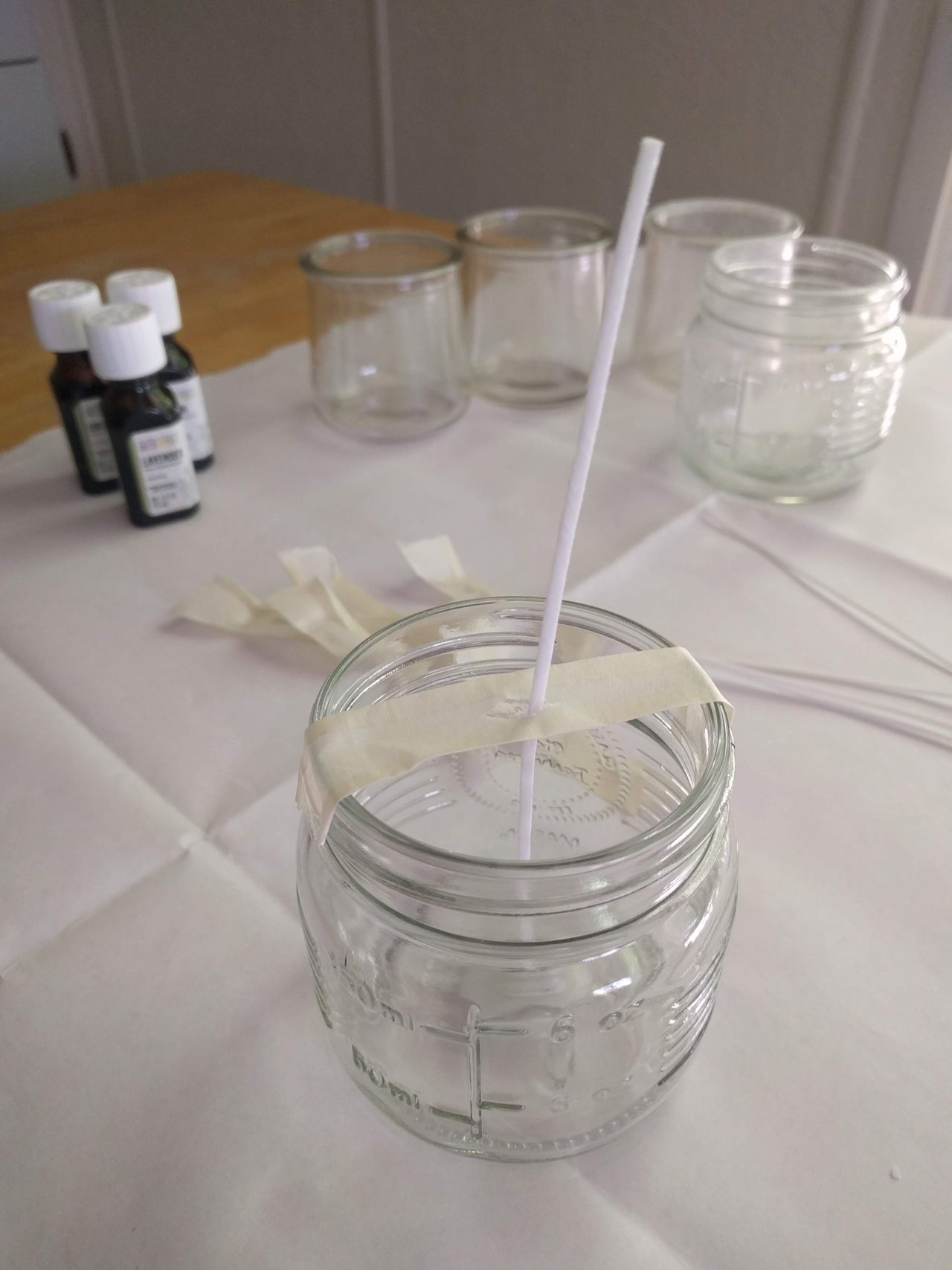 Step Five: Add essential oils.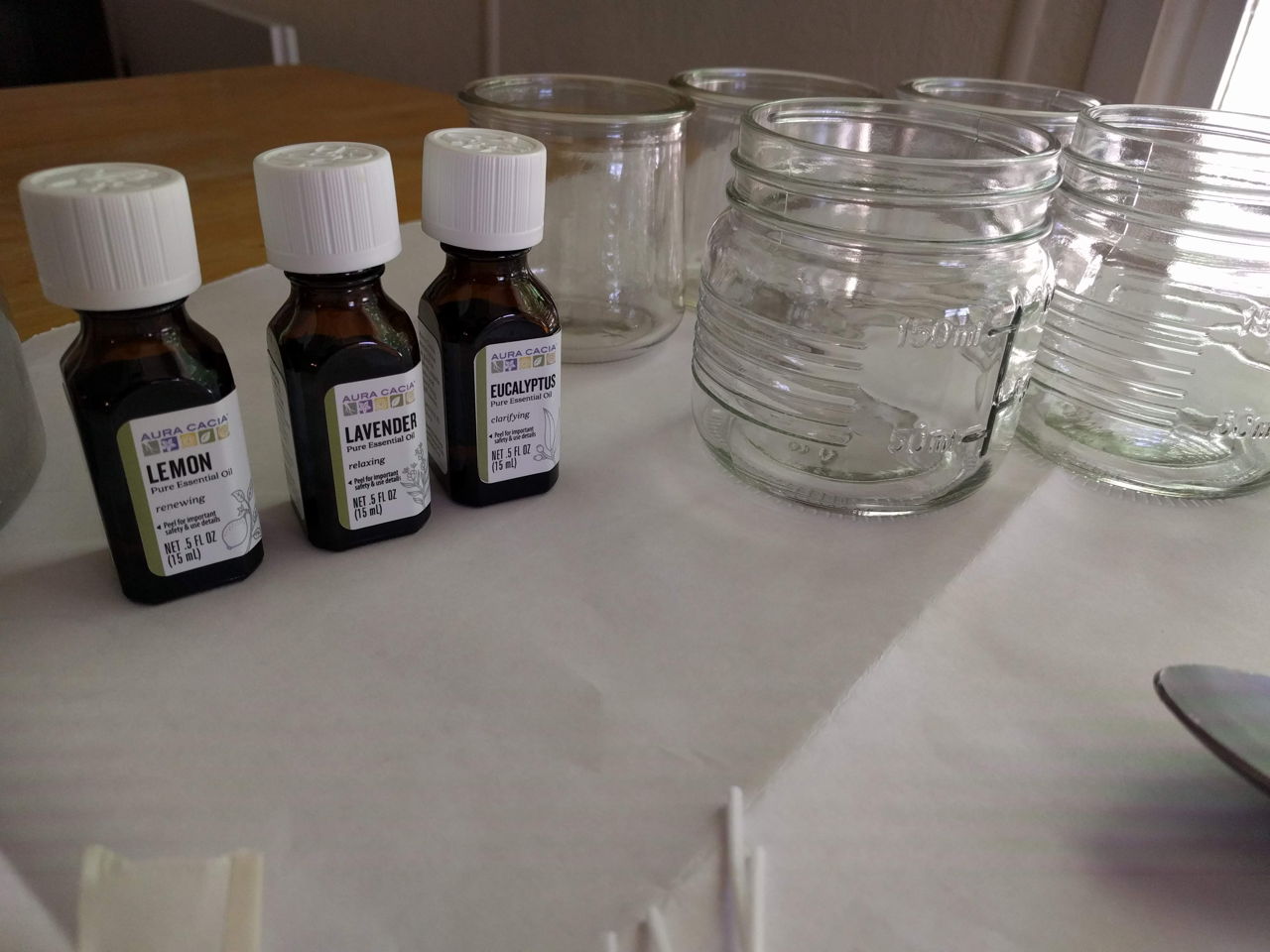 Now that your wax has cooled a little, you can add the essential oils. Here's a great article on how to make essential oil blends. I tend to try whatever sounds good at the moment.
The amount you use may vary. I prefer a mildly scented candle and I also don't like using loads of essential oils in candles. I'd rather save them for making body care items—where their medicinal properties can really shine.
A good place to start when adding essential oils to your wax is 1/4-1/2 ounce of essential oil per pound of soy wax. Right now I aim for about 60 drops of essential oils in a large batch (nearly a full pouring pot, so almost 4 pounds) of wax.
The scent isn't strong, but I prefer it that way. After you've made your first batch of candles you can see what you think and play with the amount of essential oils.
Step Six: Pour wax.
You're ready to pour! Carefully pour the melted wax into your containers. Leave a little room at the top to avoid overfilling.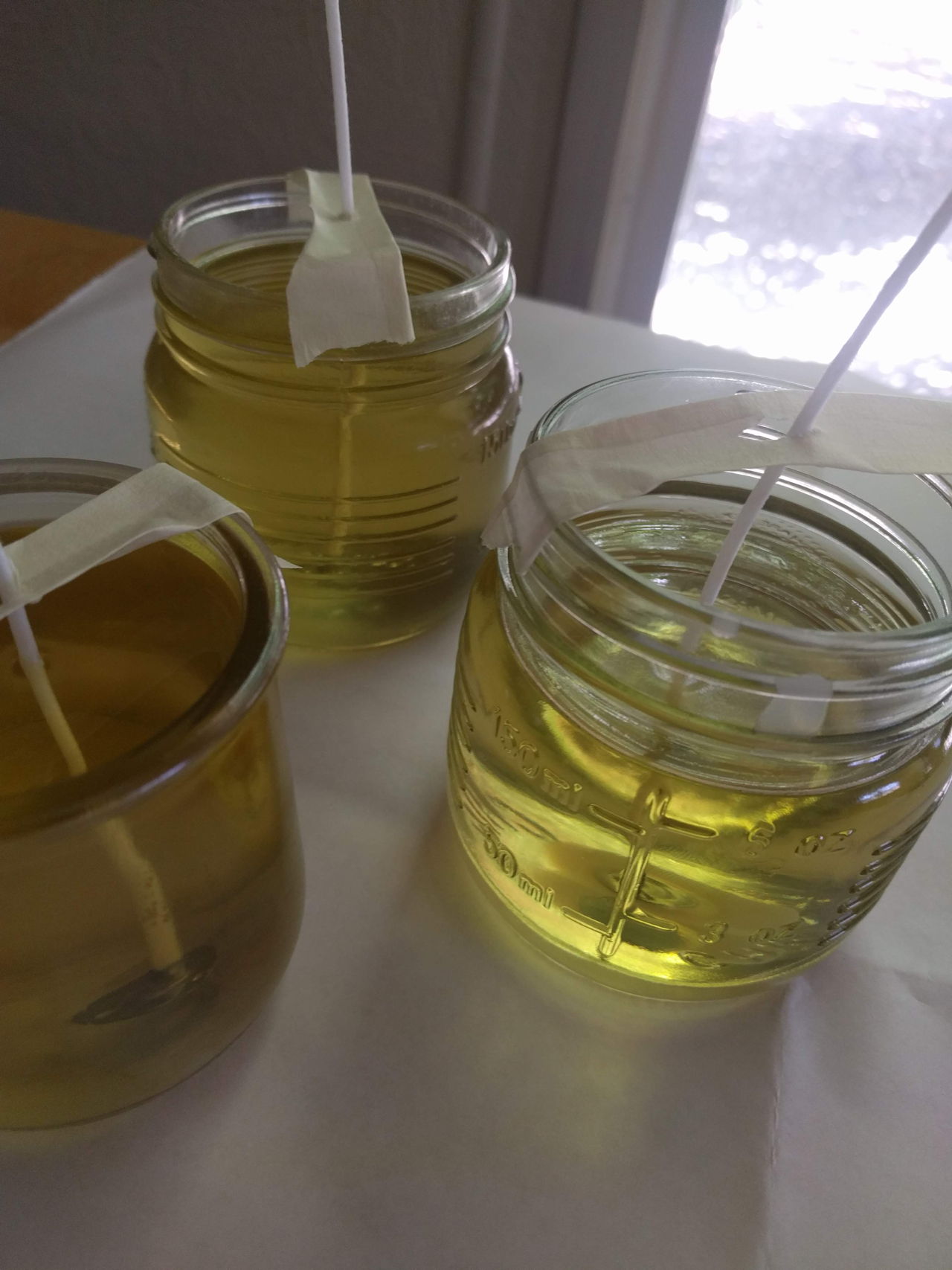 Step Seven: Allow the wax to cool.
This step is very important. You want to give your candles 24 hours to cool and set. They'll burn longer if you do so.
(With that said, every time I make candles I get too excited about it and burn one right away. It might go out faster but I'm okay with that!)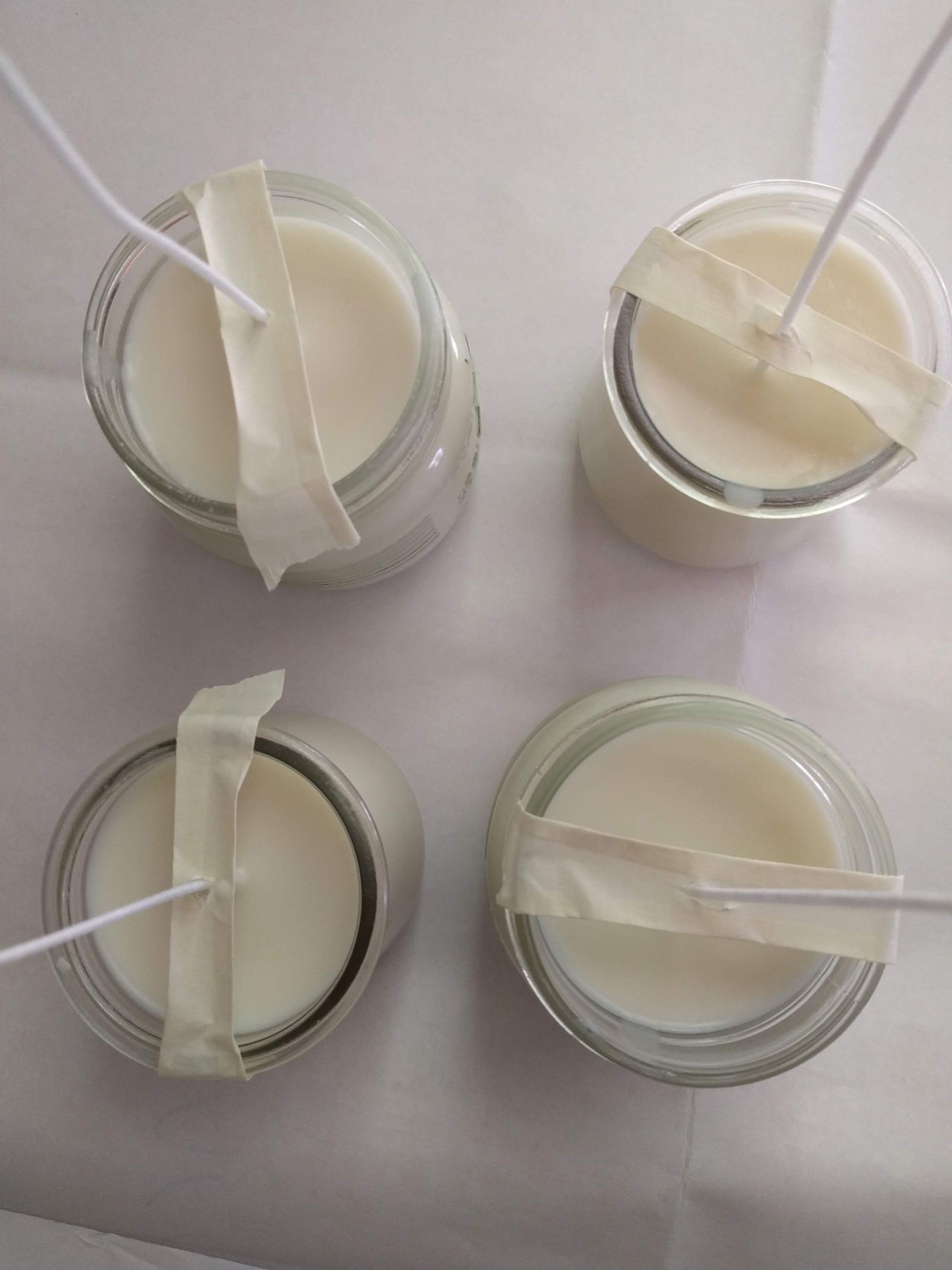 Step Eight: Trim the wicks.
Once the candles are completely cool trim the wicks to about 1/4". Use a sharp pair of scissors to avoid damaging the wick (or yanking it about).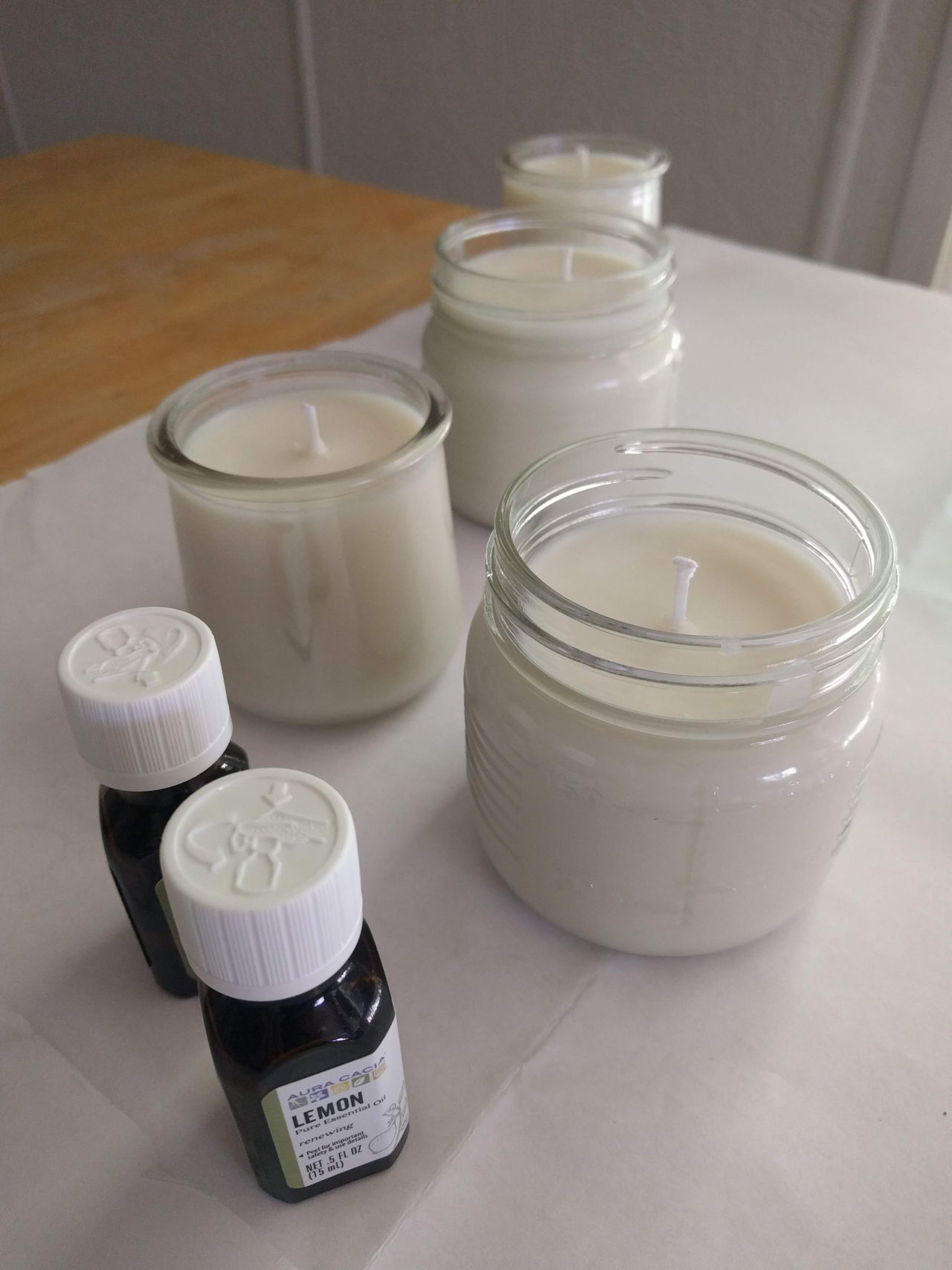 And you're done! You can light and enjoy your beautiful wax candle. Hurrah!
---
Let me know if you have any questions, and if you give this tutorial a try I would be delighted to hear about it! Leave a comment below or send me an email. I'd love to hear from you.
And… just for fun:
What's your favorite candle scent?
Share in the comments!
---