Today I'm sharing why I switched from MailChimp to MailerLite and how I feel about MailerLite after three years of using it as my primary email marketing service provider. (Spoiler: I <3 it.)
This post includes my MailerLite referral link. If you use it to sign up for MailerLite, both you and I will get $20 credits toward our MailerLite accounts. Woohoo! Please read the post for my full (glowing!) review.
So maybe you've heard that mailing lists are an essential marketing tool, but you're still in the market for the email marketing service provider and you like hearing what your friends are using.
Or perhaps you have an email marketing service, but you're not 100% in love with it. Maybe it's too expensive. Too complicated. Or just not working for you.
If the above describes you, then you're in the right place! Out of all the "marketing" I do, I find email marketing to be the most powerful and the most enjoyable. I love sending emails to my favorite people, and it's important for me to have a tool that makes my work easier for a price I can afford.
I wanted to share my experience because I find this kind of recommendation SO helpful. I'm not an expert. I don't have a huge mailing list. I'm an Indie author who wants a good, simple but powerful tool to help her connect with her audience. So keep reading if you'd like to hear what I learned!
Mailchimp vs. Mailerlite
MailChimp was a great app for getting me started (way back in 2011!). Once I figured out the basics I got used to it, and even once my list grew to where the monthly cost was prohibitive I was tempted to keep using it simply because it was what I was used to. Also, the idea of migrating my lists to something new was daunting.
But there were several things I really didn't like about MailChimp, most notably that it felt complicated to use and the pricing was not ideal which, apparently, has only gotten worse. Since I'm not an expert on this, I'll point you to David Gaughran, who has a fantastic article about the recent changes MailChimp made to its pricing and why he recommends finding an alternative.
I explored numerous different email marketing service providers. I won't go through all of the services I tried, but will simply share that I came to the conclusion that it would be absolutely worth migrating my lists to MailerLite.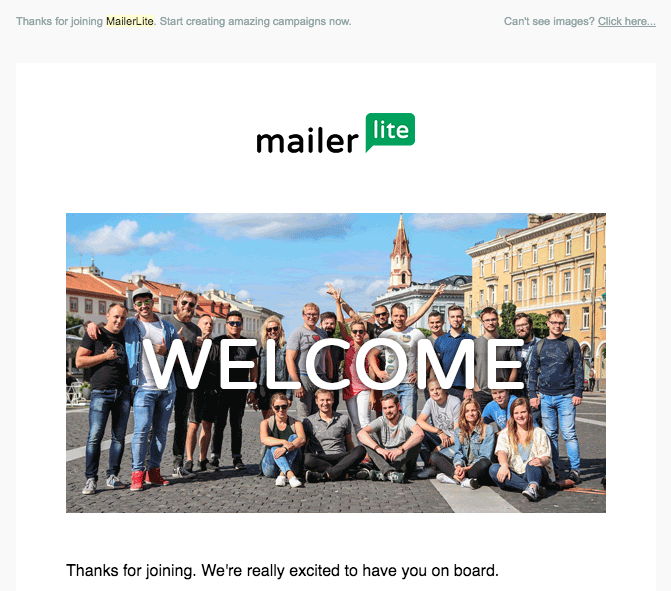 Why is MailerLite so great?
Customer Service
Ease of use
Features & design
Price
Initially, I liked the price, but what really captured my interest was that the service had all the features I wanted without feeling too complicated to figure out. It was SO EASY to migrate my lists to MailerLite—it made me wish I'd done it sooner! And walking through setting up lists, landing pages, automations, and forms was simple and straightforward compared to MailChimp. I didn't need to watch tutorials to do things and I really liked the way my emails, forms, and automations looked—the designs, templates, and options are fantastic.
So I made the switch to MailerLite in late 2016.
Use this link to get a $20 MailerLite credit when you sign up

(I'll get a $20 credit too!)
After using MailerLite as my primary email marketing service provider, I became even more enamored with it and the number one reason was the FANTASTIC customer service. Well, that and the fact that it was so easy to use I rarely needed help. But! When I did need help, I quickly messaged the customer service team, and each and every time would get a fast, friendly, helpful response. Often with a goofy gif or emoji. Every time I interacted with them, I'd be left smiling, with my question answered or concerns addressed.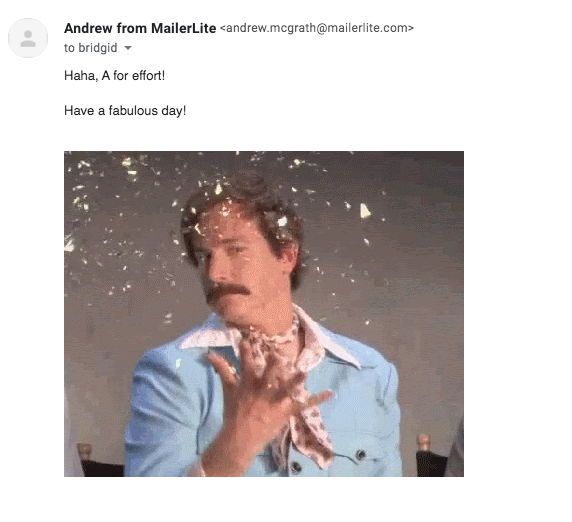 I deeply appreciate it when I can simply ask my question instead of spending oodles of time searching help sections, YouTube video tutorials, and blog posts. And MailerLite's team is outstanding. Every interaction I've had with the company has been so great, so positive.
This is the kind of thing that makes me stick around. I don't feel any need to search for something new because I feel that MailerLite has all the features I need, but I also don't want to go searching because their team does such a great job. I know that if I have any problems, I can go to them for help—and that's priceless.
Even better, the longer I've stuck with MailerLite, the more I've seen their dedication to creating a truly great service. They've added new features that feel like they have a direct line to my wish list, and are constantly making things work better. Truly, I've gone from being a satisfied customer to a loyal user (aka fan girl, apparently ;)).
Which is why I felt the need to write this blog post!
I hope this helps you if you're trying to choose an email marketing service. Or if you're in the same boat I was in, where you're using something you don't totally love… Either way, I encourage you to consider MailerLite!
Use this link to get a $20 MailerLite credit when you sign up

(I'll get a $20 credit too!)
I'd love to hear from you in the comments below: Do you use an email marketing service? Do you have any questions about MailerLite?
If you'd be interested in MailerLite-related tutorials or similar, let me know. I'd be happy to help you get started. :)
Thanks for reading!
---