A simple, easy-to-make and even easier-to-enjoy yogurt cake recipe inspired by my travels in France. Oh, and an update. :)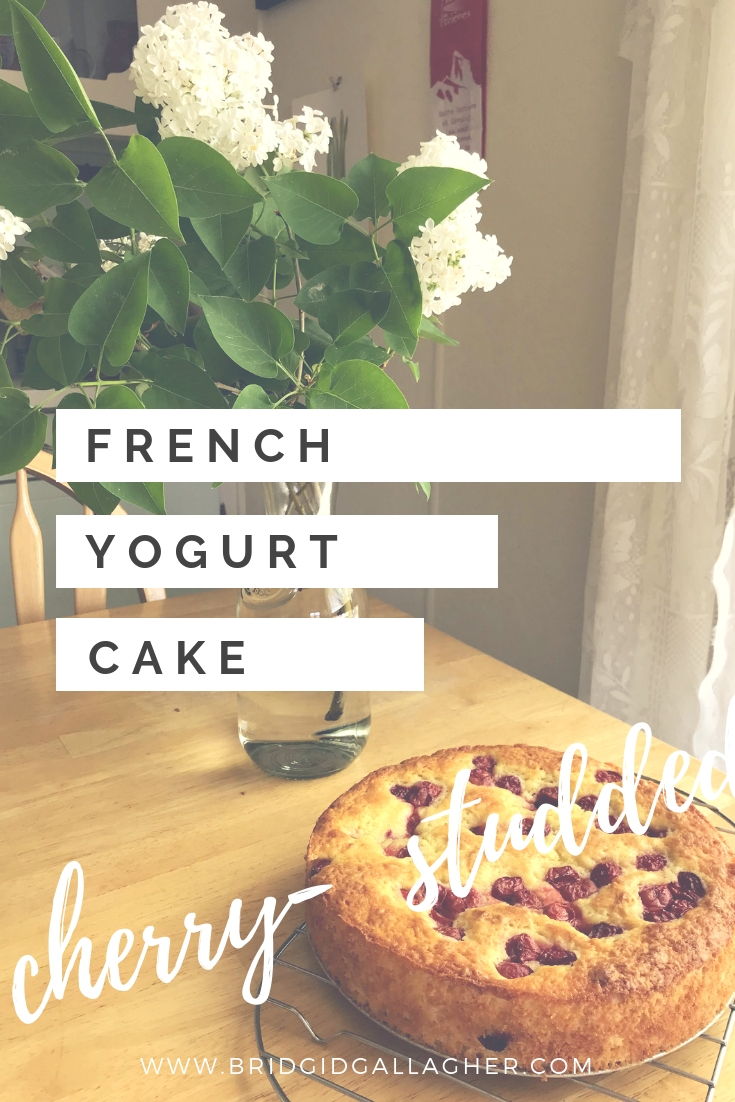 Please note: This post includes affiliate links. If you use a link to make a purchase I will earn a small commission at no extra cost to you. Thank you so much for helping support my work!
Before I dive into the recipe, how about a little catch up?
This past year I took an unplanned break due to illness. I'm doing much better now and am slowly getting back to writing. If you'd like to keep up with new developments, the best way to do so is by joining my email list. I hope to see you there!
But hey, let's talk about this cake. Because that's way more exciting. ;)
The first time I had yogurt cake was in France. We'd just returned to the studio apartment we were renting after a month away. Our host welcomed us with a few items in the mini-fridge (chilled rosé, a few eggs, local butter), and a sugar-dusted cake. (How could I not fall in love??) We took thick slices out to our tiny terrasse, with its new bistro set in a rich, cheery red, and listened to the birds in the larches while sipping hot coffee between bites of cake.
Maybe that's why I have such a fondness for this cake. That, or because it's simply that good!
Traditionally, this is a cake grandmothers make with their grandchildren (or mothers with children) for their afternoon snack. It is designed to make use of 4-ounce glass yogurt containers, so a little helper could easily measure out the various ingredients.
Without the yogurt containers (or that thick, delicious French yogurt), I've made a few changes, but it's still a simple recipe, one that kids might enjoy helping put together.
One of the changes I made was to add pie cherries. We're rich in pie cherries where I live and have harvested many, many pounds, which I freeze one baking sheet at a time before putting into freezer-safe bags and storing. They last all year and are such a perfect compliment for this cake. Pie cherries (sometimes called sour cherries) are a little tangy and tart, but they become much sweeter when baked, and those tart notes are a wonderful balance for the sweetness of the cake.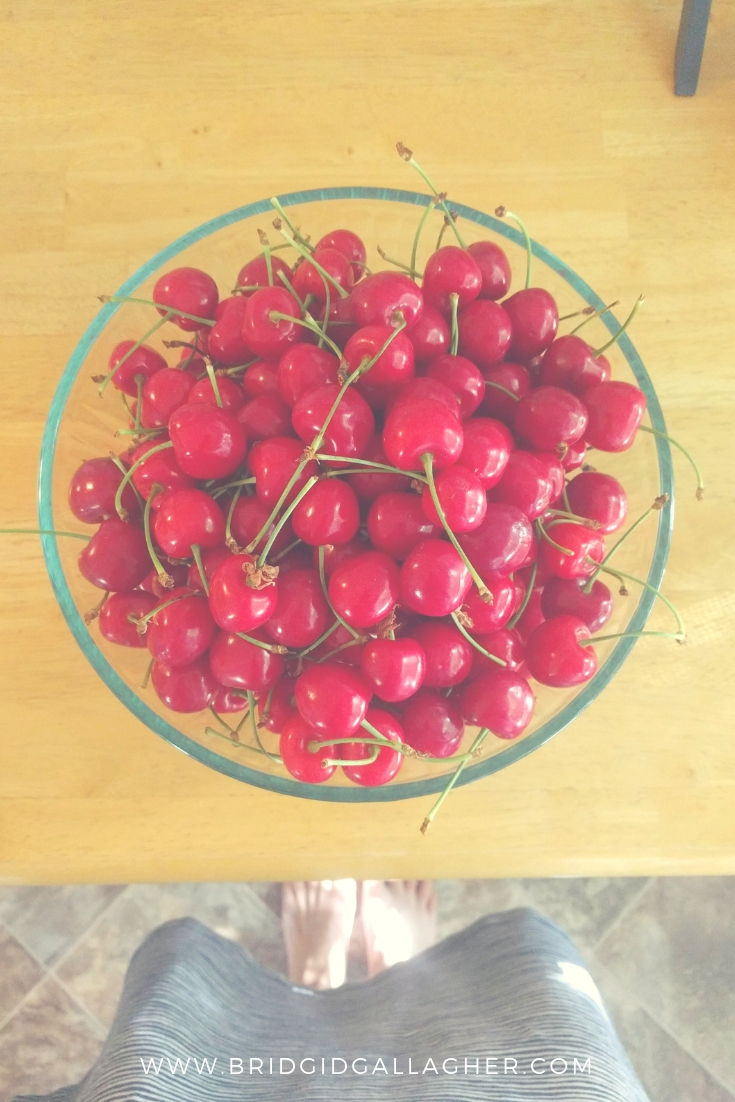 Also special to this cake is the process. A layer of batter is poured into the tin, then cherries are spread evenly across the surface, then another layer of batter, and the final layer of cherries. This layering will leave you with cherries suspended in cake—magic!
The result is a not-too-sweet, spongy cake with a delightful sugary crust. Be sure to give this cake it's full baking time, and wait until the top is a beautiful golden brown before removing it from the oven. One of the recipes I used (from the Chocolate and Zucchini blog) suggest a 30-40 minute baking time, which resulted in a pile of pudding for me. I tend to bake for 60-65 minutes, or until the top is golden brown and a tester comes out clean. My recommendation would be to check it at 30-40 the first time you make it. Just in case.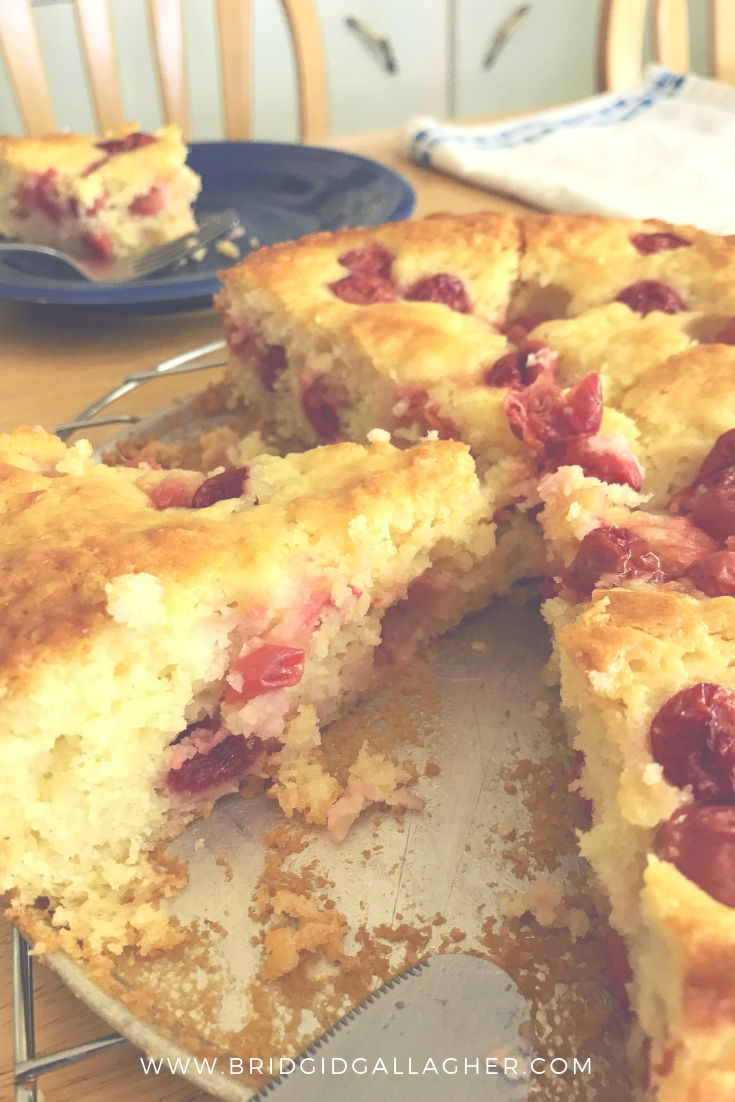 A few handy tools I used to make this recipe:
Cherry-studded French Yogurt Cake
Adapted from Marmiton and the Chocolate and Zucchini blog
Makes one 9" round cake.
Ingredients
1 cup (~227g) plain whole milk yogurt
¾ cup (150g) sugar, plus 1-2 Tbsp - set aside for sprinkling on the cake
1 tsp almond extract (or vanilla extract, but almond goes best with cherries or raspberries)
¼ cup (52g) coconut oil, melted (or light oil of choice)
3 large eggs
2 cups (240g) all-purpose flour
2 tsp baking powder
¼ tsp salt
300 grams (10½ oz., ~1.5-2 cups) pitted pie cherries (or raspberries, blueberries, peaches), fresh or frozen
Directions
Preheat oven to 350°. Grease a 9" round cake pan or line with parchment paper.
In a medium bowl, whisk together yogurt, sugar, almond (or vanilla) extract, and eggs. Then whisk in melted (but not hot) oil until thoroughly combined. In a separate bowl, sift together flour, baking powder, and salt.
Add dry ingredients to wet, stirring *only* until just combined (about 20ish strokes).
Pour half of the cake batter into your greased cake pan. Distribute half of the cherries (or fruit of choice) evenly over the surface. Top with remaining cake batter and smooth batter over fruit. Distribute remaining fruit evenly on top. Sprinkle top with 1-2 Tbsp of sugar (raw or caster sugar is very nice).
Bake 60-65 minutes until the top is golden brown and a tester (toothpick, skewer, knife) comes out clean.
Allow the cake to cool for 10 minutes before removing from pan. Slice & enjoy!
If you try this recipe, snap a photo and share it with me! Tag me on Instagram, or Facebook - where ever you share.
I'd love to hear from you in the comment section: Have you ever tried pie cherries? Do you like cake? :D
Thanks for reading!
---