The Happy Writers Collective is a free, open, online community of writers who want to cultivate happiness in their writing life, and you're invited! Read on to learn more.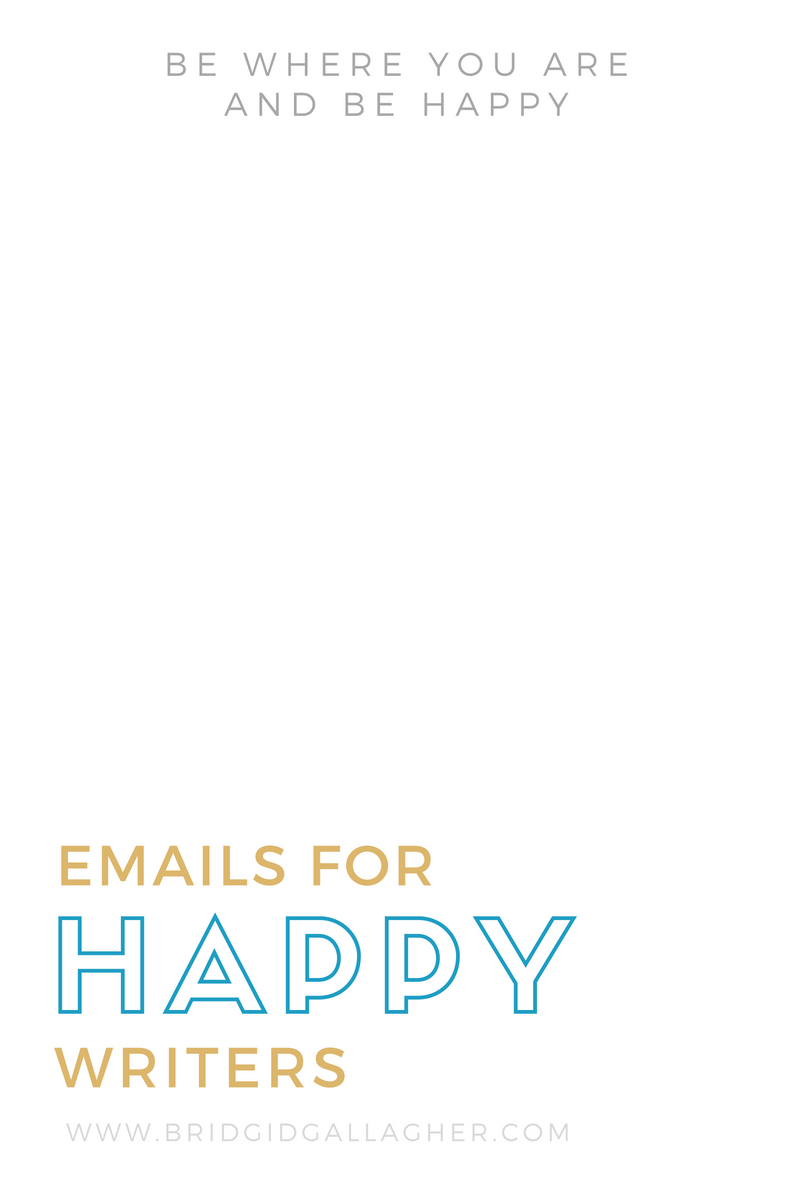 UPDATE: As of 2019, this project is on hold! Jump in the comments if you have questions. Thank you!
A little introduction: I took a break from sending emails to my writer friends while traveling last year, then took my time returning to the emails because I wanted to approach them in a new way. I felt as though I'd stopped sending emails that were truly valuable, and started just sending them because they were on my to-do list. Also, while I took time off last year I had some "ah-ha!" moments about how I work, what success looks like to me, and what I hope to achieve with the time I spend online.
This isn't a HUGE shift, but I wanted to chat about it here to help clarify my goals, and also for anyone who missed the email or who isn't on the list.
I'm also hoping this will give you a chance to chime in and share your thoughts. Please hop down to the comments after reading this! I'd love to hear from you.
Happy Writers Collective

What is it?
The Happy Writers Collective
The Happy Writers Collective is a free, open, online community of writers who want to cultivate happiness in their writing life. What does that look like? More space for creativity, more time, more calm, more joy, more celebration. Less busy work, less time online, less worry, less comparison and competition, less anxiety and overwhelm.
Right now, the community is simply my email list, writers who subscribe to my Emails for Happy Writers. To interact with the community, use the Happy Writers Collective hashtag (#HappyWritersCollective) on social media. Depending on how much interest there is (so, how many people use the hashtag to share and connect), I may add more ways for us to engage as a community.
Emails for Happy Writers
The emails will show up in your inbox monthly(ish). They'll include a personal letter from me plus a curated list of links to support us in the pursuit of writerly happiness, and that includes reading/learning about and supporting a diverse, inclusive community.
Suggestion Box & Interviews
Have an article to suggest, or a piece of advice for your fellow happy writers? Great! Send me your suggestions via email with your preferred credit (website or social media link) and I'll do my best to include it in the next email.
You can also expect interviews with writers and authors, with the goal of chatting with them about how they cultivate happiness in their writing life.
Why "happy"?
We, as writers, have an immense privilege. Our stories can be powerful tools of change, and have the potential to touch the minds and hearts of people around the world. That's powerful stuff, and feels especially important in today's world.
But if we are too sick, tired, downtrodden, depressed, anxious, overwhelmed … then what? What happens to our stories?
Writing is important but not at the expense of our physical, mental, and emotional health. More, we won't be able to write the books of our hearts if we're struggling to take care of ourselves physically and emotionally.
So how do we do that? So much of the writing community pushes being online all the time, creating harsh deadlines for yourself, constantly pushing, striving, competing, and never being satisfied. It's a toxic culture, and it's not helping us.
That's what the Emails for Happy Writers are about - exploring how we can take care of our creative selves so that we are able to rock the world with our stories. And doing so through a positive community of like-minded writers who lift each other up, use honesty and authenticity to grow their careers, and put caring for their health first.
Here's what I wrote in my last email, where I introduced the idea of Emails for Happy Writers:
I want to help you be where you are and be happy. In part because I think that's often missing from conversations about writing. We talk about the craft, about how to write more, about how to improve our writing—and those things are important—but we often skip over the part about how to live the life of a writer in a healthy, happy way.

What do you do when you reach your goal, you finish your novel or land that book deal and… You still aren't happy? You're still struggling with a feeling of not getting enough done, not writing fast enough, not hitting that list, or not having the agent, or any agent at all?

The secret (I think), is in learning how to be happy right now. Just as you are.
I don't have all the answers — I'm in this too! But I hope to create a place where we can start figuring out what a happy writing & creative life looks like, and how to make it a reality for ourselves.
How can I join?
Right now, all you need to do is subscribe to my Emails for Happy Writers email list. Sign up now. Then keep an eye on your inbox!
Between emails, you can connect with the Happy Writers Collective by using our hashtag (#HappyWritersCollective), and follow me on Instagram where I'll share updates and previews.
---
Your Turn!
Now I'd love to hear from you. I received a number of beautiful, thoughtful emails in response to my last email and I would love to give you a space to chat about it and connect with other writers who are on the list.
What do you think of the Happy Writers Collective? Is this something that resonates with you? If so, why?
I look forward to reading your responses!
Thanks so much for reading. :) If you enjoyed this post, please consider sharing it!
---