Lightly sweetened, but still rich and delicious - these are my new go-to breakfast cookies. They come together super fast (only one bowl needed!) and are great to grab for road trips, camping trips, hikes, or for breakfast!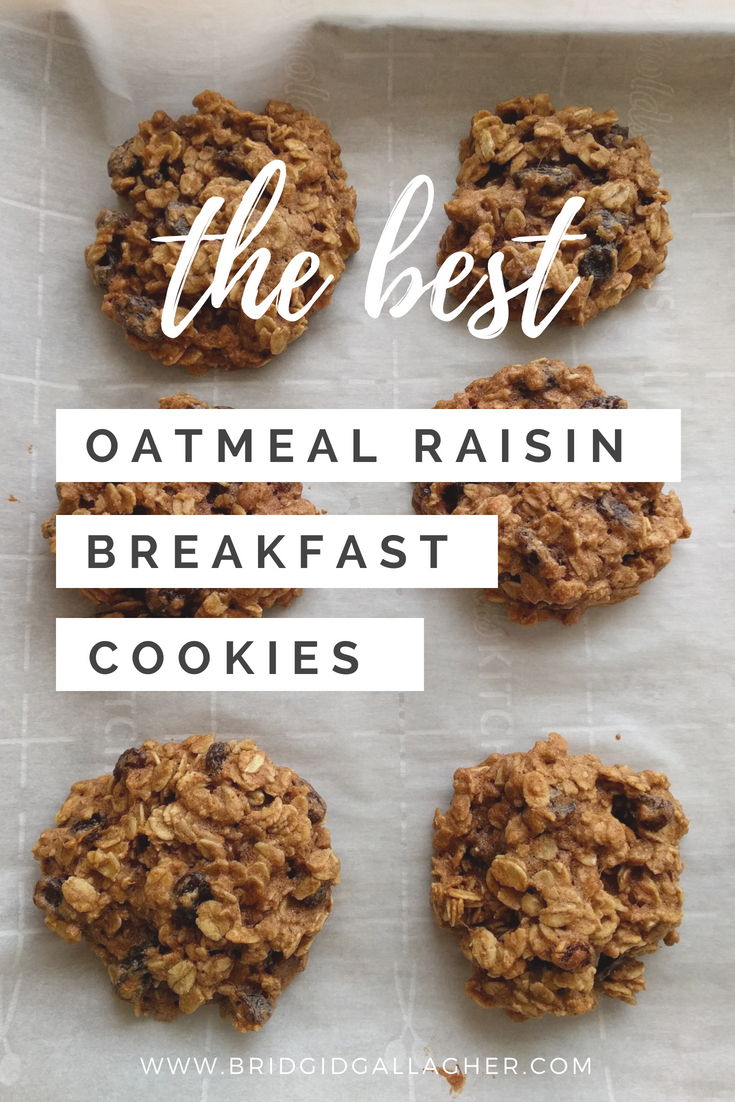 Please note: If you use the links below to make a purchase I will earn a small commission at no extra cost to you. Thank you so much for helping support my blog!
I know oats are heart-healthy and all that jazz, but sometimes I am just not feeling a bowl of oatmeal. Yes, they're quick and easy, and so dang good for you, but oatmeal can get a little… boring. There, I said it. ;)
Sometimes I want my oats in a form that's a little more exciting. (Read: In a cookie.) Plus, having something that's quick, easy, and healthy to pop in the oven can be a welcome reason make breakfast more of an occasion and less of a chore.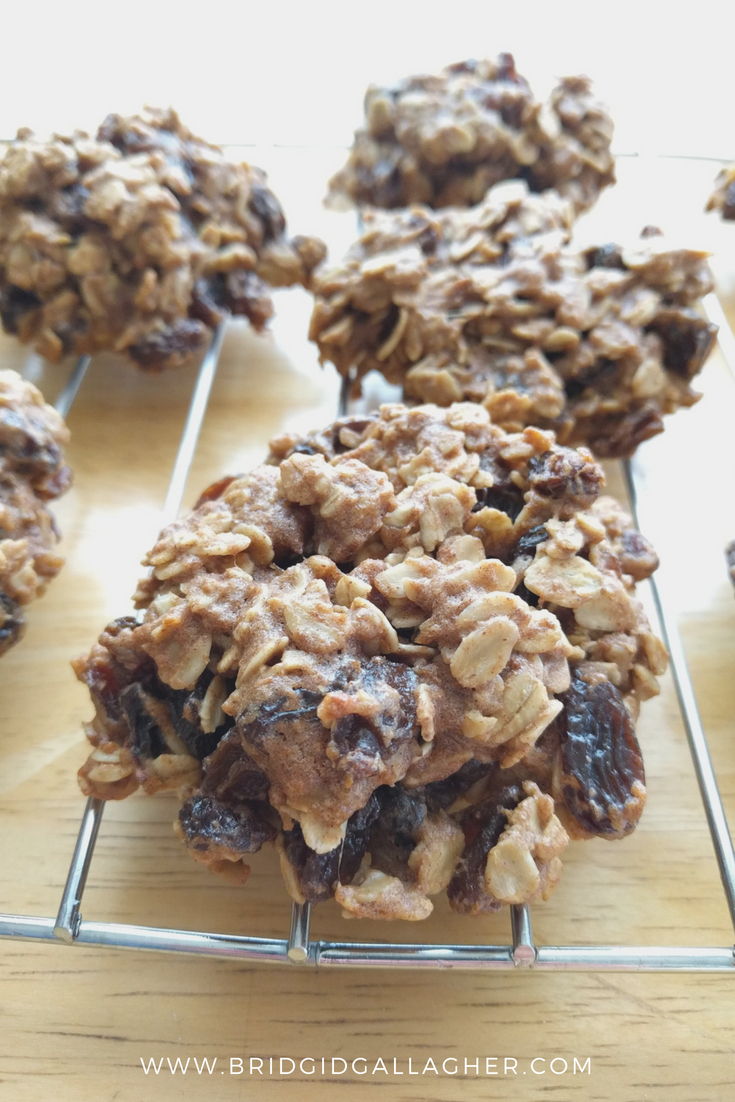 Which is why I am always on the lookout for a good oatmeal cookie recipe. It can't be just any oatmeal cookie, either. I like LOTS of raisins and oats, and a good chewiness with plenty of yummy flavors. And although I get the appeal of the sugary-sweet coffee shop style of oatmeal cookie (more cake than breakfast), for a day-to-day recipe I look for something a little different, especially if I'm eating it for breakfast.
For one thing, I want it to be EASY. No major dishes, bowls, tins to clean up - just, no. And another biggie is that I want to keep sugar as low as possible. Starting a day with a sugar crash is not my idea of fun. ;)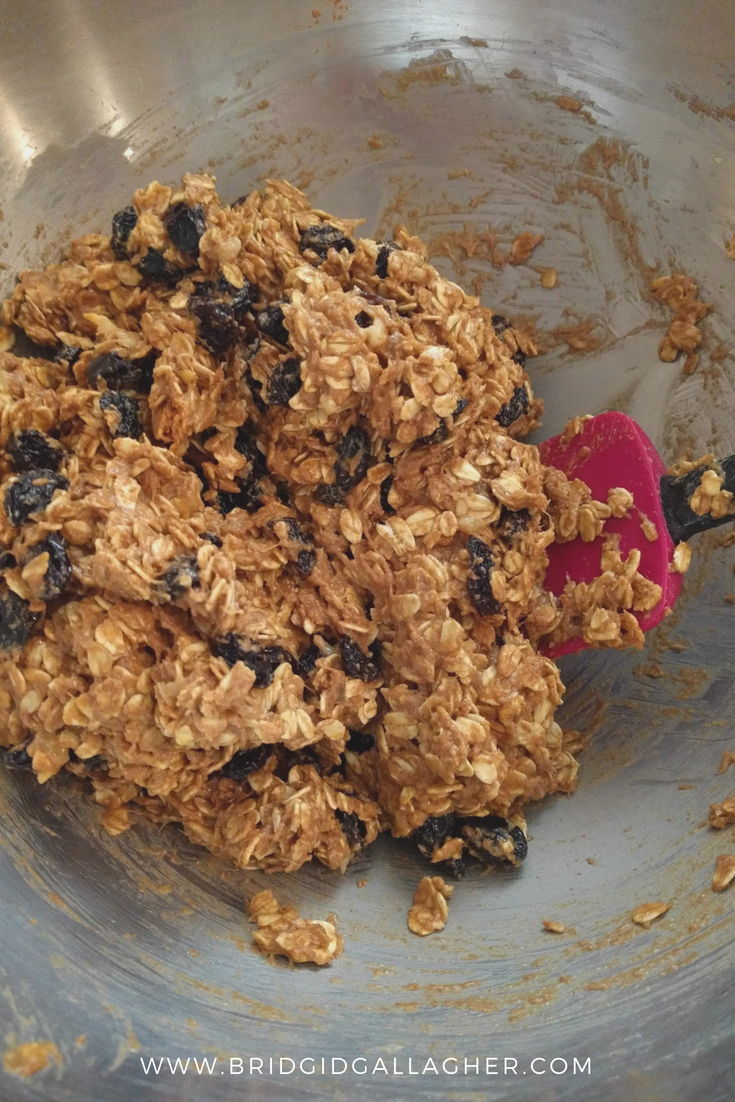 After oodles of test-baking, I have honed my FAVORITE oatmeal raisin breakfast cookie recipe. This cookie comes together quick and easy - in one bowl, so you'll have minimal clean up. They are chewy and - thanks to the fresh ginger, nutmeg, and cinnamon - taste like fall (and you know how much I <3 ginger). My favorite part? The sweetness comes from the bananas and raisins, so there's no need for added sugar. You can, of course, add sugar, but I have tested these with and without and I can honestly say that you really don't need it.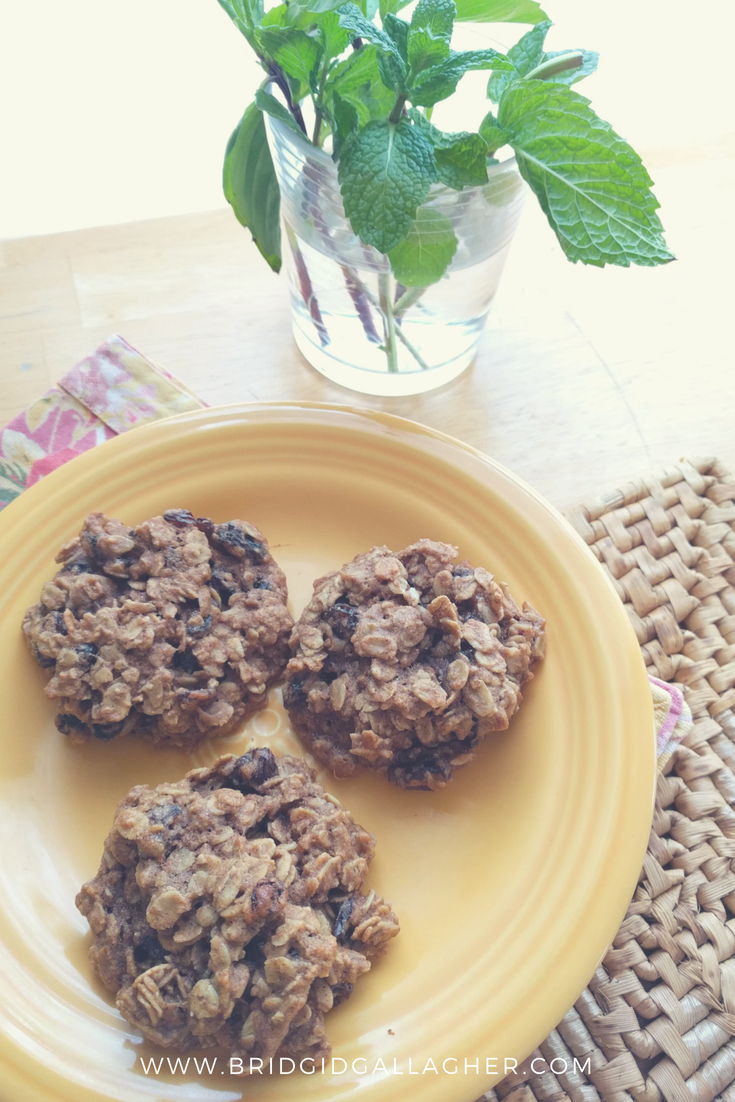 These cookies are portable too, and we've taken them camping and hiking to great success. Or you can make a double batch and store them in the refrigerator for an even faster grab-and-go breakfast. I can't tell you how long they last in the fridge because we always eat them within a few days… Have I mentioned that these cookies are DELICIOUS?!
So, hey. Enough chatter. Let's get baking!
Spiced Oatmeal Raisin Breakfast Cookies
Adapted from the Isa Does It cookbook by Isa Chandra Moskowitz.
Makes about 16 large cookies.
Ingredients
¼ cup oil (melted coconut oil or oil of your preference), 54 g
OPTIONAL: 1-2 Tbsp sugar OR use 1 Tbsp molasses, 1 Tbsp sugar
¼ cup mashed ripe banana, 56g (or sub applesauce) // this is roughly half of a large banana, you don't need to be precise here more banana will mean a softer cookie
1" knob fresh ginger, grated
1 egg (or 2 flax "eggs")
1 Tbsp vanilla
½ cup whole wheat flour, 60g
1 Tbsp cinnamon
⅛ tsp nutmeg, fresh grated is delicious!
½ tsp salt
1½ cups rolled oats, 150g
¾ cup raisins, 100g
Directions
Preheat oven to 350°. Line baking sheet with parchment paper and set aside.
Mash banana, then add oil, optional sugar (if including), fresh-grated ginger, vanilla, and eggs, and whisk together.
Sift in flour, cinnamon, nutmeg, and salt. Fold together gently - no need to overmix.
Now fold in oats and raisins. It may look like it won't come together at first... but it will. Promise!
Scoop onto baking sheet using a ¼ cup measuring cup. Flatten with your fingers. You may need to wet your finger tips to help keep the dough from sticking.
Bake 12-14 minutes. Let cool for a few minutes before moving to a cooling rack (they can be crumbly). Or dive in while hot. :)
If you try this recipe, snap a photo and share it with me! Tag me on Instagram, or Facebook - where ever you share.
I'd love to hear from you in the comment section: What do you look for in a great oatmeal raisin cookie? Lots of raisins? More cake than cookie?
Thanks for reading!
---