While writing my most recent romance, Too Close To Home, I came across photos of a children's bookshop that inspired me to change certain scenes in the book. Read on to learn more about the shop (and the book!).
When they entered the ground floor library, Sarah and Thomas oohed and aahed over the fresh paint and pristine walls.

"It's better than new," Thomas said. "You girls outdid yourselves."

"Sam and his crew did the work," Eowyn said. "Theo and I just kicked back while they sweated over this place."

Theo snorted. "Hardly." She walked over to one wall and stood by a low circular door.

"Now that's new," Sarah said, pointing to the door. "Honey, look."

Thomas followed her gaze. He grinned. "That sure looks like a Hobbit door to me."

"A small one," Sarah agreed.

Theo smiled. "Want to see where it leads?"

Excerpt from Too Close To Home
In Too Close To Home, the main character, Eowyn is called home when her parents' inn is damaged in a fire. The inn is "Hobbit-themed," and when Eowyn is gifted with the duty to oversee renovations… she decides to make some Hobbit-inspired changes.
The Murphy House and Shire was tucked deep in the forested hills outside of Woodbine Valley. Guests stayed in either the main house, a sprawling two-story affair with fifty suites, or downhill in one of the prized Hobbit homes. The main house was decorated with artwork inspired by Tolkien's works, had a library full of special editions and all the films, and meals were inspired by the Hobbit way of eating, from first and second breakfasts to elevensies. So even guests who couldn't land a Hobbit home could partake in the fun.

Excerpt from Too Close To Home
But the changes weren't in the original drafts of the book.
They happened after I stumbled upon this blog post on Young House Love about The Story Shop, a whimsical, independent children's bookstore in Georgia.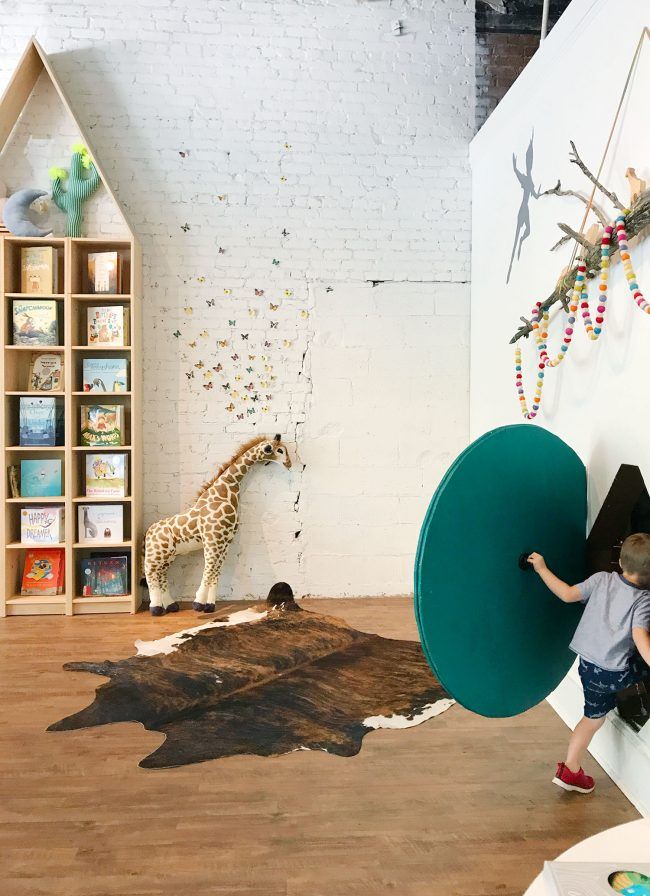 Photo source: Sherry Petersik on Young House Love
I mean. What. How. Isn't that awesome?! It's a bookshop! With a Hobbit door!
And the photos only get better.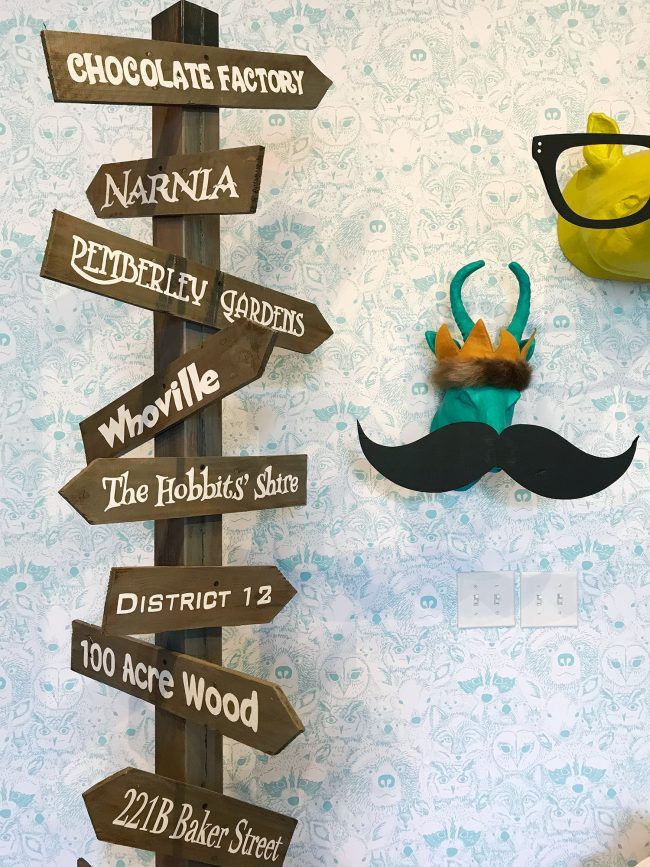 Photo source: Sherry Petersik on Young House Love
There are a million little details—from book-inspired art to cozy-looking reading nooks, and a beautiful area for gatherings (or "celebrations" as they call it).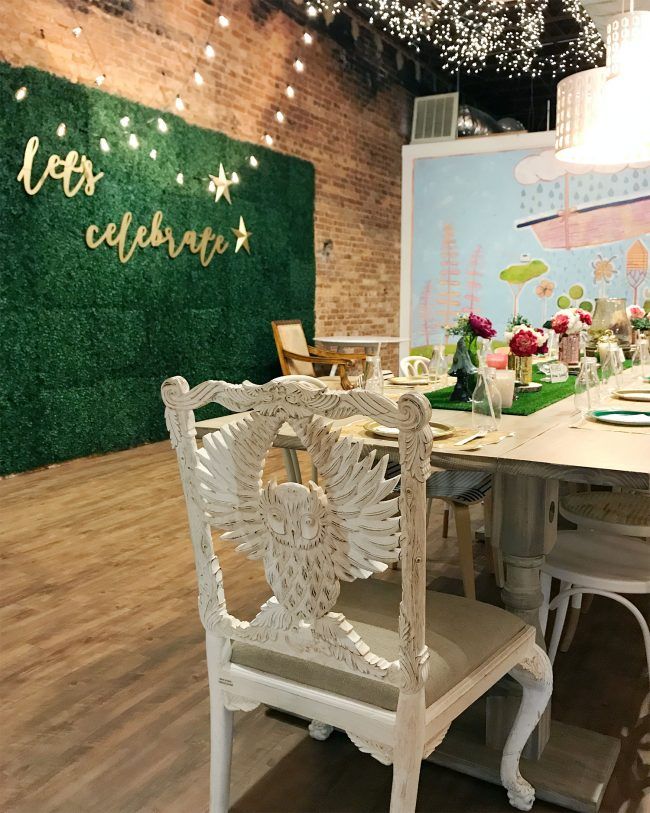 Photo source: Sherry Petersik on Young House Love
These are only a few of the photos, you can check the rest out on the Young House Love blog.
After seeing the photos (and pouring over the website!) I decided that 1) my fictional renovations needed improvement, and 2) I had a new bookshop to add to my want-to-see list. :)
I'm a big fan of independent bookshops, and the fact that The Story Shop has put so much time and care into creating such a magical experience—for kids, but adults too!—makes it a destination-worthy stop (imo).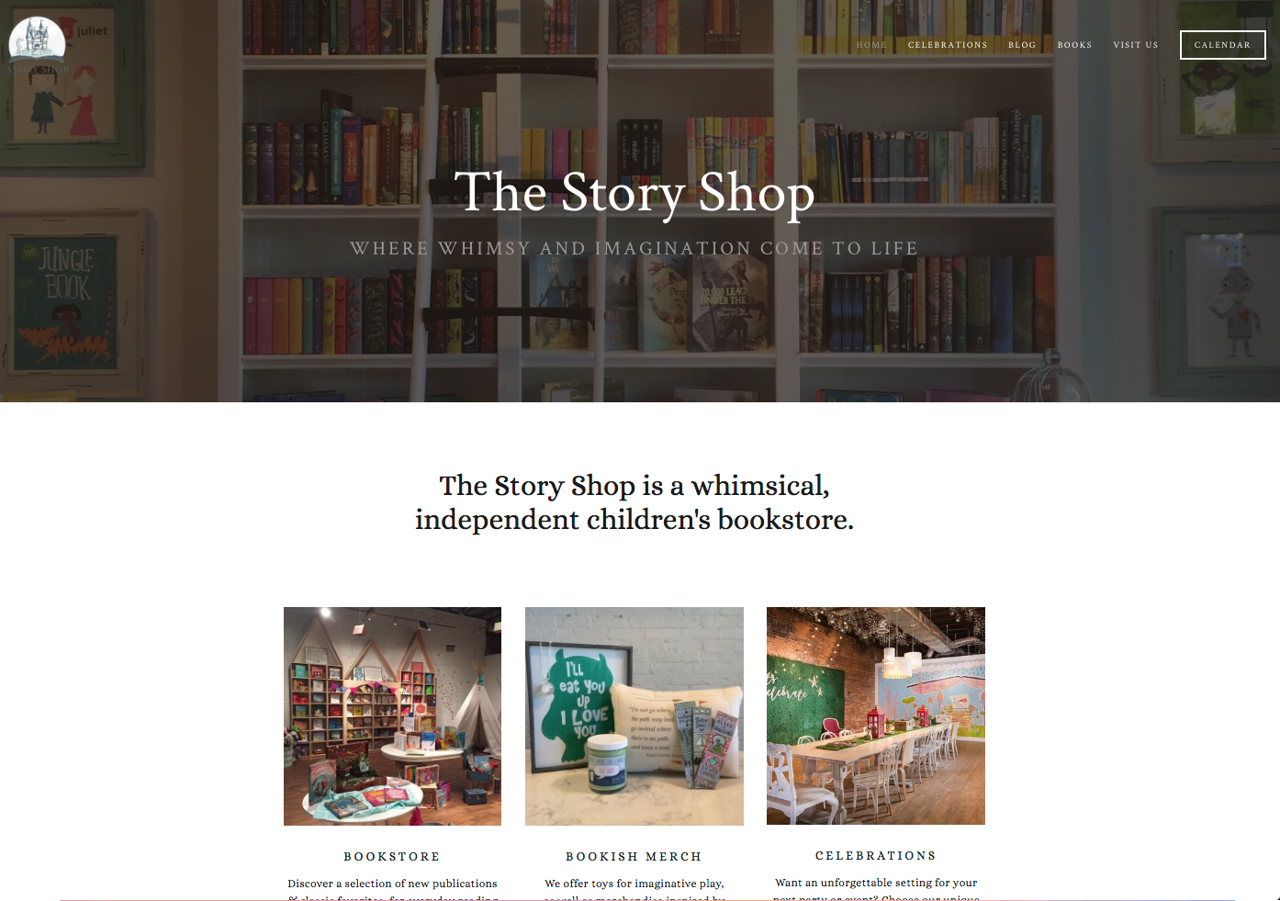 So if you're ever in (or near!) Monroe, Georgia, add The Story Shop to your list of places to see, and then share the photos with me. :)
And if you'd like to see how Eowyn makes some Hobbit-inspired changes to her parents' inn… you can read Too Close To Home! Then be sure to let me know what you think.
---
I'd love to hear from you: do you have a favorite bookshop? Or have you seen a really special, creative bookshop? Share in the comments!
---